This content has been archived. It may no longer be relevant
Holt Gallery: Usually an inconspicuous place, right?
Not on Thursday of Week 8, the night of the TASK party. At first glance, one might wonder if a hoard of 60 kindergartners had taken over Prin College. One could observe flying cardboard-box spaceships, wildly painted moustaches and noses, toilet-paper mummies, lampshade hats, group hugs, and students jumping across the room like penguins and stick-horse riders.
Each of these was a task at this party, organized by Dinah Ryan's class, Writers and Artists at Work, which examines the creative process and the idea of play.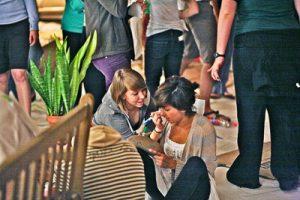 The setup is simple: A "task box" filled with simple tasks such as hopping on one foot across the room to "propose to the first person you see" is placed in the room. Participants draw tasks at random, interpret them, and complete them in whatever fashion they choose. After completing a task, each participant comes up with a new task from "do a headstand" to "build a spaceship" or "tell a secret" and adds it to the box of tasks. At this point, the event is entirely self-perpetuating.
The TASK party was an opportunity for the students to actually put critical ideas into practice. "We deal with the notion of play, both identifying structures and reconfiguring them," Ryan said.
The mastermind behind this idea is internationally renowned contemporary artist Oliver Herring. Based in Brooklyn, Herring developed the idea of a TASK party to create community bonding in a troubled urban neighborhood in 2002. Ever since, TASK parties of varying formats have been organized all over the world, with or without the presence of Herring.
Herring's TASK party provides a non-threatening, inclusive, and participatory platform for all individuals to interact. Thinking outside the box, stepping outside comfort zones, and breaking through habitual patterns of society are also encouraged in this event, according to Ryan.
English major Courtney McCall thoroughly researched Herring and was inspired by him during her creative writing seminar in Winter Quarter. Ryan had the opportunity to meet Herring briefly through her husband Paul Ryan, a professor of Studio Art at Mary Baldwin College, where Herring organized a TASK party. Dinah Ryan suggested that McCall throw one for Principia.
This quarter, members of the Writers and Artists at Work class made the project their own. McCall was in touch with Herring through email, and the entire class, composed of mostly of Art or English majors, had the opportunity to talk to the artist over the speakerphone. "Everyone was in love with him afterwards," McCall remembered. "He was so inspiring."
Ryan recollects from the conference call that Herring emphasized, "It's not about me, not about my art project. It's about you. Why is it good for your community?" She added that a TASK party provides the opportunity to "playfully explore controversial issues we don't talk about very openly in the community."
"TASK is good for us because we're letting go," Ryan stated. "It's not just fooling around; it has to do with what our culture is, who we are, how we live our imaginative sensibilities."
McCall explained that the aim of the event was to "bring a new sense of closeness to the community that can only arise when people are really playing like children." She stressed that there is an expected standard of behavior on campus and in society, referring to different behaviors depending on one's role as a professor, senior, child, etc.
At TASK, professors, staff, and students from all backgrounds are absolutely equal. They all have to fulfill the tasks, whatever they are. "This way, we are just as free with some random guy as I was with my best friend," McCall observed.
The idea of collaboration was also stressed in the implementation of this project. "I'm not the hegemon," Ryan stated. "Everyone in the class occupies a non-hierarchical position."
A spirit of exuberance, childlikeness, playfulness, and complete surrender of roles, inhibitions, and fears dominated Holt Gallery during the TASK party last Thursday. "I felt a sense of warmth from everyone and was really amazed at how engaged everyone was," McCall said.
A red moustache painted on her face, head decorated with a homemade tin foil hat, and sporting a toga, participant Laura Ainsworth said she thinks the party was "an awesome idea. People are becoming really close and breaking down barriers that society sets up sometimes. We're just allowed to be friends and be weird together." Laughing, she added, "There's a lot of weirdness going on."
Even a Media Services worker, after initially distancing himself from the craziness of the event, couldn't resist the fun and was seen with a painted face, pretending to have his leg amputated by a team of "professional" doctors towards the end of the event.
"We looked like a bunch of kindergartners," Ryan concluded. Theater major Erik Siegling summarized his feelings about the TASK party in one word: "Awesome. Awesome, awesome, awesome, awesome."