The swimming and diving team has been energized. Four members recently splashed their way to personal best times and are on the verge of becoming top swimmers.
As the season comes to an end, captains Jenny Bailey and Robert Cleveland — both seniors — are convinced that the upward trend will continue long after they graduate in June.   This team has defied all odds to earn respect from their opponents.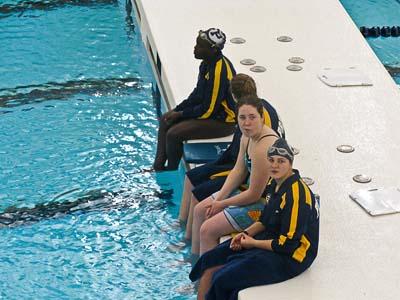 The astounding performance did not come on a silver platter. The only way to measure the success of a team is by posting good results. According to Bailey, good results have been achieved through hard training sessions that required sacrifice. Swimmers devoted part of the winter break to a two-week swim camp on campus, during which they practiced twice a day.
"We spent some time before the Winter Break to get in shape and bond, which has paid off handsomely," Bailey recalls.
Discipline, which is a key factor for success in any team, has played a big role this season. "I have been impressed by the freshmen who have broken into the top ten through hard work. They have been eager to put in extra work because we did not put any limits on them," Cleveland adds.
Both captains speak of the potential after several freshmen joined the team. Bailey picks out class performance by freshmen Jenna Mehlenbacher, Laura Perry, Catherine Joyner and Christina Schaule.
Bailey measured the team's success by looking back at the times the swimmers have posted in several meets, and Cleveland spoke of a new work ethic among the swimmers who aimed higher than their personal best times.
During the 2009-2010 season, over ten records have been broken and many swimmers have considerably improved their times. Bailey is convinced that it is only a matter of time until the men's relay team posts a new record before the season ends. "This has been a good season," Bailey beams.
The Panthers have scored some big wins, although not against traditional rival Washington University. In one home meet, the Panthers put up a sterling performance before losing 76-134 to the Washington University Bears.
In that meet, freshman Tyler Loechner swam to third place in the 200 freestyle, with junior Colin Clark placing fifth.
The relay team of Clark, Loechner, freshman Andy Furbush and junior Will Crowley has been outstanding. They pushed Wash U to the boards, clocking 3:20.70 against their opponent's 3:19.75. Loechner posted his fastest time of 49.99 in the relay. Equally impressive were sophomore Josh Curry, freshman Chip Jackson, junior Matt Poulos and sophomore Zach Harmon.
The Liberal Arts Championships officially ended one of the most successful seasons for the swimming team. The two captains had the last word saying a foundation had been laid, and that the only way was up.
"This team has a great chemistry and harmony. It is a family atmosphere which is very competitive," Cleveland explained.