This content has been archived. It may no longer be relevant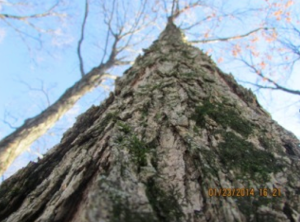 Every year, Principians look forward to purchasing and indulging in the maple syrup and various sweet maple concoctions produced by the students of the Sugarbush Management class. Over 10 years ago, the class was established by Mike Boyer-Rechlin, who has since retired.
The premise of the course, as stated in the course catalog, is that students will plan and implement a small-scale "sugarbush" on the college campus, complete with tapping, evaporating and marketing the final product. A sugarbush is a collection of trees maintained to produce syrup. The class monitors two sugarbush locations, dubbed the "Main bush" and the "Jelly bush."
This semester, professor John Lovseth came up with a new idea. Each week students from the class will document the process of managing the sugarbush locations and the progress with maple production. The Pilot will follow the sugarbush blog and print select sections.
Below are excerpts from the first two blogs.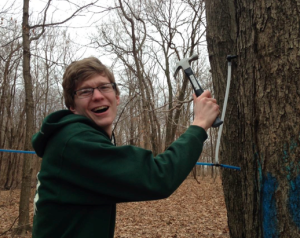 What do you do in Sugarbush on a daily basis?
Freshman Anna-Christian McMullen: "We work outside every day, tending the sap collection buckets and measuring the quality and quantity of sap. Once the sap really starts flowing, the fires in the evaporator will be lit and pans will begin to bubble. Be sure to stop by and say hi when you see steam pouring from the sugar shack."
How do you collect the sap?
Freshman Haley Schabes: "Tube lines are connected to the maple trees through a spile that is tapped into a hole thatwas drilled into the tree and sanitized. This tube, which is supported by another tube that hugs the tree loosely, then runs into the main line, which leads downhill into the sap collection tub. If the lines are slack the sap can become trapped and freeze in the tubes, blocking any other movement. These sap tubes essentially work like water slides so we need to make sure they are connected and working properly."
What do you use to convert the sap into syrup?
Sophomores Colleen Klehm and Savannah Switzer: "The sap is put into an evaporator. We learned that keeping a clean evaporator is important for making high-quality syrup. First, John showed us how the evaporator was assembled and how to take it apart safely. Then, once the evaporator was taken apart, part of the group cleaned the evaporator while the rest of us cleaned out the ashes in the bottom of the evaporator's firebox."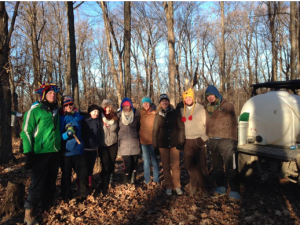 After all this preparation,  the class is just now getting started with sap collection. We'll keep you updated every issue on the progress of the class and the production of sap from Principia's very own sugarbush locations.