This content has been archived. It may no longer be relevant
Everyone has small and big goals they hope to achieve one day. It is important to look at the skills one has and what one wishes to accomplish. Some people want to make an impact in this world. Are there such people at Principia? Yes, there are.
Kirsten Wright is such a student. She is a senior, an international student, a sociology and anthropology major, French and women's studies minor, and a member of Half the Sky. This summer, Kirsten realized how passionate she truly is about making a difference in her country, Guatemala.
The background of Kirsten's parents' families helped shape her focus on wanting to help women. Her father came from a wealthy family, while her mother did not, and so Kirsten saw both sides of living. Her family put her through private school in Guatemala. During her time there she always thought about her friends back in the small town where her mother grew up. Her friends there did not have the same privileges, nor did they, at times, have food. Being at a private school, she knew she wanted to help her friends and give back to her community.
Kirsten says her country does not really protect women, and strict gender roles are more traditional. Many of her friends were told by their parents to stop playing sports like soccer, traditionally considered a men's sport. Their parents did not want their girls acting like boys.
Poverty and women's issues drove Kirsten's passion to make an impact.
Then, in the summer of 2014, Kirsten found her chance.
She was neither working, tanning, hanging out with friends, or going to music festivals. Instead, Kirsten dedicated her summer to planning the internship of a lifetime. Her overall goal was to learn more and be an active participant in eradicating sex trafficking. She looked for internships in Guatemala, after an unsuccessful attempt at working in Brazil, and found one working with the local police in the human trafficking department. They were undercover agents going to brothels, talking to pimps and asking them the prices. One day she visited a town that had multiple brothels. She was able to go inside and interview the women working there.
"I felt empowered," stated Kristen proudly, "like I was doing something right." Kirsten went back to Guatemala for winter break and found out one of the brothels she had investigated had shut down. Kirsten was one of the three people focused on that specific brothel.
"There is nothing better than that for me," said Kristen, "You are not doing this for yourself, but for someone else, but it is the greatest feeling you can ever feel. You are working for someone and you know that's going to bring you good in the future. I don't know how to explain it but it feels like I was born to help people, I was born to help women. I always knew what I always wanted to do and I know that God wants me to do this."
Kirsten's amazing journey allowed her to save minors from brothels, research more about sex trafficking, investigate brothels and even help shut one down. These opportunities led her to be interviewed by the United Nations. She also picked up a movement started by Ashton Kutcher: "Real Men Don't Buy Girls," which she brought to Principia and eventually to Brazil and Guatemala. From that point, many people on Facebook from around the world commented and liked her photo, praising her for bringing awareness to sex trafficking.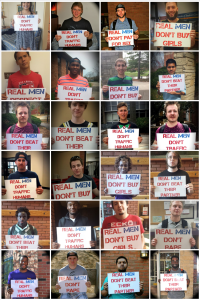 Image courtesy of Kirsten Wright