Jackie Thornton is the administrative assistant for Dining Services. She has lived in the United States for more than four decades, but she's originally from Cuba. Her personal journey informs her work, daily. Each time she interacts with new international students who work at the dining hall, she wants to make sure they feel heard and supported.
"I understand the challenges, the language barrier, the new location, new food," she said when asked about her background. "I know it's hard, but I want them to know it'll be OK."
With more than 90 new students joining the college this fall, every department has tried to hire as much as possible. Per the college catalog, students who want to "seek non-service jobs" need to work for key, service-oriented departments first like Dining Services or Facilities. It's a good way for students to gain professional experience and earn money. And, for international students who need to abide by F-1 visa regulations, working on campus is the only option available.
Dining Services is always looking for individuals who can participate in the daily operations of meals, dish cleaning, stocking, and cooking. In a time when the dining hall is heavily understaffed, student support is critical, Thornton noted.
"I want them to know that we got something good going on here, I want them to learn," she said. "Some have never, ever worked before, it's a brand new experience, and I understand that. … But they all want to work, sincerely. They aren't afraid of being embarrassed, so we really have to be gentle."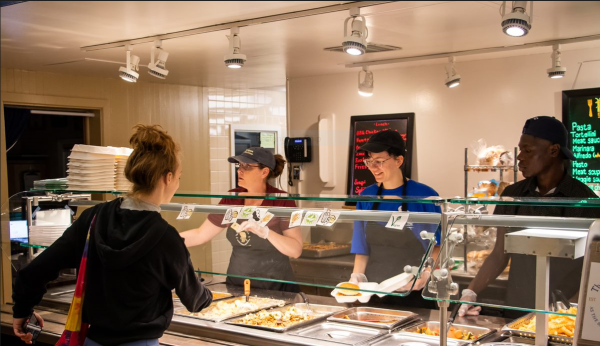 Freshman Bissola Lassissi, from Cotonou, Benin, had already worked before. At her previous school, she had a few shifts at the athletic center and also coached tennis during one of her breaks. But now that she's at Principia, there are many new fields where she's able to assist.
"I work for Dining Services and also at the Mail & Copy Center, and I like both," she said.
"What I've appreciated here is that our supervisors are nice and accessible. They're ready to criticize if need be, where we aren't doing the right thing, but it's never too harsh. It's always fair."
Thornton appreciates the work new students put in. She describes student workers as "one of [her] biggest joys when coming in each morning."
"It kind of validates why I'm here, and they add to my job, to my daily routine," she added.
Thornton also said that, for her, one of the most rewarding elements of being in contact with students is to see them grow in their position, get used to the tasks, and gradually learn.
Having student workers in Dining Services is always important, but this semester, there are understaffing issues among full-time workers that would make it difficult for the cafeteria to operate otherwise.
"I'm not part of all the discussions on the menus, since I'm more on the administrative side," said Thornton. "But Pasta Your Way, for instance, isn't back this semester due to a lack of employees, among other things. We're short a cook, a catering manager, a store manager, a dishroom person, and more."
Pasta Your Way used to be one of those special Friday dinners, where Dining Services chefs and cooks would prepare pasta dishes on demand, in front of the students. Principians could ask for their favorite type of pasta, their preferred sauce, their beloved toppings. Setting up in the dining hall next to the tables where people sit, cooking, and cleaning up were always huge tasks.
Other Friday hits like Burger Tops or Casa del Burrito are still around. Dining Services wants to make sure students enjoy those special menus to start off the weekend. Full-time employees and student workers are working hand-in-hand on Friday nights, and at every other meal shift.
"It's fun working with student workers," said Thornton. "What I'd recommend is, learn one thing at a time. Because it's a lot to take in when you've never worked before or when you come from another country."