This content has been archived. It may no longer be relevant
All of the majors offered at Principia College are unique, require different talents and prepare us for different careers. There is only one major, however, that requires its students to work off campus during parts of the academic year. No idea what that major might be?
Well, maybe it's time you learned about Principia College's education program. The education major is certainly one of the most diverse majors on campus. Because it is required for these students to accomplish a second major, it is also among the most difficult. Aside from the many other prerequisites and tasks to accomplish, the major generally consists of three education blocks: the beginning block, the intermediate block and the student teaching block. The beginning and intermediate blocks – normally completed in a student's sophomore and junior year, respectively – focus on introducing the students to the classroom from the teacher's perspective. The student teaching block, completed during the senior year, tests these achieved skills in a "real-life" environment.
Right now, there are six Principia students in their senior student teaching block. Three of them live in Williams House, while the other three live in St. Louis. None of these students attend any classes on campus, but all teach in various schools in Alton and St. Louis. Every student teacher works with a cooperating teacher from their school and is assigned to certain classes based on their future career aspirations. Currently, five students are interns at elementary schools and one is placed in a high school.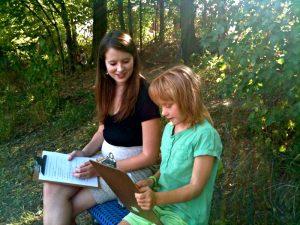 Lauren Hinchman, chair of the education department, shares her views on the program: "I think our program is excellent. It not only meets the current academic needs of the students, but it prepares them so well for future job opportunities. I think the training that goes on in the department is really top notch and prepares them for the real job world." The excellence of the education program also creates high demands on the students participating in it. Hinchman explains: "The education majors have to meet a lot of requirements before they get accepted into that student teaching block … They have to pass state standardized tests, achieve a certain grade point average in their education coursework as well as their overall work in college. Hinchman continues: "I think it is a demanding major and requires a sincere commitment … The beginning block is a good time to decide whether you want to put your whole heart into it or try something else."
After going through all the prerequisites and first two education blocks, the education majors finally get a chance to teach on their own for an intensive period. Hinchman gives an overview of what our fellow students are doing right now: "[Our students] spend the first few weeks observing [their new classes], so that they are getting used to the normal activities of that classroom […] and to what those [cooperating] teachers' expectations are of their students […] Then they almost entirely take over teaching for a portion of the semester."
Tavia Patterson, who is interning at South Roxana Elementary School in a fourth-grade class, absolutely loves her internship. She says: "I have a really, really, really good cooperating teacher who's young, has a lot of fun [and] gets the kids involved in what they're learning about. It's a lot of fun to see kids wanting to learn. Patterson went on to say: "[This internship is] boosting my confidence [in my wish to become a teacher]. It's a really good placement, a really good opportunity." Through this experience, Patterson says she's learned about the quality of Principia's education program: "[My cooperating teacher] said [our preparation] far surpasses any other school that she has ever worked with." Going to South Roxana every day requires Patterson to stick to a strict daily routine: "I get up at 6:30, I leave the house at 7:15 or 7:30. School starts at 8:30, but I am there by 8. I'm there till about 3:45, sometimes 4, and then I come back. It's a lot of gas money!" Patterson also metaphysically prepares for her day: "Every morning I read the lesson. I also have the lesson with me on hand at school. There's a lot of medical discussion in school. Kids will get scrapes and bruises. There's a lot of talk about illness and you've got to shield yourself from that, because I think if I bought into those suggestions, it would not be good. We've got to constantly protect ourselves and see each kid as capable, as whole children of God."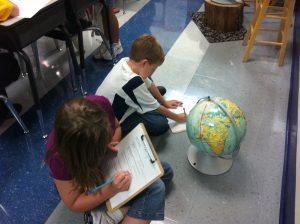 Amy Baldauf has her internship at the College School in St. Louis. In order to get there on time every day, she and one other student teacher live on the Principia Upper School campus. "My internship has been fascinating. So far I feel like I'm getting the practical experience I need to decide if this is the career path I want to take." Living off campus, Baldauf gets a new experience outside of the Principia College environment: "It's a different experience living off campus but still being a part of the Prin community. I'm grateful, though, that my living situation allows for me to really focus on my internship and just making sure I'm giving it my all." Like Patterson, Baldauf also relies on Christian Science every day: "I always have to start my day in the right mindset, because so many suggestions can come up while I'm working. Whether it's feelings of ineptitude for a child or a physical, social or emotional problem, I always have to be ready to guard my thought and to lean on God for guidance. It's been incredible for me to put Christian Science into practice through every part of my day." Overall, Baldauf sees the teaching block as the pinnacle of the program: "I feel like this student teaching experience is the culmination of all of my efforts in the education program. I've learned so much about what it takes to be an effective teacher, and now I get to put theory into practice."
Grace Hathaway currently teaches at the East Alton Wood River Community High School. She is the only education major interning at a high school. She explains: "I'm working with the same teacher that I was with during the short internship [in the intermediate block]. Because she knew me, she allowed me to start teaching right away. […] I'm the one that plans all the lessons and does the quizzes, tests, grading and everything for her one geometry period. She allows me to do everything." Teaching students from all four high school classes, Hathaway interacts with a number of students from different backgrounds. She shares her insights about challenges outside the academic sector: "It's an interesting area, it's really diverse. There are a lot of kids who come from difficult families and rough home lives, so sometimes I think it's hard for them to come to school and leave that behind and really focus on academics. You have social issues as well as academic issues to deal with."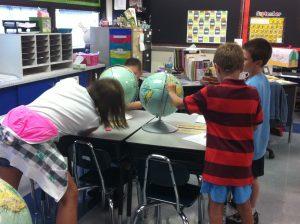 Hathaway's experience goes far beyond just teaching math: "Something I'm really learning is that it is so important to build students up and let them know that they're valuable and worth something. One girl told me the other day that she thought she was too stupid to understand a new concept. It's hard to help them feel confident in their academics when they're starting with that low level of self esteem. I guess I'm learning to get to know each student so I can give them each what they need." She adds, "It is challenging and interesting. I know I'm learning a lot [and] working well with my teacher." In her teaching experience, Christian Science is of vital import for Hathaway as well: "Every single day, as I'm walking into the building, I acknowledge that every single person that I will interact with that day is a child of God. Just thinking of Principle as guiding each and every one of us all day is really comforting. It helps me and I hope the students as well."
Overall, the student teaching block is a great time for our education majors to experiment with what they have learned and to represent Principia's education standards to the outside world. So, next time you see an education major around campus, make sure you ask about their internships and fun stories about their kids.