This content has been archived. It may no longer be relevant
By Dana Cadey
Two weeks ago, Principia students were going about their run-of-the-mill college activities: sitting in their dorms, studying in the library, hanging out with friends at the Pub. Now, students find themselves scattered throughout the nation and the world, waiting in their homes for remote learning to begin.
Many students cannot help but consider the complications of trying to approximate a classroom experience online – and the College administration documented those concerns about the new learning environment in student polling results released this week.
The survey was distributed to all Principia College students on March 17 via an email from Meggan Madden, dean of academics. The purpose of the survey was to "pinpoint [technological] issues before classes resume," she said in the email.
One hundred and eight students participated in the survey – about 45% of the student body.
A similar survey was sent to faculty to record their questions and gauge concerns about remote learning. The results of both surveys were sent to the Center for Teaching and Learning (CTL), the library, and Academic Technology in order to make major academic departments aware of student/faculty needs. Based on the feedback, live interactive webinars with Principia technology staff were offered to increase faculty familiarity with Canvas and Google Meet resources.
"The results of the student survey were shared with faculty on Monday [March 23] so they could be more aware of the student concerns," said Edith List, interim assistant dean of academics, in an email interview. "Faculty shared ideas about deciding what parts of their courses should become asynchronous, having back-up plans for the delivery of classes, using different tools to use as part of courses, and other ideas."
In the student survey, internet connectivity difficulties took center-stage, with 40 students identifying connectivity issues as a technical concern for completing coursework. Specifically, internet speed was a recurring anxiety; students referenced circumstances ranging from not being able to leave the house for better internet to multiple people in the household using the internet simultaneously.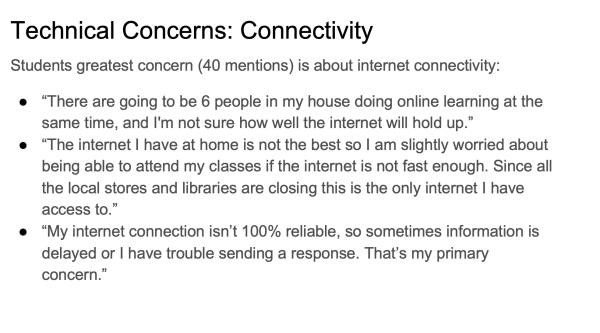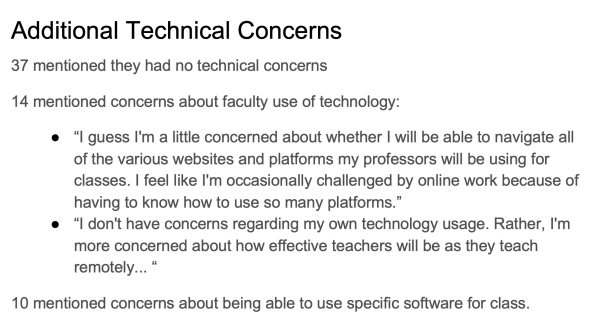 "There are going to be [six] people in my house doing online learning at the same time, and I'm not sure how well the internet will hold up," wrote one survey participant.
Notably, none of the student participants referred to their internet connection as "very unstable," and only 6% called their connection "somewhat unstable." These results suggest that the vast majority of Principia students have either "very stable" or "somewhat stable" internet connections. No student who took the survey reported that they were without internet access entirely.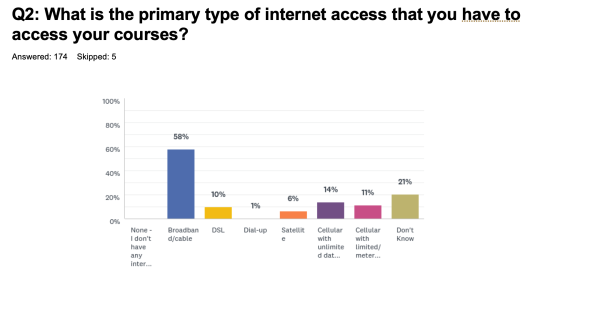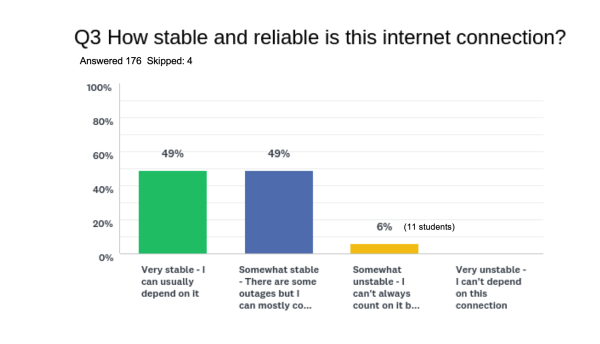 "I was pleasantly surprised that so many students felt they had stable or very stable internet connections," List wrote in her email to the Pilot. "However, I realize that internet [connectivity] may be a challenge for many. …It was also helpful to understand that many students will be sharing space – and internet capacity – with siblings and/or other household members."
Connectivity was not the sole issue identified by survey participants. Personal concerns about completing coursework were much broader and multi-faceted, speaking to the vastly different academic environments that Principia students have fallen into after their exodus from campus.
Managing workload was a top concern, with students wondering how making up for the extra week of Spring Break will affect their already-demanding schedules. Another student in the survey mentioned that the on-campus environment created an "ideal" atmosphere for minimal distractions and easily-available academic resources.
Arguably the biggest change that comes from a transition to remote learning is the loss of in-person accessibility that students have grown accustom to. Some survey responses spoke to the fear that an online-only environment hinders access to faculty and weakens student-to-student relationships that strengthen academic motivation.
One student respondent expressed concern over not having "the same in-person, social network of classmates and professors for support on assignments and classwork."
Lab and dance courses were referenced in the survey as hands-on classes that students do not believe will translate well to online. Dance professor Erin Lane emphasized that community can still be cultivated within her dance ensembles, no matter where students are located.
"The dance department has been adjusting to remote learning with excitement about all the new collaborative artistic options for teaching technique … and sharing dance with students and the wider community," Lane said. "It'll be messy and probably confusing here and there … but we'll all be better for it and find the most amazing new things together."
After the survey results were released, students continued to express their worries about online learning. Afton Leslie, a junior from Alaska, identified the time zone difference as the most substantial hurdle to her learning.
"My biggest concern with the time zone difference is really the struggle of adapting to a different sleep schedule," said Leslie in a phone interview. "Because my first class is [at] 9 a.m. [CDT] [or] 6 a.m. Alaska Standard Time, I'll need to be awake, at the latest, by 5:30 a.m. I usually go to bed just before midnight, but that can't be the case anymore, or I won't be sleeping very much."
Sophomore Larissa Reis, who is living on campus, is unsure how effectively her art classes will translate to a virtual platform. Despite being so close to the academic buildings, the recent "shelter-in-place" order has prohibited her and the other on-campus students from entering them.
"I have done online schooling before, so the concept of doing my classes online isn't a foreign concept to me," Reis said in a phone interview. "While I have the supplies to make it work on my end, I do wonder how critiquing and instructing is going to work via a computer screen. It's going to be difficult to get that one-on-one help from the art professors because my artwork can't be physically shown to them, and I don't know how taking a picture of it or showing it though video chat will help."
When classes resume on March 30, remote learning will leave its preparation phase and become a reality for every Principian. To abate some of the complications that might arise as the process begins, List emphasized that one-on-one communication between students and their professors is key for both parties to understand and meet each other's needs.
"Everyone is figuring out the adjustments that are needed during this rapid shift to remote learning," List wrote.