Students and faculty share their perspectives on this defining document
Emily Staunton
Staff Reporter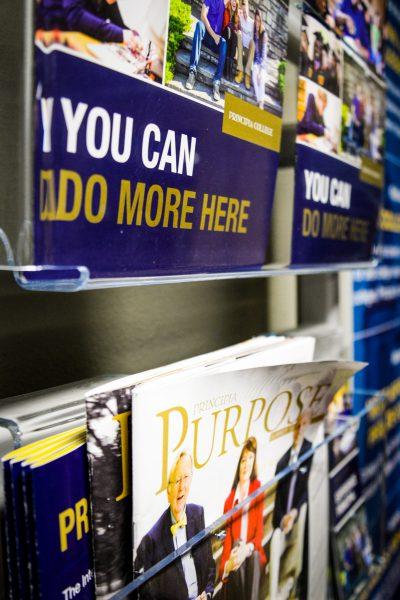 All students sign the Principia Community Commitment (PCC), promising to "Strive, Conquer, Love, Give." However, it can be difficult to determine what the upholding of these standards is supposed to look like.
The PCC was most recently updated in 2016 after senior exit interviews. Many students for a few years felt that, "[The PCC] was good at saying what not to do, [but] students had a deep desire for a more positive vision," says Assistant Dean of Students Josh Sprague.
The current PCC (from 2016), unanimously approved by Student Government, focuses on what students should strive to do throughout their time at Principia.
Many who were interviewed for this article see the PCC as a goal or set standard. Dr. Greg Sandford, one of Principia's History professors and Director of the Abroad Office, briefs abroad students on the PCC, commenting that it is, "good to put Christian Science values up front."
Two students say that the PCC is something that frees them from serving, "false gods [and] gives them confidence in their values." These interviewees comment that qualities like intentionality, protection, community, confidence, and spiritual control are gained from the abidance and understanding of the PCC.
Senior Shane Witters Hicks appreciates that the PCC is a community commitment. He says that it is comforting to have, "something we're all striving to abide by."
A sentiment among some students is that they appreciate having a standard, but they disagree that the PCC should outline how to correctly practice Christian Science in life and on campus. Lowrey RCE Paul Needham and junior Jason McEntire agree that the descriptions below the phrase, "Strive, Conquer, Love, Give," are the most controversial part of the PCC.
A number of students feel that, with the PCC, Principia is "institutionalizing Christian Science particularly with references to disciplinary action if the PCC is not respected" says Witters Hicks.
One student feels that more explanation as to the purpose of these policies would be helpful and would give students more of an understanding needed to accept and follow it.
RCE Kristen Harrison says that it is, "important to make a distinction between Principia Christian Science and Christian Science, [as] it would be failing Principia and Christian Science to believe that if you're not following the PCC then you aren't a Christian Scientist." Sprague agrees by saying, "the PCC is not a replacement for Christian Science."
McEntire notes that the standards for the Mother Church are more relaxed than Principia's. While McEntire believes that having high expectations is, "good, [this variance] can push people away." Harrison explains that these standards exist due to the residential nature of Principia.
Seeing the PCC as a rulebook can make it seem as though PCC regulations are, "just [boxes] to check off [or] part of the process to get here" says Needham.
However, Witters Hicks notes that many transfer and nontraditional students are attracted to Principia because of the community's abidance of the PCC.
There are instances in which students apply to Principia because they are not familiar or comfortable living in a community where certain standards of thinking and behaving are not upheld. In these cases, the PCC may lose some of its value.
Coming from the Upper School, McEntire says he used to follow the PCC to avoid consequences. "It took time to transition to doing it because I wanted to," McEntire admits.
Witters Hicks feels that, "the Principia community would greatly benefit from more of a shared desire to live by the standards set forth in the PCC or Blue Pages." Needham suggests conducting a half-hour interview with each incoming student on the PCC to help highlight the document's importance.
Interviewees agree that it is essential to support rather than judge those who break the PCC. The Community Board, a hearing board compromised of faculty, staff and students, and Restorative Justice, faculty, staff and stutdents who aid in character development, are available to help those struggling to uphold the PCC. Both groups are sworn to protect students by keeping sessions completely confidential.
Witters Hicks believes more students need to be aware that these support communities exist. According to Sprague, Community Board must be made up of people who, "love the PCC and are compassionate." Needham has communicated to students struggling with the PCC that those who, "drink, do drugs, and have sex are not bad people."
Harrison's personal philosophy is one that aligns with the feelings of most Principia College students. "Be moved by compassion, not condemnations." Harrison adds, "Everyone is listening, no one is judging." Both Harrison and Needham believe that it's most important that students realize faculty and staff want the best for them.
A common thread throughout all of the Pilot's interviews regarding the PCC was the need to have more frequent and student-led discussions about the document and its meaning.
As Buck's House President, Witters Hicks helped to facilitate a discussion about the PCC. He says, "people are searching and eager to have these conversations. [Talking] is one of the most healing things," as it uncovers fear and fosters a sense of comradery.
Home Life Manager Mark Hagenlocher believes these conversations need to be student-led and that house boards and student senate can take a bigger role in leading them.
Needham and Sprague describe the PCC as a living document. Needham suggests a student-led effort to look over the PCC every four years and consider revisions. However, one senior commented that the PCC should not be completely turned over to the student body as some students don't fully understand its value.
Transparency is essential when talking about the PCC. If Principia College is to be united under this single document, then students, trustees, and faculty/administration all need to be on the same page. Ultimately, as one senior put it, the PCC has an, "expectation for good in our lives."
Image courtesy of Laura Cluthe