This content has been archived. It may no longer be relevant
Photos and story by Nadja Peschke
The clean floors of the community kitchen, or 'langar' in Punjabi, were warm from the lit fires under cauldrons of dal and chai. As we toured the Golden Temple ("Harmandir Sahib" in Punjabi) all of my senses were ignited, from the delicious smells of garlic and bread, down to the tips of my toes warmed by smooth stone baking in the sun. The cozy soles of my feet are what I remember when I grasp at an explanation for how in-tune Indians and Nepalis are to hospitality and food.
The Golden Temple in Amritsar, India is the holiest Sikh gurdwara, a place of worship for Sikhs. Service to others, called seva, is at the core of Sikhism, and the Golden Temple offers free meals to nearly 100,000 people a day. The enormous vats of food cooking in the langar, the piles of dishes waiting to be washed, the vegetables being prepared—all of the work is done by volunteers.
I was encouraged to join a group of Sikh women rolling out chapati dough. Their patience and kindness made a big impression on me. The day we visited, the chapati machine was broken and the only bread offered fell to the volunteers making chapatis by hand. Yet, I sensed absolutely no stress. Volunteering made me feel that I joined the ranks of these religious pilgrims who serve unconditionally and without payment. Their meekness was remarkably humbling to me.
To taste the spices and cooling raitas (a yogurt dish) of India and the lentils and momos (dumplings) of Nepal was a daily highlight for me while abroad in the two countries. Powerful flavors of chili, garlic, ginger and garam masalas season the base of many eastern dishes, melding perfectly together so that the end product is an extraordinary new flavor bomb. And each region has its own signature dishes and techniques.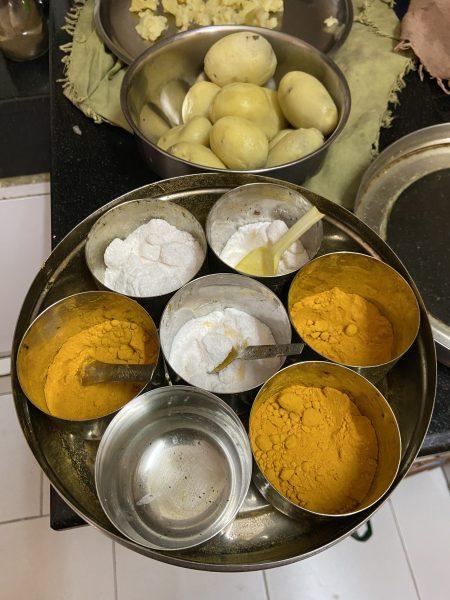 In Noida, a city on the outskirts of Delhi, India my friend and I stayed with a retired helicopter pilot, Col. Singh, who didn't share with us his first name. His piercing dark blue eyes and kind, deep laugh made us feel immediately at home. In the kitchen, a petite woman from Darjeeling cooked the meals and brought us chai and biscuits twice a day. Doma, whose first name means "little cup" in Hindi but whose last name I never learned, had been staying with Col. Singh for the past 30 years to help with his meals and housekeeping. They would talk to each other fondly in Hindi, laughing in the morning when Meow, an orange stray tomcat, visited the flat's window seeking generosity from Doma.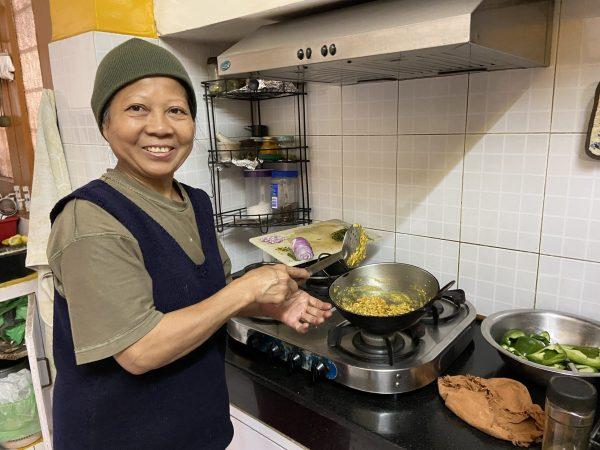 Col. Singh was kind enough to convey to Doma my interest in her cooking, and the next day she swept me up in the northern-Indian cooking tutorial of a lifetime. Spice blends, or masalas have always fascinated me because of their intimidating flavor. While helping her to prepare the day's meals, I observed Doma add a surprising amount of spices throughout the cooking process. As someone who loves spice, I was excited but weary, especially when the hot chilis went in. And yet the collision of the otherwise loud or bossy elements were stirred and warmed to a delicate harmony.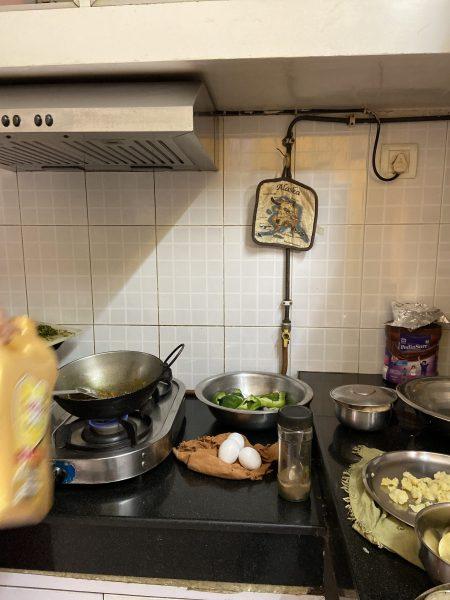 With practiced hand motions Doma mashed pre-boiled potatoes on a stone slate to prepare aloo paratha, a type of pan-fried potato-stuffed bread. (Side note: Did you know that Indian cuisine includes over 30 types of bread? Before I visited, I only knew of naan and roti.)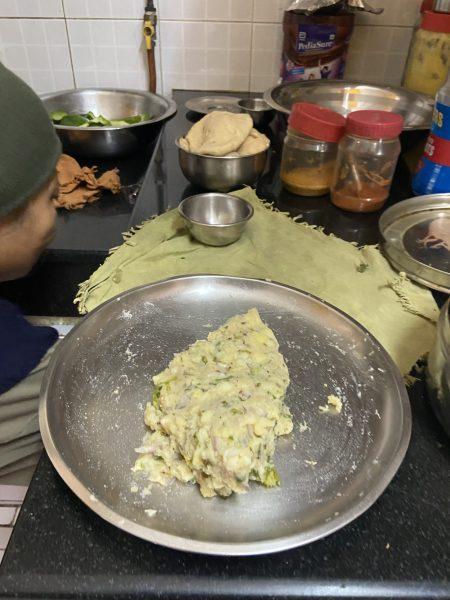 I never felt so much ease in the complexity of cooking as I did while learning Hindi words and watching Doma effortlessly marry ingredients. Despite not fully understanding each other's languages or cultures, Doma welcomed me into her workspace, which was such a gift.
She deftly brought flavors together with a natural artistry, showcasing her pride for her region's dishes. The aromas that had once seemed so foreign, have now become familiar to me, thanks to that special time. And since returning home, I've brought my expanded palate to my kitchen in North Carolina.
My favorite dish that Doma taught me to prepare was our breakfast: Eggs scrambled in a wok and served with the hot-off-the-pan aloo paratha. Make it for yourself by following this recipe, in which spice amounts are less precise than they are subject to your own taste:
Heat a bit of vegetable oil in a small wok.
Add 1 tablespoon fresh minced ginger and 2 teaspoons green chili, and sauté for about 15 seconds.
In goes about 1/4 cup of red onion or shallots until they become dull in color and begin to caramelize.
Garam masala time. Doma added two different masalas:

Cumin seeds, black pepper, black cardamom, bay leaves, all ground into a powder that Doma keeps in a jar.
Turmeric, to give the bright yellow color.
Don't forget to add salt!

Add in juicy diced tomatoes and a handful of fresh coriander.
Second round of green chilis and masala…
Crack 3-4 eggs into the wok, still on a medium flame; move the ingredients around with your spatula or spoon and continue stirring until cooked — this makes a very fine scramble that retains its moisture if you don't let it sit on the heat too long.
Serve on the cooked and buttered aloo paratha.
Just like my mother, Doma valued serving meals hot. She would usher us to the table smiling and speaking in Hindi, like a proud clucking hen. I failed many attempts to eat the eggs and paratha by hand, as is traditional. So, Doma swooped in and neatly tore the butter-soaked bread while scooping up some of the eggs and tucked it into my mouth with a little satisfied chortle. She repeated the swift action with my friend, and we all giggled over our meal and tried our best to please Doma with our table manners after that.
The warmth of an Indian kitchen is undeniable, whether it's serving hot meals to millions of visitors at the Golden Temple or just a select few in a home. I felt embraced and welcomed in both respects. I love and cherish this memory and how it taught me to balance flavors with grace and give as generously as Doma.