SOFTBALL CELEBRATES SENIORS DURING HOME DOUBLEHEADER AGAINST BLACKBURN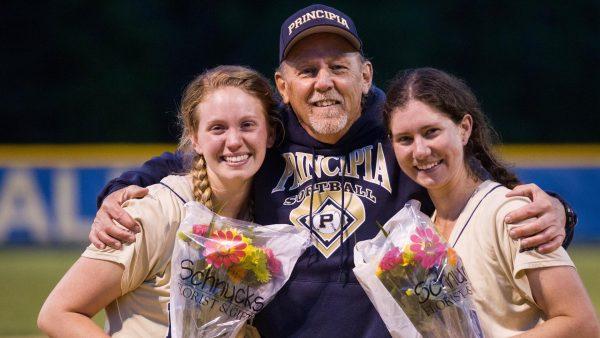 Elsah, ILL. — The Principia Panthers celebrated their two seniors AC McMullen and Samantha Bronkar in between the first and second game against the Blackburn Beavers. Although the Panthers and Beavers are conference opponents, this match-up was not considered a conference game. Principia kept things close in game one, but narrowly losing 11-13. The Beavers ran away with game two, defeating the Panthers 12-2 in 5 innings.
Game 1: Blackburn 13, Principia 11
The Panthers came out a little slow on defense in game one, getting behind 4 runs in the first inning. With a little bit of grit and grace, Principia answered with 3 runs on two outs. The bats came out hot, ready to attack the ball. However, the fire that was in the offense did not show up in the team's defensive effort at the start of the game. By the 5th inning, the Panther defense was into their normal groove, holding the Blackburn Beavers when they could. The Panthers consistently answered with runs, but with runners in scoring position at the bottom of the 7th, the Panthers were not able to produce the runs they needed to take the win.
Hannah Hathaway had quite the day up at the plate, going 3 for 3, with a 3-run homer, a single, and a double. AC McMullen also had a nice day at the plate with 3 singles. Leah Schaefer, Samantha Bronkar, Lauren Daugherty, and Tanya Marquardt each had a single, with Lauren Daugherty and Emily Hewitt each hitting doubles.
Game 2: Blackburn 12, Principia 2
Principia's defense came out much stronger in game two, holding the Beavers to 1 run in the first inning. The offense continued their momentum from game one, putting up one run of their own to answer the Beaver's first run. The defense made some great plays to hold the Beavers in potentially big innings. An outstanding diving catch made by Tanya Marquardt in center field set the tone for the Panthers. However, Blackburn was able to find the gaps in the Panther defense, and Principia got behind by 10 runs and was unable to answer back on offense.
All together, the offense produced three hits, coming from AC McMullen, Hannah Hathaway, and Emily Hewitt with one single each.
Principia Softball would like to thank their seniors Samantha Bronkar and AC McMullen for a great season.