This content has been archived. It may no longer be relevant
The women's soccer team won the SLIAC (St. Louis Intercollegiate Athletic Conference) championship game against Greenville College on Saturday, November 7th. The women defeated Greenville five to one. Junior Alicia Girbes-Pierce scored the first goal in the first ten minutes of the game. The women overall played aggressively in the first half. The ball remained mainly in Greenville's half of the field and Greenville only managed a few shots on goal. The defensive players did a good job of keeping the ball away from the goal. The second goal was scored by freshman, Hayley MacWilliams. The third goal was scored by sophomore Rachel Publicover at twelve minutes remaining in the first half. In the last minute of the first half, Greenville scored their only goal.
The women played just as aggressively in the second half of the game as they had played in the first half. Publicover scored her second goal with fourteen minutes remaining in the game, and less than a minute later, Girbes-Pierce scored her second goal, bring the score to five-one. According to sophomore Kristen Crandall: "We won because that's what we were there to do. From the moment we stepped on the field we were in the game." The women really wanted to win this game, and junior Katie Clark said: "Greenville hadn't come this far in a long time: I heard a rumor that it was something like fifteen years. They had nothing to lose because no one expected them to win, so they brought their best game and we did, too."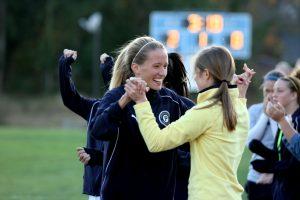 Clark said that one worry she had about the game was that sometimes "we will play a great game against, say Webster, and for the next few days we will be on a high and assume that we will win and we don't bring our best game." This was not a problem for the women's soccer team this year, and sophomore Julianna Mangelsdorf said that this is because "before the game we were all really focused. We really wanted to win and more than anything we wanted to play well, and because this was our main goal, we did."
Next up for the women is the first round of the NCAA national tournament in Abilene, Texas, where they will play against the women of Hardin-Simmons University. They will play this upcoming Saturday, November 13th, at 11 o'clock in the morning. Said Crandall, "We [have] worked too hard and too long to let the opportunity slip away."  Hopefully the women will continue to work together as effortlessly as they did in the championship game, when they play in their first round of Nationals in Abilene this weekend.