This content has been archived. It may no longer be relevant
Some kids just can't wait to tear apart and rebuild their toys first thing on Christmas morning. John Broere, the primary faculty advisor for the Principia Solar Car team, says he used to drive his parents crazy whenever he would get a new toy and he would have it strewn in pieces across the floor within 15 minutes of unwrapping it.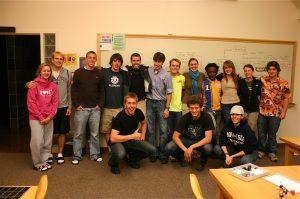 According to Broere, it's that kind of natural curiosity that might encourage someone to join the Solar Car team. Broere claims that students don't need to have an impressive background in the sciences to contribute to the project. He explains: "[J]ust because you're not a 'science-y' person doesn't mean you won't get to work with your hands and be a member of the team. We've had many, many majors participate in solar car."
Senior Lacey Crabill adds: "I have always been one to dive into hand-on projects, and solar car seemed like such an exciting project as well as an excellent learning opportunity." She adds that she had no experience in the engineering field prior to joining the team her sophomore year.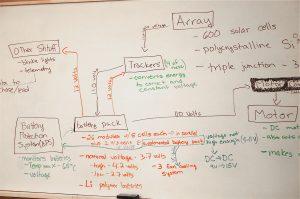 Ten Principia Solar Car team members with a variety of academic interests plan to  head to Australia on October 5 to compete in the World Solar Challenge for the third time. The race officially runs from October 16-23 and will take each competing team from Darwin to Adelaide, almost 2,000 miles.
The Principia team will compete against the University of Michigan, MIT, Stanford and UC Berkeley, as well as teams from Japan, Australia and the UK. A total of 21 countries are represented among the competing teams.
The select group of participating Principians consists of 10 students – three recent graduates, four seniors and three sophomores. The team will be accompanied by Broere and two secondary advisors:  Advancement officer Steve Shedd and Joe Ritter, Associate Dean of Academics.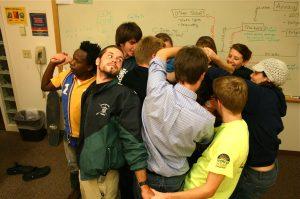 The Prin team applied as a unit for a spot in the race, just as individual team members applied to take part in the experience.
Broere says: "There were applications just like if you would go on an abroad and the real base for it was your involvement and commitment to working on the car and being a member of the team."
That level of commitment is not something to be taken lightly. According to Broere, the team generally meets every Saturday from 9 a.m. to noon and many individual team members have given up vacation time to work on improving the car. A number of students stayed on campus through last spring break and a group of recent graduates worked through the month of July.
The team has worked diligently to prepare for the race, spending many late nights in the workshop building the outer shell of their car, named Ra 7s after its most recent predecessor.
The team had to make a few changes to the older model based on new requirements set by the race coordinators. Each competing team was expected to switch to silicon cells for this year's World Solar Challenge.
While this detail may seem insignificant to some, there are some interesting implications in making the change from gallium arsenide solar cells, which our team used for the last ten years.
According to Broere, the change means the team is working with 22 percent- efficient cells rather than 27 percent. Competitors were also required to limit the weight of the battery from 25 to 22 kilograms, which means the Ra 7s isn't able to store as much energy as its predecessor. Broere explains: "Overall, it's going to be a harder race because we just won't have the amount of energy that we have had in the past."
Modifying the car and spending long hours in the workshop aren't the only expectations put upon the Solar Car team. Individual students have worked ahead to make up for two weeks of missed classes. Crabill says she's grateful for the wonderful support of her professors and adds that members of the team were able to talk with their fall semester teachers in advance to arrange alternate work schedules.
But the most important preparation the team has committed to do is purely metaphysical. Broere explains that the Solar Car team has had two goals for the better part of 10 years. The first goal is to "Glorify God," and the second is to "Always do our best."
Crabill explains: "As long as we continue to express God's goodness and know that God is the ultimate source of energy and supply for all of our competitors as well, we will be doing our best."
Broere points out that the team's best finish prior to establishing these goals was roughly 22nd place. In more recent years, the team placed 7th in the world at the 2009 World Solar Challenge and 2nd behind the University of Michigan in the North American Solar Challenge.
Of course, these goals weren't set as a way to ensure faster race times or to boost ego. Broere explains that the team has had many opportunities to provide much-needed assistance in past races when opposing teams experienced mechanical problems or were in need of crucial items, even random things like camping equipment.
"In the past, one of the things [we've been] known for internationally amongst all the other teams that compete is our willingness to help out our competitors in every situation," says Broere.
If you're interested in following the team's Australia experience, go to www.principia.edu/solar and check out the media page to sign up for Google updates. The team will also broadcast live on PIR at 4 p.m. for a few days before the race and every day of the race from Sunday, October 16 to Oct. 23.