This content has been archived. It may no longer be relevant
By Katie Lovegren
Grab that sidewalk chalk! People across the country are connecting in the form of chalk art on their driveways and streets. The chalk-the-walk movement aims to bring positivity and joy to communities during the social distancing of the global pandemic.
Sidewalk chalk has proven to be a great distraction for people of all ages, as they use their imagination to bring life and hope to our public places.
Around Long Beach, California, an artistic and diverse city, chalk art is everywhere. Chalk stories are being told in the form of stained-glass honoring service workers, children chalking hopscotch squares, and chalked invitations to "STOP, draw or write something nice for the next person to see."
The late spring warmth also aids and abets the outdoor creativity as an educational opportunity for young children at home for school, as well as a fun way for young adults to get creative and get outside.
For Amanda Roberts a senior currently living in Godfrey, Illinois, chalk art has created an exciting time to get outside and spend time with her younger sister Allie who had also been away for college.
Amanda and Allie were inspired to do sidewalk chalk when they realized their mom's birthday was coming up and wanted to something special for her that she can see every day when she goes outside. The sisters grabbed their chalk and drew a sea lion holding some balloons for this special day.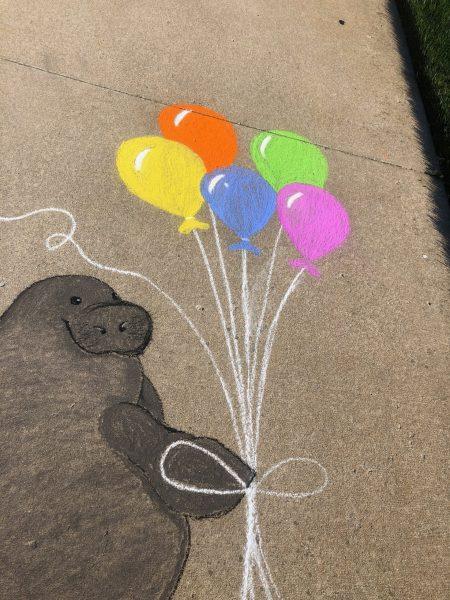 "It was really cool because it led to a lot of conversation starters," says Amanda. "…because our neighbors would walk by and would ask Allie and I who it was for…it just led us to have conversations with more people."
Thousands of tweets have flooded the internet using the hashtag, #chalkthewalk, with the mission of bringing joy to communities and honoring our service workers during this unprecedented time. Although it is unclear where this hashtag originated, a Vancouver, Washington group, The Joy Team, started doing an annual "Chalk the Walks" event in 2011. But chalk art happens all the time in communities nationwide where chalk events are bringing communities together.
Susan Melton is a sidewalk chalk expert and is known as the "chalk fairy" in her hometown in Northern Michigan. She has chalked colorful messages every single day for more than nine years wherever she is and thousands of people in her town and wherever else she goes have been touched by her art.
"When my anniversary date comes around, I always do chalk your walk," Melton told The Pilot. "It's kind of a virtual challenge to other people and other communities to join me on that specific day and get out and chalk something."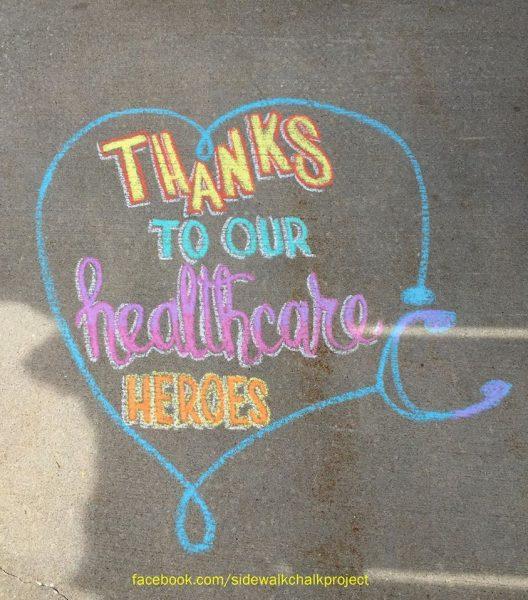 Melton adds, "Almost daily I'll get something from somebody that says 'thank you so much, I was really struggling today,' or 'I'm still having a really hard time with this.' "
Her main goals are to inspire and uplift people no matter what they are going through and where they are, says Melton. The beauty of sidewalk chalk is you can go out and do it anywhere. She chooses her chalk inspiration daily based off something that has inspired her, or by requests from people all around. You can read more about Susan Melton's sidewalk chalk adventure on her Facebook page, Sidewalk Chalk Project.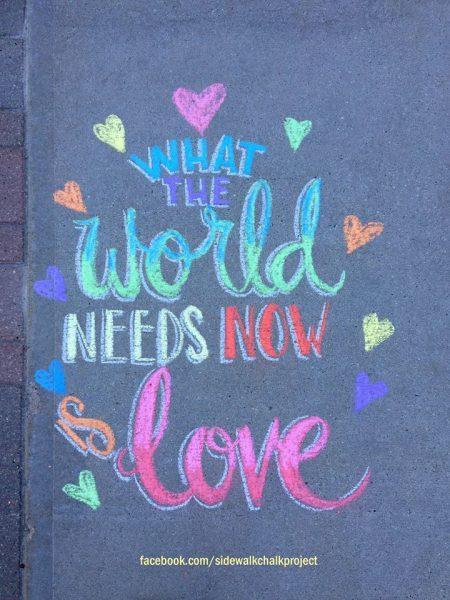 Principia junior Spencer Christensen says he's been touched by the chalk art he's seen around his neighborhood in Centennial, Colorado while out on his runs and walks everyday.
"There was one message that was just like 'we're all in this together,' and it was just really cool [that] any form of kindness is never taken for granted," Christensen says. 'I'm glad people are surrounding themselves with this type of message.'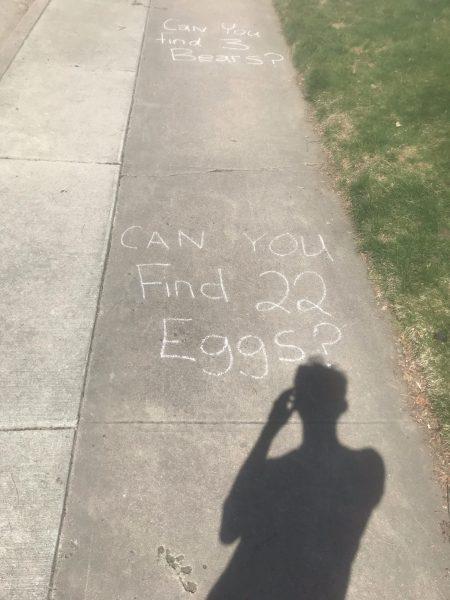 These chalk messages of support are popping up all over the nation on the "canvas" of sidewalks. You, too, can be a part of this wonderful creative project during these uncertain times.
Grab that chalk and inspire, create, and unite—we are all in this together.
•Featured photo at top shows chalk art done by the author, Katie Lovegren, at her home in Long Beach, California.