This content has been archived. It may no longer be relevant
This year's graduating class is a dynamic group, to say the least. So in keeping with tradition, we've decided to profile several seniors in the last Pilot they'll ever see as students. In the following pages, you'll read about these students' highlights from the past few years of school as well as their hopes and plans for the future. If we had enough space in this issue of the magazine, we would happily give every senior a place to shine. Alas, we decided to cut our designers a break this time around. Even so, the Pilot staff offers its congratulations to the Class of 2011! We'll miss you all, but we can't wait to hear what you'll do next.
Anthony Wirahadi
by Sarah Butson
Anthony Wirahadi is a senior in Ferguson House. While at Principia, Anthony found time to pursue three majors: business administration, economics, and computer science. To take a break from studying, Anthony enjoyed the facilities on campus, particularly Crafton and the computer labs. He enjoyed the opportunities he had to work out, play guitar, and hang out with friends at the Pub. He also enjoyed the quiet of campus. He is going to miss the friendly environment and the Christian Science atmosphere, which made it easy to talk to people about important issues. After graduation, Wirahadi will return home to Indonesia. He has plans to spend time with his family and begin looking for a job; he's not sure what this means for him yet in his next step, but he is excited to graduate!
James Suber
by Cam Wells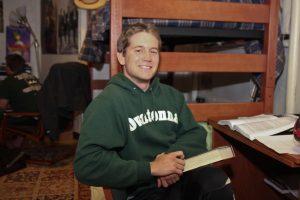 James Suber, from Irvine, California, is excited to be moving on to the working world after graduation. James, a history major, will be working at the Longyear Museum in Chestnut Hill, Massachusetts during the summer. He'll be working with the museum's video and media department, developing different video projects. James is also excited for this coming fall, when he will be traveling with fellow seniors Graham Thatcher, Tom and Will Bisbee to New Zealand for the Rugby World Cup. James plans to spend two months in New Zealand enjoying rugby and the beautiful country.
James has had many great experiences at Principia, including playing for the Thunder Chickens rugby team and taking part in the 2008 Japan Abroad. He has also been president of Sylvester House, enjoyed making silly movies with his friends, and playing the drums in the band Subes and Tubes.
Doug Wallace
by Cam Wells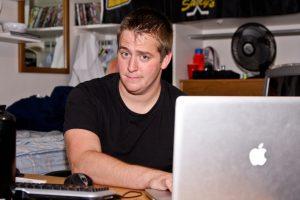 Doug, a senior from Chicago, IL, can look back on his Principia career with a smile. Doug was president of Lowrey House and remembers fondly many of the Lowrey pranks and activities he took part in. He also enjoyed being a member of Lazy Zipper and Plus One, and was on the diving team his freshman year. One of Doug's favorite memories was rafting down the Mississippi River from Grafton to Elsah with some of his friends.
This summer, Doug will begin work as a marketing representative for DirecTV. In later years, Doug hopes to buy a pug and looks forward to getting married! As a great lover of movies, Doug would like to publish movie reviews and develop his interest in acting. Doug will also be auditioning for American Idol this June.
Jasmine Carcieri
by Lauren Kelly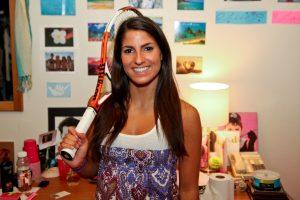 Jasmine Carcieri, a senior from Providence, Rhode Island, will be graduating with a BA in Sociology and Elementary Education. While at Principia, Jasmine was a member of the Varsity Tennis team for three years, and has many wonderful memories from Howard House and the 2010 Hawaii abroad.
After graduation, Jasmine will be going home for the summer, where she will either be working at a summer camp teaching tennis or at a gym as a personal trainer. After the summer, she is looking at teaching jobs for either Kindergarten or First Grade in Massachusetts, Hawaii, or South Carolina. More than anything, Jasmine is looking forward to being out in the real world. She wants to be teaching, but also wouldn't mind having another job before beginning her career in education.
Amanda Wasserman
by Lauren Kelly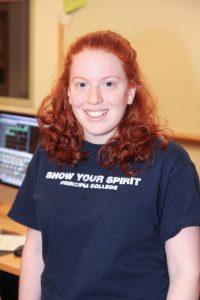 Amanda Wasserman is a senior from Long Island, New York. She will be graduating with a BA in Elementary Education and Sociology. Amanda has been in Howard House since her sophomore year, and has worked in the Alumni Office for the last two-and-a-half years. While at Principia, she greatly enjoyed her experiences in Howard House, as well as in Williams House during Education Block.
After graduation, Amanda will be working in the Alumni Office for two weeks before returning home to work at a day care center. Amanda is looking at teaching jobs in California, South Carolina, Missouri, Illinois, Maryland, Washington, and even Hawaii! Amanda is really grateful for the education department, and is grateful that she was able to be in the classroom at an earlier time than she would have been at other schools. She also appreciates how dedicated her education professors have been.
Oyintari Aboro
by Mackenzie Olson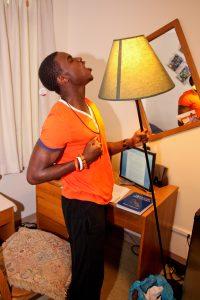 During his four years at Principia, you may have seen Oyintari Aboro receiving passes on the football field, sprinting down the track straights, showing off his moves during the winter dance production, or perhaps studying diligently for his physics, math or geology classes. Despite the many activities Tari was involved in during his time at Principia, he is ready to move on to new adventures.
This summer, Tari will be in Boston interning in the Clerk's Office of the Mother Church. When his internship ends, he wants to take time off to study for the GRE, brush up on his physics and math skills and then apply for graduate schools. He is hoping to work in geophysics, astrophysics, or petroleum engineering. Eventually, he would like to work abroad somewhere like Dubai or Saudi Arabia, though he eventually wants to return to Nigeria. He also likes the idea of living in Dallas: "I like the life there. I like Dallas, man. Dallas has always been fun."
Tari said that what he will most miss about his time at Principia is his interactions with the different students and faculty members. He also said, "I'll miss my main guys Kwasi [Asare-Darko] and Jay [Amuka] and Rodo [Santos Torres] and Godfred [Fianu] … we definitely had a good college experience … I shared a lot of my time and college experience with them."
Mollie Mangelsdorf
By Vincent Herr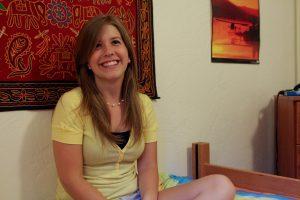 When you talk to Mollie Mangelsdorf, you encounter a young woman from Alaska who wholeheartedly enjoyed and cherished her Principia experience.
One of the first things Mollie is eager to share about her time at Principia is her trip to India as a member of the Fall 2009 abroad. This was Mollie's first trip to Asia, and the experience helped her better understand complete selflessness and unconditional love in an often demanding and challenging environment. Exploring a foreign culture from a Christian Science point of view was a major boost for her toward a genuine and passionate understanding of Mrs. Eddy's teachings.
Majoring in sociology and elementary education, Mollie, who has two younger siblings at Principia, cares a lot about children and their place in our world. After graduating in June, Mollie plans to get a taste of life as a teacher by substitute teaching at local elementary schools in Palmer, Alaska and through work at a nearby Boys and Girls Club.
Though not all future plans are laid out in detail, Mollie, who also loves to take trail runs and who survived her sociology capstone by relying on Gilmore Girls with cookie dough and her roommate, strives to embrace a life path that is based on a natural understanding of Christian Science and love toward everybody.