Sara Nelson arrived at Principia early in the morning on Thursday, October 13. She had flown in from Los Angeles, California, had a three-hour stop in Salt Lake City, Utah, for a quick function, and then flown to St. Louis, a day later she'd be flying out again to stop in Atlanta, Georgia, before making her way north to speak at Yale. She arrived at Principia tired and harboring hopes of a sleep-in, but no stranger to this exceptional schedule. Just a few hours after bed, her hopes of a sleep-in were cut short by the call of a senator.
Nelson hadn't been to campus since her 10-year reunion in 2005. On her short visit, she went out of her way to see Sylvester, her old house. Though these days Nelson's life includes meetings with Bernie Sanders, with whom she is on a first-name basis, chatting with Alexandria Ocasio-Cortez, and buying new shoes for her meeting with the Pope, Nelson still carries a strong love and nostalgia for her days at Principia. 
Beyond her memories, she carries many lessons from Principia too.
"Of course you've heard about Richard Morse saying that 'if you're on the stage you better know why you're there and if you don't, get off, stop wasting our time and come back when you know your purpose and that was a very clear instruction that has guided me," said Nelson, in her homecoming speech that night. It was clear she had taken that message to heart, she knew exactly why she was speaking.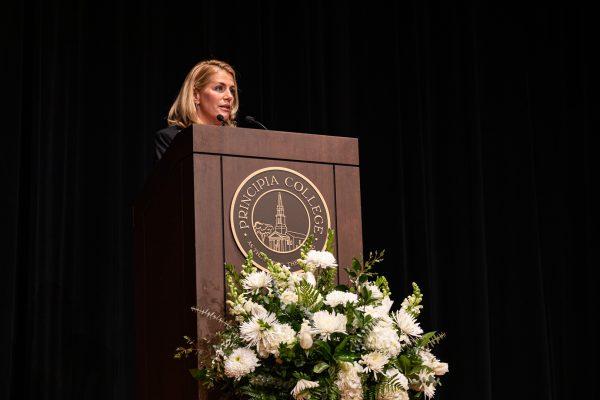 Nelson explained the ways in which Christian Science formed her person, message, and sense of right. "I did have […] a very clear sense of justice because of what Mrs. Eddy taught us," she said.
"Home is the dearest spot on earth and it is the center but not the boundaries of the affections," Nelson shared, quoting one of Eddy's passages in "Science and Health with Key to the Scriptures." (p. 58) "Civil law establishes very unfair differences between the rights of the two sexes, Christian Science furnishes no precedent for such injustice," she added, once again referencing Eddy.
"When I was 4 years old, I found out what it meant to fight like the angel Michael," Nelson said, before sharing an anecdote with the audience. Nelson's mother had put her down for a nap when Nelson wasn't feeling well, only to return shortly later and see Nelson throwing things all around the bedroom "throwing error out," and then she was healed. This experience taught Nelson one form of healing, but she said that it was not the only way to overcome challenges.
"I also learned very clearly what it meant to heal like Gabriel," Nelson said, "to simply know that Love is in control, that we live in the reflection of God, and that the qualities of our Father-Mother God are both considered male and female, and it's an expression of all of these qualities that make us perfect."
Nelson spoke about her learnings with Christian Science and Godly healing as more than just applying these principles to her own personal experiences, but applying these ideas of healing like Micheal and healing like Gabriel to the world, also.
"As I reflect on it, I was brought up as a feminist, because of my upbringing in Christian Science," Nelson said. "[My] strong sense of justice comes from a place of understanding that actually the experience of humankind should be perfection, not turmoil, not discrimination, not marginalization, not poverty, not sickness."
"To my Prin family, sexism and racism have for centuries been the premier tactic of the boss to hold us down, the premier tactic of error to hold us down, keep us divided, and deny us the power we have together to take what we are owed as workers for moving the country, teaching the country, feeding the country, building the country, communicating in this country, and around the world," Nelon said.
Nelson explained that these issues must be dealt with in politics, unions, and within Principia, and she thinks we're well equipped to do it.
"It was that very clear imperative both in my upbringing in the church and also my education at Principia, [it was] constantly questioning how to understand that better, that made it possible for me to do the work today," explained Nelson.
"We can't afford to forget that one, every step makes the next step possible, and two, we can't ever dismiss the oppression of someone else as their problem," Nelson reminded the audience.
"It's very very important to get engaged in the community, this can be a country club experience," Nelson said to the students of Principia about change-making and world community healing, "but if we're not engaging at least once a week outside of the campus, volunteering at Pere Marquette [Illinois Youth Center,] getting engaged in something else happening in the community, fighting for women's rights, then we're not truly fulfilling our purpose of this education at Principia."
Nelson has a clear lesson she left with the Principia campus that Thursday: "solidarity is a force stronger than gravity."