Rumors have circulated campus about a possible change of the Christian Science Organization's testimony meetings from Tuesdays to Wednesdays in the fall semester of 2015. This rumor has risen to the surface as students struggle to get lunch after CSO on Tuesdays and still make it in time for their 12:05 classes.
On a typical Tuesday, after CSO ends at 11:40, streams of students can be seen waiting at the dining room doors to grab a bite to eat. For many students, this will be their one chance to grab some lunch before they begin an intense schedule of afternoon classes and sports. Students have wanted CSO to end ten minutes early so there is enough time to grab some food, according to freshman Joab Onsabwa. Senior Fiona Ouma said, "Whatever happens, the right idea will unfold, and even if they try it and it doesn't work, they can move it back again."
Knowing that things needed to be changed, student body President Susie Bonwich and Vice-President Kendall Shoemake have been researching how to solve the problem. Bonwich said, "We saw that lunch on Tuesday and Thursday was a big issue. Most of the time, the line to get food would be out the door, and for the most part, students didn't get any lunch at all. Over 250 students have a 12:05 class, which is more than half the student body."
According to the Dean of Students, Debra Jones, the two have been working "tirelessly to solve this." Bonwich said that student senate looked at between seven and eight possible solutions last year that would not require changing the entire schedule. According to Bonwich, "We look at simply moving things forward or back a little to fit room for lunch." According to Bonwich and Jones, the plan to change the schedule has not gone all the way through the approval process, but the main proposal is a plan to restructure open times on Friday and Wednesday. This would move CSO to Wednesday morning.
Bonwich said, "I believe we're not giving it a 100 percent [public confirmation] because you never know what can come up, and we don't want to guarantee something and then take it away."
Jones said that the lack of time for students to get food is not what is trying to be rectified, but more the "sense of community around a table that can only be found when sharing a meal." Jones said that Bonwich and Shoemake have been trying to fix this problem since the fall of 2014, and hope that the change can be implemented in the fall of 2015.
However, according to Jones, many faculty did not think a schedule change would be beneficial, if piloted after Spring Break, as students would have to restructure their extra activities and work. Lance Thornton, the director of Dining Services, said that his main concern is the difficulty student workers might face in rearranging their schedules if the change were to happen after spring break.
Academic organizers, faculty, and students have all been approached in the process of researching this change.
CSO president Elaina Cokinos said, "When people are thinking about whether or not they are going to be late to class, it detracts from the value of [the CSO] service. Anything that will help promote less distraction and help attendance in [CSO services], the board and I support. I predict that even though attendance is great right now, it will be even better because of the schedule change."
Bonwich said that she would like to have seen the change in schedule before she graduates this May, but she said, "The fact that students [may get] this change to happen is enough for me."
Disclaimer: Before going to print it had not been announced if the the schedule change had been implemented officially.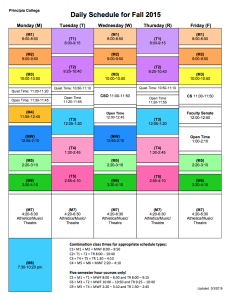 Image courtesy of