This content has been archived. It may no longer be relevant
In examining the Principia community, it sometimes feels easy to observe a divide between professors and students, students and the administration, and even the administration and faculty. However, what is sometimes overlooked by many on campus is the one connecting factor between each of the above-mentioned groups. In every department on campus and every step in the chain of command, there is at least one professional man or woman who graduated from Principia College. Many of them point to their love for Principia as a motivating factor in their return to this campus.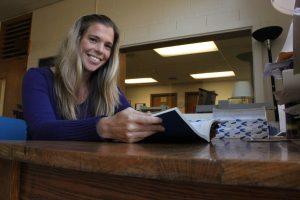 In early October an informal questionnaire was sent out to a group of faculty and staff members who had graduated from the College. Some questions included:
Did you return the year after graduation?
If you took time off and/or pursued a different career for a while, what was it?
What were some contributing factors in your decision to return to the Principia community?
What is different about the Principia work environment in comparison to other places you've worked?
In reading the responses to the survey, it's easy to see that one of the most appealing incentives for returning is "to give back to an institution that meant so meant to my growth," as Brian Roberts put it in a response. In reviewing other answers to the survey questions, it was not surprising to see that this community – with its basi in Christian Science – provides an atmosphere of family that doesn't always exist in other places.
But has anyone ever wondered what members of the faculty have pursued and achieved in their time between graduation and working on-campus full time? Nikki Nicolet, a new faculty member in the education department, taught K-12 for 12 years. In that time she also sailed a 32-foot sailboat halfway around the world. That's just one of many interesting facts that the average person might not find out in casual conversation. Brian Roberts, based on "how much I enjoyed all aspects of my undergraduate experience here at the college," earned a master's and a Ph.D. in government and political science.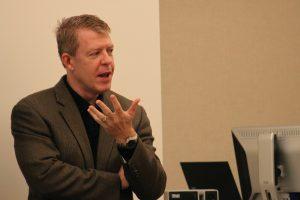 Erica Popp, a faculty member in Writing Center, worked at Nordstrom's the summer after graduation and "felt led to apply for the internship being offered at the time." She added that she is intrigued by the aspect of "seeing Principia from the perspective of a faculty member." This point of view is a rare one – making a transition in one year from interacting with the people working here as your professors and then as colleagues within a few months. Popp is finishing her master's this year with full support from the school. Ken Johnson returned from "[his] business clients, the amount of money [he] was making, and the community where [he] had lived for 18 years. As simple as that". He earned a master's degree from Northwestern and worked as an engineer and manager executive for IBM for 28 years.
Reid Charlston uses his college experience as a reference and tool to better connect with the students in his Anderson Hall. Did you know that Dean of Academics, Dr. Scott Schneberger, was a Navy officer for 20 years or that he earned a Ph.D. and taught at six universities before coming back to Prin? John Williams has completed 28 years of service to the school after assuming he'd never return. He pursued careers as a reporter, manager of political campaigns, and holder of his own law practice. These stories represent only a handful of faculty members, coaches, RCs, etc. that have experienced a great deal between graduation and full-time employment on campus.
The fact that people can most identify with Prin after successful careers elsewhere helps to solidify the a strong sense of community we have here. After being a student at Principia these contributors to our academic society are most inspired by their ability to further "the cause of Christian Science" by educating young Christian Scientists. Many of the above-mentioned individuals accepted significant pay cuts and drastic environment changes all for the chance to give back to this community. Professors and administrative members are highly educated. Most people on campus who are serving the students with their educated are master's of their field, or have a Ph.D. in their field. Post-graduation, Lauren Hinchman earned two master's and taught at another college for nine years.
We go about our everyday lives knowing the names of our professors, those working in the administration, and all the resident counselors. But how often do we realize they have achieved great things? How often do we consider how privileged we are to have them as part of our community? Many Principia graduates on campus have seen beyond the bluffs and prairies of Elsah, IL. We may consider spending more time being receptive to the knowledge and metaphysical support that surrounds us here at Principia? With those being the biggest contributors to the encouraging faculty and all, why wouldn't we attempt to recognize these things as highly beneficial to a successful life?