This content has been archived. It may no longer be relevant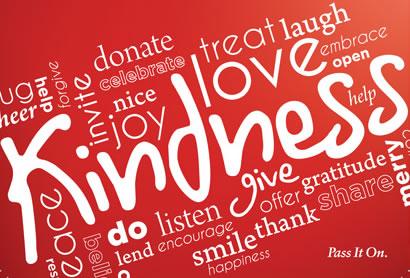 Sixty-three million Americans volunteered in 2010, according to the the Bureau of Labor Statistics. Add this number to the number of people who perform simple random acts of kindness, and you get a whole bunch of people who enjoy making other people happy.
What a generous world we live in! A world that finds hope and love for others in the little things – whether it is a kind greeting, an opened door or a free meal.
There are numerous accounts of random acts of kindness at Principia College. There are thoughtful deeds going on all around the school, whether we see them or not. Between sports teams, in houses and among community members, random acts of kindness are inspiring and elevating the atmosphere on campus.
One day, sophomore Matiss Klava came back to his room after a busy day of classes and work. He was surprised to walk in and find the room perfectly clean. "My roommate had cleaned the whole room; he made both of our beds, vacuumed and organized everything. He made the room look great," he said. "Instead of just cleaning his own side, he cleaned the entire room. It was so generous. This simple act made me figure out that I should do the same thing as roommates, so I did."
Sophomore Ben Stolfa had a similar experience when he was away for rugby one weekend. "My room was super messy when I left; food was everywhere," he said. "But when I came back, it was sparkling clean. My clothes were all folded and my food was put nicely away." It is the simple acts of kindness that are unforgettable and really make an impact on us.
Yet random acts of kindness are not confined to generosity between roommates. Freshman Teff Passaglia explained that she had been busy with homework and classes and had completely forgotten to take her clothes out of the dryer. Three hours later, she went to the laundry room, and was shocked when her clothes were not there. She searched through the halls for her clothes, but no one knew where they had gone. "I went back to my room and everything was there, folded, on top of my bed. It was so nice. Nobody left a note, so I didn't know who did it," she said. "It was so nice; it made my day."
Ferguson House has also been responsible for a serious act of kindness. Its resident counselor, Dan Schneider, noticed people walking back to their houses during their classes to find pens for their tests. Using the idea that everyone should always have a pen with them, Klava said, "Our house started this movement to put pens under the desks in the academic buildings. And the guys in the house each have their own stash, so everyone can always have a pen."
The generous, unselfish acts continue in the dining room with people buying meals for each other. Holding the door open for someone, a nice hug or a friendly greeting are other examples.
Even the volunteering opportunities at Principia are abundant.
At Principia, random acts of kindness seem to be the normal thing to see. "I'm so used to seeing these kind things around everyone at Prin; it's so natural that it doesn't seem out of place," said senior Jessyca MacMullin. "I'm very grateful for these moments. When I see it happen, that's the best."
Admissions counselor Christian Richardson said that "the fact that Principia exists" is an act of kindness. Students at Principia are blessed every day because so many people work hard to make Principia what it is. The facilities, housekeeping, dining services, maintenance and many other departments work diligently behind the scenes to keep the college functioning smoothly. Richardson continued, "There's nothing that is random because it's all God's work."
Reflecting love is the reason why many selfless acts take place on Principia campus. Acts of kindness are easy to share, inspiring people to take part in them.