This content has been archived. It may no longer be relevant
You don't have to live in Howard House to see that tradition and sisterhood have always been a big deal to these girls. The staircase leading up from the lobby is lined with black-and-white photographs of former Howard sisters through the decades, and Howard is the only house on campus with an Alumni Head and a quarterly house newsletter. While the women of Howard are eager to welcome new friends, the idea of keeping things in the family certainly has its appeal. With that in mind, Howard alumna Leslie Nichols Shelton seems to be a perfect match for the house as a temporary resident counselor.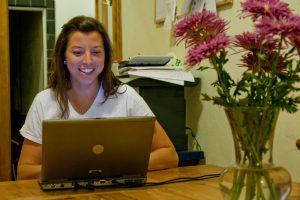 Leslie has been closely tied to the Principia community for years. She attended the Upper School and transferred to the College after one semester at a school in Florida. A few years after college, Leslie Nichols married Tom Shelton, whom she had known for years at camp [name of camp?]. The Sheltons live in Vinita, Oklahoma with a dog, Lily, and a cat, Socks. Since making the move to Oklahoma, Leslie has learned to appreciate a country lifestyle most people know very little about. Among other highlights, Leslie has personally branded a cow and helped capture a rogue rooster.
But to understand more specifically where Leslie is at this point in her life, it's important to understand where she came from.
As a student, Leslie majored in Sports Management, which she's sad to see is no longer offered as an academic major. Along with studying communication and coaching as part of her major, Leslie played on the Principia College basketball team for four years. She attributed part of her initial love for Principia to the welcoming nature of her teammates and coaches.
Leslie described her first two seasons on the team as "rebuilding years." She explains, "We lost many games, but finally my junior year we were starting to turn around and we won a handful. And then my senior year we were part of a history-making season."
Not only did Leslie have a lot of fun with the team, she also served as a team captain in her last two years of college and went on to become SLIAC MVP her senior year.
Leslie's athletic career in college earned her a position as the head girl's basketball coach at the Upper School. She also worked as a house mom for two years, taking on both new roles just a few months after her college graduation in 2007.
Leslie remembers her experience as a house mom fondly, saying she was happy to accept the temporary resident counselor position in Howard this quarter after so thoroughly enjoying her time at the Upper School. She added that many of the girls she worked with at the Upper School now attend the College, so she says it's been nice to see those students again.
Once upon a time, junior Caroline Korthals knew Leslie as a house mom at the Upper School. Prior to that experience, Korthals had Leslie as a counselor at Cedars. "She's like who I want to be when I grow up," said Korthals, who lit up when asked to describe what she loves most about Leslie. Korthals also noted that Leslie is easy to talk to, calm and outgoing.
Junior Mallory Lee, one of two Howard House presidents, described Leslie in three words: "fun-loving," "friendly" and "caring."
Leslie said she's looking forward to "connecting with the women of the house" throughout the rest of this quarter. She added: "I'm excited for the opportunity to cherish every single woman in this house, and I think a goal of mine is to really let everyone feel loved here."
Even students who don't live in Leslie's house are feeling the love. Korthals explained: "I'm just happy she's at Prin because she's such a good example for girls, and everyone."
On the very first day of the quarter, Leslie introduced a well-loved "daily thought" initiative. Members of the house are encouraged to pick up an inspirational quote on their way out the door every morning. At the first house meeting of the quarter, Leslie explained that her mother did something similar while she was growing up. Leslie added that she slipped the note into her pocket each day, and that every time her hand brushed the slip of paper, she would feel happy and loved.
Leslie has helped to create a similarly loving, happy environment for the women of Howard. Her door is always open, and she makes a noticeable effort to connect with students on an individual level.
Lee added, "She always stresses the fact that she's here for everyone if they need anything."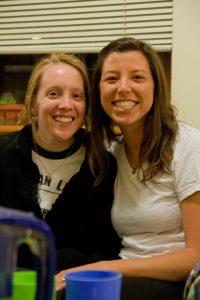 As a temporary transfer to Howard, I was surprised to find in my first meeting with Leslie that she already knew my name and a few things about my life at Prin. Perhaps that's a special characteristic of the community we've created at this school, but I'm also led to believe that it's a special quality of Leslie's.
Whether she's hosting a Glee viewing party in her apartment or conducting a one-on-one meeting, Leslie is doing a lot to preserve the concept of family that has been developed over the years in Howard.