New biology professor Scott Eckert once lived underwater for ten days, spending six hours every night at the bottom of the ocean. For four months he lived in a tent on ocean ice in Antarctica, studying emperor penguins and watching killer whales whip beneath the surface. And every summer, Eckert spends two weeks a month on the island of Trinidad, monitoring leatherback sea turtle hatcheries and working to stop their accidental capture. So what's he doing in Elsah, Illinois?
Eckert graduated from Principia in 1979, his wife Karen graduated a year later, and they were married soon thereafter. They then took a job at the University of Georgia with Joe Richardson, a tropical ecologist who had been a guest on the Guatemala abroad program that Karen participated in as a student. After two seasons of conservation work with loggerhead turtles, Eckert says they "were pretty much hooked" on turtle conservation.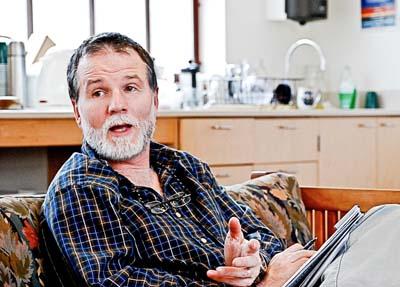 When Eckert graduated from Principia, he had hopes of working with raptors, and never considered sea turtles. While a student, he was the first intern at the Bird of Prey Center in St. Louis. He says, "I couldn't spell 'sea turtle' when I left here." But Eckert adds, "You go where the doors open. You go where you can do the most good and where you can drive the most interest."
After completing his work in Georgia and embarking on a brief sojourn to Baja, Mexico, the Eckerts were offered a position in the US Virgin Islands to start a leatherback sea turtle conservation program, and ended up staying for five years. During their stay, they purchased land for the first national marine turtle wildlife refuge in the US.
With the project going, and with publications and grants to both their names, the Eckerts were able to get into graduate school and then go on to their doctorates. While doing his post-doctorate research at Scripps College, Eckert did some work with emperor penguins and seals. At the same time, Karen became the director of WIDECAST, the Wider Caribbean Sea Turtle Conservation Network, which is the largest and oldest network of its kind. She remains the executive director today.
After finishing his research at Scripps, Eckert took a position with the US National Marine Fisheries Service as the chair of a team of biologists developing recovery plans for sea turtles in the Pacific Ocean, and traveling all over the Pacific. Next in line was thirteen years in a research position at the Hubbs Sea World Research Institute in San Diego. While he did a lot of work with whale sharks, Eckert says that sea turtles were still "the bread and butter" of his life's work.
Eckert then became WIDECAST's full-time Director of Science, and for the last five or six years, the Eckerts have worked at Duke University on the coast of North Carolina, while continuing to run the network.
The Eckerts made the move to Saint Louis primarily because their son Adam, whom Eckert called his "best field assistant," was looking for a more fast-paced setting and, according to Eckert, "fell in love with the idea of attending the Upper School." They moved WIDECAST's headquarters to St. Louis, where Karen works long days writing and editing publications and communicating with colleagues all over the world. Eckert says, "All we really need for this network is an international airport and high speed Internet." Adam, now a junior at the Upper School, has been Dad's official team member since he was twelve or thirteen and goes to the WIDECAST meeting with his parents every year.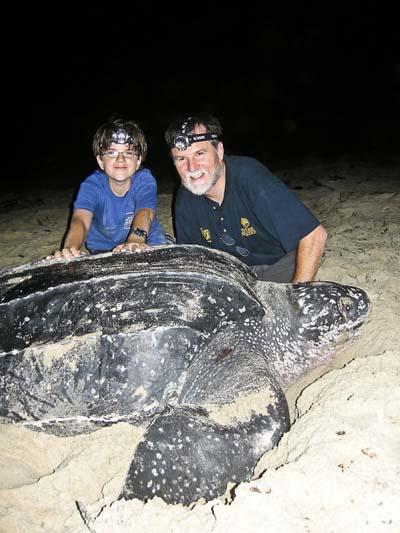 In the fall, Eckert will take a permanent position with the College after teaching one more class at Duke this spring. Eckert says, "I think there's a moral obligation of every scientist to serve as a mentor … it's the only way science moves forward." He has already begun extending opportunities to Principia students to get out in the field and build professional experience. He says, "I want to see the students coming out of here doing professional-level science … that's what made the difference for Karen and me." He also hopes to prepare Principia students for graduate school, which he said is a necessary step for all science students. He says they've already submitted five or six new course ideas, and Eckert promises to set up an abroad program in Trinidad.
In late March, Eckert will be back in Trinidad, checking up on a project to reduce accidental turtle capture by way of gill nets.  Eckert and his colleagues have come up with new technologies that allow fishermen to work with gill nets and "still reduce their turtle capture by at least 50 percent," he says, "as well as some new fishing techniques that don't catch turtles at all." Thanks to Scott and Karen's work, the Caribbean is now the only region in the world where endangered sea turtle populations are coming back.
Eckert quotes his wife when he says that "whether a sea turtle lives or dies is the decision of the individual that encountered that turtle." He continued, "If those decision-makers don't understand the importance of the natural world, if they don't understand the benefits that the natural world provides and that we are the stewards of that natural world, then we won't have one anymore."