This content has been archived. It may no longer be relevant
When I told a few friends that I would be writing a profile on the visiting Computer Science professor, one exclaimed, "Oh, good. He seems cool!" Another asked, "The one with all the kids?," and the other said, "I hear his classes are really hard." So what's the truth? Read on.
Clint Staley joins the Computer Science department while Tom Fuller is on what Staley referred to as a "well deserved" sabbatical; and yes, the adorable kids are his.
After graduating from Principia in 1980, Staley came back to teach here from 1986-1987. Since then, he has taught at Cal Poly in San Luis Obispo, California for 22 years. After he was asked to fill in at Principia for a quarter, he and his family drove across the country, bringing with them three scooters to keep his children mobile on campus. A fourth scooter and all of the kids' bikes, he said, were given to them by members of the Principia community. He remarked that the brief move has given his family a chance to experience Principia while giving him the chance to "come back home."
Staley is currently teaching a course called Compilers, in which students learn the codes that compile computer programs, which he said includes linguistic elements as well as elements of programming. He is also teaching Advanced Algorithms, in which students learn about sophisticated types of programs. He said, "I teach difficult classes. … I want to prepare people very well for a demanding field."
Junior Daniel Hensey praised the difficulty of Staley's Compilers class. He said, "I've learned to appreciate the educational value that it has." The quarter has been a challenge, but Hensey said that Staley's assignments give him a real sense of accomplishment. Senior Katie Farquhar said, "He has a lot of experience in the field, and he knows what's expected.  That advice has been tremendously helpful, especially as I embark on a job search."
Staley wrote his first computer program in the early 1970s while experimenting in high school, which he said was an unusual opportunity at the time. His high school was one of few that owned a computer. While a student at Principia he took a couple of computer science courses, and actually began his graduate studies in Electrical Engineering before switching to Computer Science. He went on to get a Ph.D. in Electrical Engineering.
Staley and his wife Cathy have four kids. The oldest are eight-year-old twins from Thailand named Pantitra and Panwasa, whom most people know as Titra and Wasa. Andrew, also from Thailand, is six, and the youngest is two-year-old Samuel, "Spunky," from China. Mrs. Staley is a lifelong Christian Scientist who never had the opportunity to come to Principia before and is grateful to be here now. The whole family has felt very warmly welcomed by the community, said Staley.
Staley said his hobbies are his professional work and keeping up with his family, but "if he had free time," he might read history books.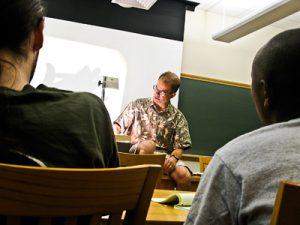 In the early 1980s, Principia's Computer Science program consisted of courses taught in Colorado during winter quarter. Staley was asked to help move the program back on campus in 1986 before the Science Center had been built. He said they worked in a temporary building where the goat pen is currently located, with a dozen machines that, while primitive with a RAM of about 1 megabyte, were state-of-the-art at the time. In addition, Staley said that when he was a student, fewer students went off campus in their free time, as there was more social activity happening on campus.
Though Staley will return to teach at Cal Poly in the fall, he will spend the first few days of fall quarter at Principia to begin a course that will take place online for the rest of the term. The course will consist of two units on Java programming, and Staley said it is designed for any student who is already familiar with another programming language.
Hensey said, "This is such a great opportunity. … I'm very glad that Clint is offering this course, and I hope he offers more in the future."
While a lot has changed since Staley was here last, he said that the spirit of kindness on campus remains the same, as well as the "underlying presumption of [a] spiritual outlook." He said he hopes to be able to come back occasionally to teach courses here in the future.