PRINCIPIA MULTIS PROVED A SUCCESSFUL HOME MEET FOR PRINCIPIA ATHLETES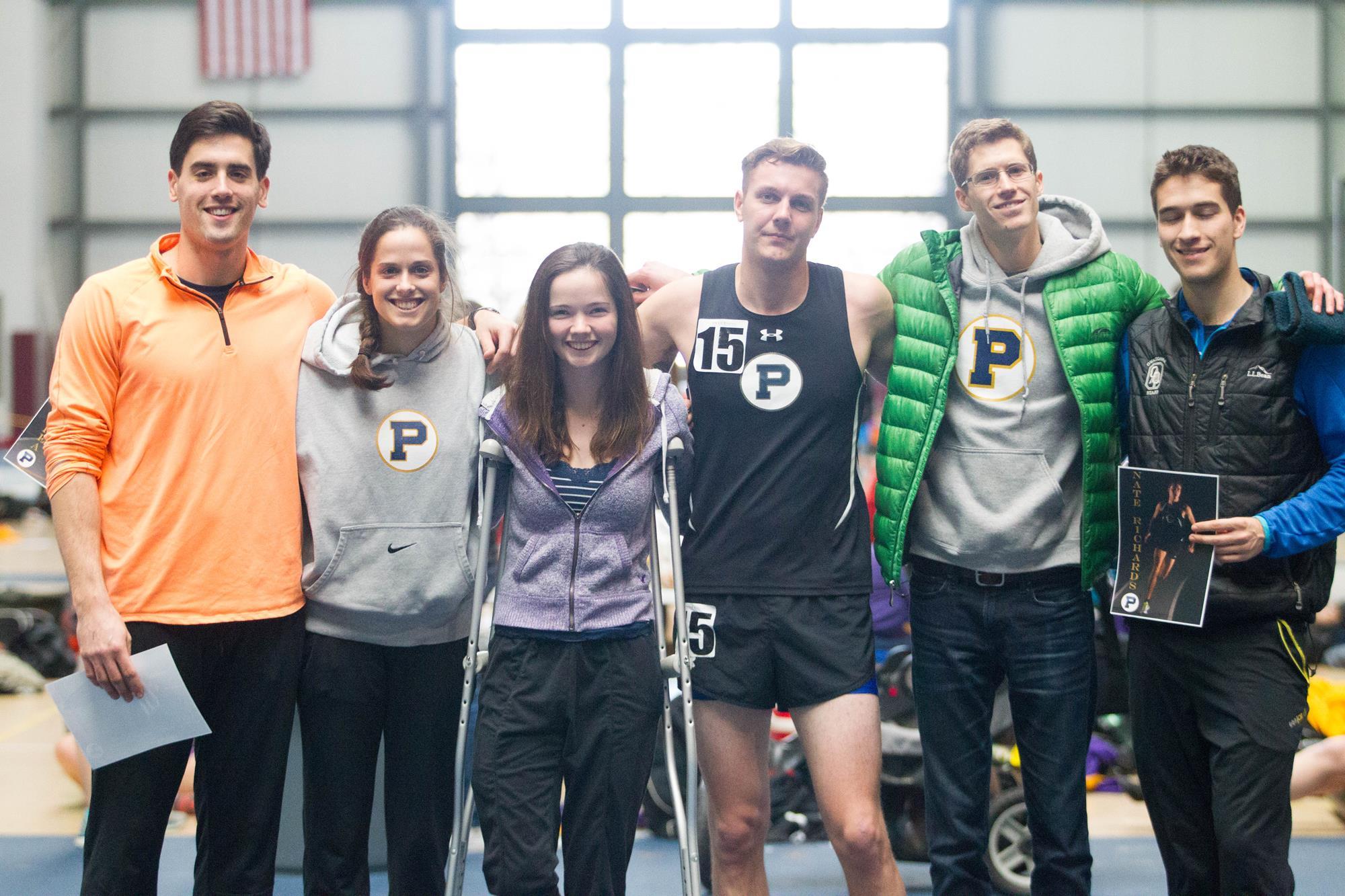 Elsah, ILL. — The Principia College Track and Field team celebrated their seniors on February 25, 2017, at the Principia Invitational. This meet was the end of the indoor season for the majority of the team, however, a few will continue trying for national qualifying marks and school records next week in Wisconsin.
Principia competed well against four other St. Louis Intercollegiate Athletic Conference (SLIAC) schools . Senior Luke Shaw jumped 3.55m which was 11′ 7.75″. This was the same height as the competitors in first and second place; however, Shaw took third place because of the number of previous missed attempts. Senior Ryan Richardson had a 12 second personal best in the mile with a time of 5:06.94. Senior Rachel Perea broke her own school record in the 400m dash and took first place with a time of 1:00.09. Senior Shane Witters-Hicks took third the 3000m which was his first race of the season. Witters Hicks ran a 8:43.84 which is .03 away from his lifetime best in the 3000m from last year. Running with him was senior Nate Richards who won the 3000m with a time of 8:40.56.
Jumpers Jon Ansumana and Charlie Thompson both had great days. Ansumana took third with a jump of 6.49m (21′ 3.5″) and Thompson jumped 5.26m (17′ 3.25″) in the long jump. Thompson also competed in the high jump for the first time this season with a fourth place jump of 1.75m (5′ 8.75″). Thompson also took seventh in the triple jump with a 10.33m (33′ 10.75″). Ansumana also took sixth in the 60m dash running a 7.50 and third in the 200 with a time of 24.06. Junior Deirdre Wright won the triple jump with a season best jump of 10.15m (33′ 3″). Wright also took third in the 200m dash running a personal best of 29.90. First year runner Rhiannon Davis set two lifetime bests in the long jump with a jump of 3.78m (12′ 5″), a four inch PR and a 31.21 200. Both of Davis' marks were seventh place.
Freshman thrower Broke Engel set a new personal record in the weight throw with a toss of 9.38m (30′ 9.25″) which was almost a meter further than her previous best. Engel also threw the shot put 8.51m (27′ 11″). Freshman Chris Puduski took fifth place in the shot put with a throw of 10.62m (34′ 10.25″) only a few inches shy of his lifetime best.
Sprinter Justin Wade competed in his first collegiate track meet in the 200m dash with a time of 28.52 which gave him a seventh place finish. Konrad Peterson ran the 400m with a new personal best of 1:03.78. Principia had three women in the 60m dash, Lindsay Clarke (PR 9.30), Sally Abouchar (PR 9.41), and Julia Wesman (9.61). In the 200m dash Clarke took eight place with a personal best time of 31.32 and Wesman with a time of 32.38. Winning the 200m dash was Devon Marunde with a PR time of 28.26. Marunde also took second place in the 60m hurdles with a personal best of 10.12.
Four freshman runners took to the 800 where Quinn Heinbaugh took fifth place with a time of 2:11.38. Tyler Winterbottom, Matthew McLeod-Warrick, and Sean Hannigan ran 2:19.32, 2:19.67, and 2:26.60 respectively. Heinbaugh and Winterbottom also both set new personal best in the mile with Heinbaugh running a 4:53.81 which was sixth place and an 11 second PR and Winterbottom running a 5:09.72 which was a 3 second PR. Junior Zach Matthiesen ran his first collegiate 3000m with a time of 8:43.54.
All three women milers had an outstanding race. Junior Cha Cha Fisher broke 6 minutes with a lifetime best time of 5:59.53. Freshman Ava Lesko ran a 6:05.77 which was a nine second lifetime best. Lesko has cut time every week of this season and has improved her mile time by 25 seconds in just five weeks. Junior Brie Burns ran a lifetime best of 6:15.44 which was almost two seconds faster than her previous best and over 17 seconds faster than any race of this year.
This fresh-faced team had an excellent indoor season and they have the opportunity to train hard for the next few weeks leading up to the official start of the outdoor season at the end of spring break in Alabama on March 24 and 25.
For full results from the Multis meet visit http://www.principiaathletics.com/documents/2017/2/25//PrinMultis2017.htm.
See the comments below that were read during the meet to celebrate the team's seniors!
Meet our Seniors:
Ryan Richardson is an Education Studies major and is minoring in Sustainability and Environmental Studies. Ryan is an avid climber who has climbed all over the world. He spent the indoor season focused on the mile and will continue racing during the outdoor season.
Luke Shaw is a business major who competed in the pole vault in high school. As a collegiate competitor he has jumped 3.58m which is 11′ 9″.
Kim Faulkner is a French major with a minor in sociology and anthropology. Kim has run for the Principia Cross Country team for the past two years and has focused her indoor efforts on the mile.
Rachel Perea is a double major in educational studies and philosophy. Rachel joined the team after four successful years on the Principia Soccer team where she was recognized repeatedly for her success and leadership. Just this season Rachel has broken two school records the 300 with a time of 43.38 and the 400 with a time of 1:00.14.
Senior Geoff Hibbs is an outdoor athlete who has competed in the Javelin for 4 years. Geoff is 2nd on our All-time top 10 list in the javelin with a throw of 190′ 9″. Geoff also holds the indoor track and field record in the men's heptathlon.
Shane Witters Hicks is a four-year cross country and track athlete. Shane is second on the All-time top 10 list in the 3000m steeple chase and seventh for the outdoor 5000. Shane was also named to the SLIAC 2nd –team All-Conference last year in cross county. We still have a final cross country season with Shane this upcoming fall.
Nate Richards is a four-year cross country and track athlete was well. Nate holds the school record in the 5000m with a time of 14:47.78. Nate is 2nd on the All-time top ten list in the 5000m outdoor and third on the All-Time 3000m steeple chase. Nate qualified for nationals during his sophomore cross country season and he took 2nd during the SLIAC cross country championships this fall. Nate still has one final cross country season with us.
All three of our 4-year seniors have national qualifying potential and we are excited to watch them reap the benefits of all of their training. Thank you seniors. We are very proud of you!
Also thank you to coach Chuck Wilcoxen for many wonderful years at Principia College. We are excited about your next adventures and we are so grateful for all of your expertise, life advice, and genuine love and support.