Ciao Down
Last weekend Joe McNabb and Brooks co-hosted Principia's first-ever "Ciao Down." This was a combination of Joe McNabb's annual Joe Down party and one of Brooks House's Club Ciao parties. This year's country extravaganza featured live music from Prin alum Hart Kingsbery and his band, as well as a mechanical bull and lots of down-home food.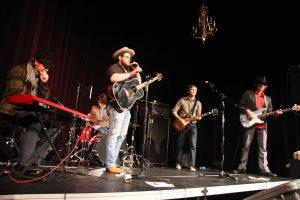 Humans vs. Zombies
This week Buck House had a test run of a new all-campus activity that will debut Fall Semester. The game, Humans vs. Zombies, is similar to the well-loved campus game of Eliminator. A single "zombie" is charged with tagging the "humans," who then become zombies as well. A human can stun a zombie for a period of time by shooting him with a Nerf gun or by hitting him with a balled-up sock. The game, which encourages teamwork and creativity, is shorter than an average Eliminator game, lasting only a few days.
AHOC
Anderson House of Crepes is back! The freshmen of Anderson hosted a free AHOC two weeks ago, and Thursday night they brought back the tradition. The event was held in the Anderson living room, and for one dollar students could buy two crepes with a variety of toppings. AHOC serves as both a fundraiser for Anderson House and a great way to take a study break!
PAC Movie: Trade
This year's Public Affairs Conference focuses on the issue of human trafficking. The PAC board showed the movie Trade on campus last Friday in order to raise awareness about the issues associated with trafficking. The movie focuses on a boy looking for his sister, who was kidnapped in Mexico and trafficked into the United States. The movie, followed by a metaphysical discussion, was aimed at advertising the conference and raising awareness about an issue that is currently prevalent in our global society.