This content has been archived. It may no longer be relevant
Community service at Principia is conducted through the class SOC 50. SOC 50 offers students the chance to serve the greater community. The program is overseen by Robert Pennamon and offers many ways in which students can get involved.
This quarter, SOC 50 offers such community service opportunities as Pets on Wheels, the St. Louis International Institution, the Three Rivers Community Farm, the Oasis Women's Shelter, and a project with Pride Incorporated.
In regards to the Pets on Wheels program, Pennamon said, "We take one trained dog and other dogs to a local nursing home. The students meet with the pet owners before they take the dogs and then go room to room and see if the people living there would be interested in seeing the dogs. The students then end up visiting with the residents. We have seen real fruitage there with our efforts.  One resident who didn't respond before, now regularly interacts with the pets.   The managers of the nursing home call it pet therapy."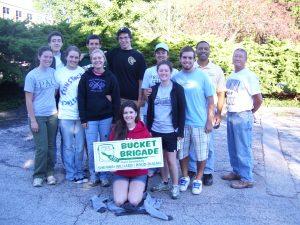 The St. Louis International Institution allows students to work with an organization that provides services to immigrants and refugees. Pennamon said, "Most recently we have been helping the company help Iraqi immigrants with providing housing and other basic needs."
Another community service opportunity this term gave students the chance to work at the Three Rivers Community Farm. Students helped close down the garden for the fall and will help plant in the spring.  "I asked students what a recent organic food garden project experience meant to them, and one responded that to meet the few immigrants and refugees who did come to help out with the project meant a lot," Pennamon said.
Students also volunteered at the Oasis Shelter for Battered Women. The shelter helps mothers who have suffered abuse. Students look after and play with the mothers' children for an hour or two, while the mothers run errands or take some much needed personal time. Lila Morse, a sophomore who volunteers for Oasis, said that one of her favorite experiences at Oasis occurred last week. Morse said, "I was drawing with some little girls and when I went to leave, one ran up to me and grabbed hold of my leg and refused to let go."
Other programs that occurred this term, such as the river clean up, were done in conjunction with the Humanitarian Relief Club. This club is headed by sophomore Katie Hynd and junior Emily Sander. Morse said that "right now we are doing work for H2O for Life and are trying to raise $2,500 to build a well for a school. The $2,500 will be met by another school to raise a combined $5,000 to build the well." Hynd said, "We are trying to get more projects going closer to home and we are also working on a project to do over spring break." Sander also said, "We are trying to work something out so that students can give back to the community not only in areas far away from the community that we live in."
Pennamon says that his main goal for the class is for everyone to pass and to hopefully learn to make community service a lifetime habit. Hynd said, "It's important to show gratitude by giving back." Hynd also shared a story of her work with the Pere Marquette girls last spring. "We brought [the Pere Marquette girls] onto campus for dance prod. They really enjoyed it, and we had the chance to talk to them and to get to know them." Hynd said that she liked her community service work because it opened her eyes up to even more good that she could do.  Students who are involved grow from their experiences and love the work they do. Programs change from term to term, but there's always an opportunity to give back in some way.