This content has been archived. It may no longer be relevant
Faculty and staff from both Principia campuses joined forces earlier this semester at a joint staff meeting to discuss Policy 5. In this policy, it is made clear that Christian Science is not to be taught in the classroom, in accordance with the by-law in the Manual of the Mother Church. This policy does, however, state that "It shall be the purpose of The Principia so to conduct its activities as to turn the members of its student body, faculty, and staff to Christian Science at all times, so that all may gain practical experience in utilizing the teachings of Christian Science in daily living." This phrasing implies therein implies that the role Christian Science plays in daily activities is not subtle or passive.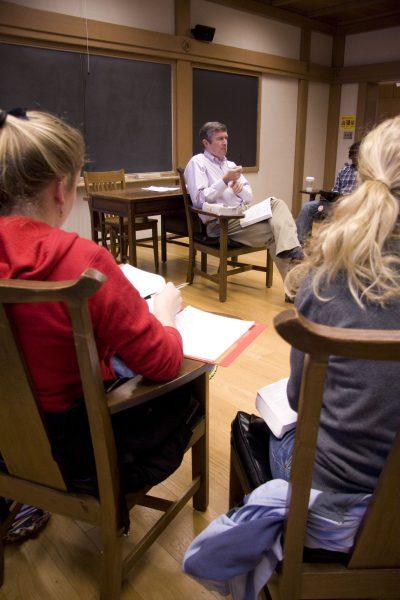 In a follow-up e-mail sent to faculty and staff after the meeting, College President and CEO Dr. Jonathan Palmer wrote, "I left Friday's meeting with several takeaways, including how much of our work at Principia – with both students and one another – is grounded in the need to show rather than tell." Showing rather than telling is an idea that is echoed among many professors. Professor Mike Hamilton said, "I think what we can show each other and exemplify is probably the most powerful thing."
Hamilton gave a five-minute talk at the meeting in which he mentioned a specific account by Hermann S. Hering in the expanded edition of the book We Knew Mary Baker Eddy. In this account, Hering wrote, "I remember Mrs. Eddy saying that schools for Christian Science children must not be called Christian Science schools . . . One point she was very emphatic about is that Christian Science must not be interpreted in the academic studies and that the academic studies must not be interpreted along the line of Christian Science." If we trust in the integrity of Mr. Hering, this memoir helps us understand how Christian Science fits in an academic setting. One thing is for sure – it's not to be taught.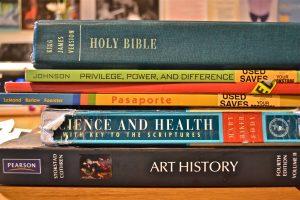 Avoiding the instruction of Christian Science in the classroom, however, is very different from avoiding mention of it altogether. The policy states that the student body, faculty and staff should be turning to Christian Science "at all times." Dr. Julie Blase, a political science professor, is aware that the material she teaches is "heavy stuff" such as genocide and civil war. "I tell them you've got to be alert to how reading this material affects your perspective, and you've got to take steps to protect yourself," said Blase. Dr. Blase has a handout of testimonies that she offers her students; one includes a story of a man who witnessed genocide in Rwanda. "We don't really talk about the testimonies per se," said Blase, but she encourages her students to read them in order to understand that healing is possible even in dire circumstances.
History professor Dr. David Winder said that professors in the classroom ignore Christian Science on occasion. "I think sometimes there's a tendency to say that this is a subject that should be reserved for Sunday School or individual discussion outside the classroom, which inhibits us to the point that sometimes we don't say things that are important and, in some cases, provide clarification," he said. Winder feels that the policy is a "necessary safeguard," but doesn't agree with "ducking the question" when it is brought up. In Winder's experience at Principia, Science has come up in the classroom mainly in response to a question, such as a student trying to make a comparison to another religion. Winder also feels that whether or not Christian Science comes up in the classroom depends on the nature of course material within a specific discipline.
Science and Health with Key to the Scriptures by Mary Baker Eddy, page 141, line 30, reads: "Give to [Christian Science] the place in our institutions of learning now occupied by scholastic theology and physiology, and it will eradicate sickness and sin in less time than the old systems, devised for subduing them, have required for self-establishment and propagation." Principia College is a school for Christian Scientists, and this institution was not established so that we can live in fear of speaking about the very thing we have based our lives on. That being said, genuinely living this Science rather than merely talking about it is always preferable.
Image courtesy of