Principia Internet Radio (PIR) has a variety of radio shows, all with the purpose of informing and entertaining the Principia community while providing a learning experience for students.
Since its introduction in October 2007, PIR has evolved into the thriving station it is today. Its shows cover a vast range of topics, including sports updates, a call-in political show, and international music. These shows are available to the world via the Internet. This means that anyone with Internet access can stay connected with Principia by tuning in to hear what students have to offer.
Senior Ricky Seaman said his involvement with PIR started when the time came for him to fill the Mass Communication majors' practicum requirement. Why did he choose to fill this requirement with a radio show? There are actually a few reasons. "I love cultures," he said. "I had the music and I was inspired by international friends." Seaman's show, "A Trip Around the World," which "promote[s] global awareness."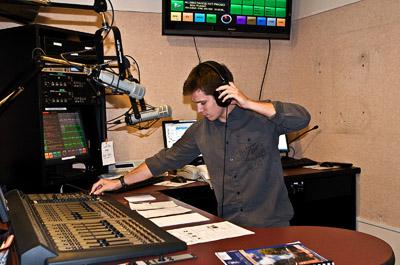 Other students involved with PIR are freshman Zach Becker and sophomore Max Russell. Becker said that he got into radio because his older brother, junior Rob Terrell, was on the board. Due to his passion for sports, he started a show called Principia's Sports Network, or PSPN. Russell has been involved with a variety of shows on PIR, including "Reggae Vibes" and "Beyond Borders," the former of which hosted Dynamq as a guest. The purpose of shows such as these is to "break down segregation," said Russell.
However different the shows may seem, the students behind the mics all have something in common: passion. Each student heard on the radio is there because they truly love what they are doing. Freshman Ratia Tekenet said that her involvement with PIR "started out as a joke," but her passion and love for radio are what really pushed her into it. "I think if you're determined to do it, nothing can stop you," she said. She now co-hosts a call-in radio show called "Starlight" with freshman Eric Odanga, a show meant to represent the community and bring it together.
Although anyone can get involved with PIR, it takes a great deal of commitment. According to Rick Dearborn, the Director of Digital Media, everyone who wants to host a show is required to train under someone with experience before they go on the air. Students are also required to sign an agreement that says they will uphold Principia's standards and will not air anything that would misrepresent the community. For example, if someone were to request "Lil' Freak," it probably wouldn't be played on the air. As much as they may love Usher, someone else may not think his lyrics are appropriate for a medium that exists to advance Principia.
Whether it is due to increased awareness of the station or a response to the great shows available, the number of PIR listeners is growing. "During the last year we had over 23,000 listeners to our live program. So far, the number of listeners is up about 50 percent from last year," said Dearborn. However, numbers are still not where they could be. "The campus needs to appreciate what we have," said Tekenet. More than anything, Tekenet would like feedback from the community. "I wish there was a way to know what to improve, what to change, how to make the show better for them," she said.