Behind the scenes of the Principia College Squirrel Watch.
Warning: If small, adorable, fluffy animals upset you, do not read on.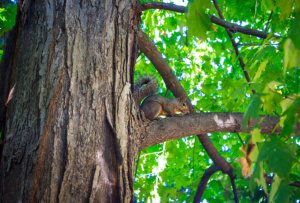 The squirrels on campus have become quite famous among Principians. Some would say Principia may have a squirrel obsession. In fact, there is even a Facebook page dedicated to observing and photographing their daily activities, known as Principia College Squirrel Watch.
This page features pictures and clever captions of squirrel day-to-day outings and adventures, such as relaxing in the sun, gathering food, and even a squirrel funeral. It is, as the page states, "a place for the Prin community to come together and share photos of the cutest inhabitants of our campus – the squirrels."
But why squirrels? "They're cute, and hilarious, and we encounter them countless times a day, so I figured it was time to start documenting them," says the page's founder, junior Courtney Puduski.
She created the PC Squirrel Watch in February of 2016 during her sophomore year. "I had a cute moment with a squirrel and caught a photo of him. I wanted to share it, so a FaceBook group seemed like the best way to do that," she said.
The group began with 50-55 added members, and has now grown up to 189 members and continues to expand in members and popularity. While the page may seem like a bit comical to some, students seem to really enjoy it, as many contribute to the page by posting their own pictures and liking previous posts. In fact, the posting of pictures has become much more frequent.
At first, a minimal amount of posts would be made per week. But there is now one almost daily. "It's become a challenge," says sophomore Cole Johnson, "to get a great picture of the squirrel." The most popular pictures are those with witty captions or action shots. While it is rumored there may be plans to create another page for all of Principia's fuzzy critters, PC Squirrel Watch is solely for tracking the activities of the Prin squirrel family.
PC Squirrel Watch has been designed to be run and enjoyed by the Principia community. What keeps it alive is the students' interest in continuing to post their squirrel pictures. Johnson added, "I think it's important to keep the page active, because it [inspires] a little more sense of community since we all enjoy these furry creatures."
Note: No squirrels were harmed in the creation of this article.
Image courtesy of Taffiny Kablay