PANTHERS PICK UP TWO VICTORIES AGAINST PIONEERS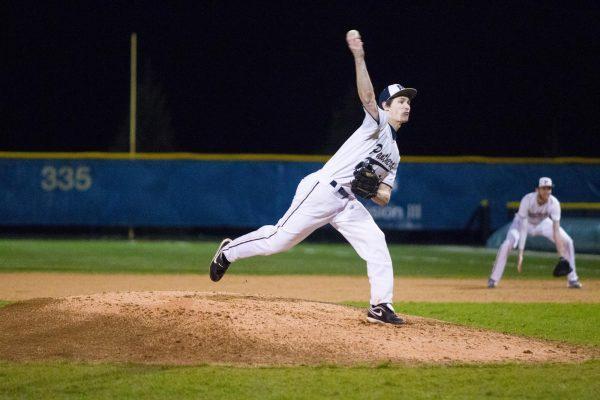 Elsah, ILL. – The Panthers welcomed the Crowley's Ridge Pioneers to town on March 9 for the first two games of their four game series. The Pioneers made the drive over from Paragould, Arkansas. They had already played 15 prior games while the Panthers had played just two. However, the Panthers showed that they were ready for the test by taking the first two games, 3-1 and 7-4, respectively.
Game 1
Alex Stamos received his first career start on the mound for the Panthers and turned in a stellar performance. Stamos went the distance, throwing seven innings and allowing just one (unearned) run. He struck out five while scattering three hits and three walks.
Connor Coyne continued to drive the ball as he picked up a double as well as the go ahead two-run homerun. Ed Bargmann also contributed with a pair of base knocks. Hunter Mehring and Sean Hannan were the only other Panthers to record hits in the first game. Three runs were all the Panthers needed in the series opener as Stamos was dominant from the get go.
Game 2
Sean Hannan received the nod in game two. He hurled four innings and gave up two earned runs on four hits, while striking out five on the evening. Fellow freshman, Will Adler, relieved Hannan of his duties and pitched a scoreless fifth inning and a scoreless sixth inning. Adler threw strikes and pitched to contact and was very effective in his first appearance on the mound. Hunter Mehring came on to close things out in the final frame. He did just that and recorded a strikeout in his inning of work which was also his first appearance on the mound in 2017.
Offensively the Panthers came to life and tallied 11 hits in seven innings. Bryce Murray and Liam Foster each recorded multi-hit games, picking up two hits apiece. Jeff Ross, playing in his first game of the season, also picked up two base hits.
The Panthers were trailing 3-2 heading into the home half of the fifth inning. The Panthers' first three hitters of the inning all reached base safely, which loaded the bases for the meat of the order. However the Pioneers didn't give in, as they got the Panthers three and four hitters out without surrendering a run. With two outs and the bases loaded, Jake Kearney stepped up to the plate and hit a towering fly ball that the second basemen booted. Two runs scored on the play and the Panthers took a 4-3 lead. The lead expanded to a four run bulge after a two RBI single by Bryce Murray and a Parker Davidson RBI single. The Panthers were able to capitalize big time on the defensive miscue by the Pioneers and never looked back.