PANTHERS DROP BOTH TO GREENVILLE ON SENIOR NIGHT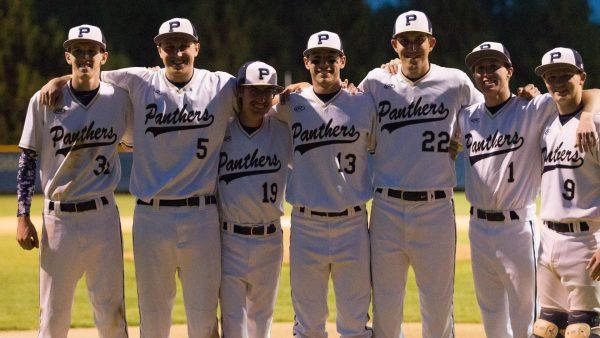 Elsah, ILL. – The Principia Panthers celebrated their seven seniors on April 24th. The seniors were honored in between their two games with the Greenville Panthers. Principia was on the losing side in both contests, falling 14-5 and 13-9 respectively.
Game 1
The two teams combined for 25 hits in seven innings of action as Greenville collected 13 hits to Principia's 12. However, Greenville scored 14 runs on their 13 hits while Principia scored five runs on their 12 hits.
Connor Coyne led the way with three hits while Ed Bargmann and Zach Grennie each had two. Grennie went yard in the bottom of the fifth and was responsible for driving in three of the five runs for the Panthers. Bryce Murray drove in the other two runs. Hunter Mehring, Bryce Murray, Jake Kearney, Parker Tibbetts and Jeff Ross each had base hits in game one.
Too many big innings were surrendered to Greenville in game one. Greenville scored in five of the seven innings. A bright spot for Principia though was Liam Foster, who threw his first inning on the mound tonight. Foster worked a one-two-three inning in the final inning and induced a double play in the scoreless frame. Greenville took game one by a score of 14-5.
Game 2
Sawyer Grow started on the mound tonight and threw very well. Grow hurled seven innings and scattered seven hits. He gave up six runs, though only two of those were earned. He put the Panthers in a great position to win the ballgame as they were leading Greenville 9-6 when he departed after the seventh inning.
Principia scored early and often as they scored runs in five of the first six innings. However, their offense was stagnant in the final three innings as the Greenville bullpen shut the door late.
Zach Grennie had a monster night, going 3-4 with another homer in game two. Grennie drove in 4 runs in the game. He had two homers and seven RBI on the night. Hunter Mehring also had three hits in the game and Bryce Murray and Sean Hannan both had a pair of hits.
Greenville scored in two of the nine innings but it was enough to secure a 'W.' They scored six in the fourth to tie the game at the time. They then put up seven runs in the eighth to take a 13-9 advantage. From there they never looked back as they ended up winning by that same score. Both teams tallied 11 hits but Greenville proved more efficient in scoring runners again in this matchup.
The Principia Panthers are now 16-15 overall and 7-10 in conference. They return to action tomorrow in Clayton, MO, as they take in the Fontbonne Griffins in a doubleheader beginning at 6:30 p.m. at Shaw Park.