This content has been archived. It may no longer be relevant
At Principia, there are a number of events every year at which speakers from off-campus may share their stories with students and faculty. Only one of these events, however, is entirely run by students. Having first been held in 1939, Principia's Public Affairs Conference (PAC) has gained remarkable recognition within the college community  as well as beyond the campus. . As the oldest student-led public affairs conference in the nation, PAC is an essential part of Principia's culture.
This year's conference, which will be held March 22-24, is titled "Peacebuilding: A New Approach to Conflict Resolution." It is directed by seniors Amy Baldauf and Katlyn Muganda, while another 10 students from a variety of majors and houses on campus comprise the executive board. Baldauf and Muganda started thinking about peacebuilding following the violent eruption of the Middle East during last year's Arab Spring. Both students feel the concept of peaceful solutions to global problems is essential to the world right now. With this mindset, the executive directors aligned themselves with PAC's best tradition: addressing a current global topic and bringing understanding and healing to the world.
But what is peacebuilding? Baldauf spoke about the difference between peace and peacebuilding as it relates to the conference: "Peacebuilding is different from the lofty concept of peace […] It is a practical, active approach to creating peace in the world. It's not just saying 'let's love each other and everything will work out.' It is what specific work is being done at the local, national, and international levels to help civil society not only heal after conflict, but learn how to prevent conflict from taking place."
For the purpose of the conference, this groundbreaking concept has been subdivided into three sections: conflict prevention, conflict management, and conflict resolution and healing. Each section features a series of speakers from different countries and with different stories and approaches toward achieving peace on a specific or broad level. The PAC website (principia.edu/pac) gives an overview of the conference's speakers. The opening address will be held by Chic Dambach; chief of staff to Congressman John Garamendi, and a pioneer for the development of the concept of peacebuilding. The group of speakers also includes Richard M. Calkins, who is an experienced and acclaimed mediator and author of A Quest for Peace and co-author of Mediation Practice Guide. Aziz Abu Sarah is a global activist, lecturer, and co-director of the Center for World Religions, Diplomacy, and Conflict Resolution at George Mason University, and will give PAC's closing address on Saturday. Photographer, writer, and peacemaker Amandine Roche has a specific focus on Afghanistan. Christian Science practitioner, lecturer and teacher Christine Driessen is part of the speaker group as well.  Driessen has served as the Director of the Indo-Chinese Refugee Legal Assistance Program during the Vietnam War and has traveled conflict-torn places on various continents. Several more speakers help to round out this stellar group of professionals.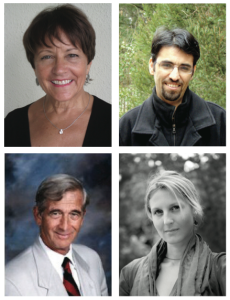 This variety of speakers is especially important to the executive board. Co-Director of Speakers and senior Lauren Wienecke said: "[The speakers] bring different approaches [to peacebuilding], either through the courtroom, or through music, or education with young children, or interfaith dialogue, or big media, or government. There are such different ways of trying to establish this idea of peace any way possible. And that is the coolest thing, bringing all of that together to see a full representation of what peacebuilding is." Co-Executive Director Katlyn Muganda underlined this by saying: "I am really excited about our variety of speakers. […] I feel like we have a very inclusive conference. Our whole purpose is to have a series of […] different approaches."
One of the main goals of the conference is, of course, to get as many students involved as possible. But PAC is about more than just attendance. The executive board wants this conference to have a lasting impact on the delegates and speakers. Baldauf said: "PAC matters! It makes a difference in that you can be more informed about the world. […] Being informed is so important in this day and age, and PAC is incredible in that you have these amazing speakers to listen to and you get to be inspired and really feel like you are a part of the good that is going on in the world."
Senior Ken Baughman, a Co-Director of Publications and Promotions, has worked along with fellow senior Will Pappas to advertise and actively promote PAC. According to Baughman, "We're working to inspire people to attend this year's conference." As a first-time board member, Baughman added that past PAC events motivated him to become involved and spread awareness of important issues across campus.
Wienecke also sees the conference as an opportunity for all participants and speakers to share their ideas and inspiration with each other. "We are our happiest selves when we are giving, and I think this is such an amazing way to give and to learn more about how to give," she said. Muganda added:  "This is not just an academic conference. [The delegates] are going to be able to connect with individuals who are the forefront of the peacebuilding movement right now – in Sierra Leone, in the Congo, in Israel and Palestine. These people are working to make change and bring healing to these places that have been war-torn for so long."
Both executive directors also feel a strong connection between metaphysics and the conference topic. Muganda said: "We just really wanted to inspire people to start creating peace within their own lives. Because it starts with inner peace, you cannot start on a world level, you need to start with yourself." Baldauf added: "I like to think about peacebuilding and how it relates directly to Christian Science. Mrs. Eddy always tells us to be active in our prayers and demonstrations, and [this] relates to this concept of building peace, in that you have to be active, you have to work at it, you have to be thoughtful in order to see results, in order to see something come to fruition."
The executive board has organized three big promotional events inviting the campus to join the conference. The showing of the prize-winning documentary "Fambul Tok" by Principia alumni Libby Hoffman during Week 2 kicked-off registration and packed Wanamaker Hall. A cereal bar in the Concourse during Week 3 brought in over 40 registrations. The Week 4 "Playing for Peace" concert in the Pub, which featured ten Principia-based student bands, concluded the promotional period.
Everyone is welcome to register during lunch and dinner in the Concourse. Registration closes March 8 and currently enrolled students must pay a small admissions fee of $20.
Images courtesy of
admin
and