This content has been archived. It may no longer be relevant
It's no secret that the study and practice of Christian Science permeates every facet of life on this campus. The world's largest Christian Science Organization (CSO) has a home at Principia, talks on almost every imaginable subject are sponsored in house living rooms and common areas across campus, and we designate time every day for community-oriented prayer. According to a new Pilot Poll, 60 percent of students make an effort to use quiet time for its intended purpose and 53 percent of students always or nearly always attend CSO Sunday services.
Many community members have recently made comments about a sense of spiritual rejuvenation on campus. According to Dean of Students Dorsie Glen, "You just feel like there's a hungering and thirsting after spiritual ideas, and I just think it's great."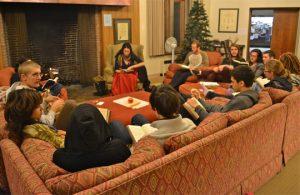 Glen expressed enthusiasm about consistently high attendance at Tuesday CSO meetings. She added that it seems as if students are making good use of abbreviated quiet time on Mondays, Wednesdays and Fridays. Glen pointed out that there is a core group of students who attend Black Student Union lesson reads on Monday mornings and the joint Joe McNabb and Ferguson lesson read in the Pub on Wednesdays. Glen said: "People just drop in and spend the amount of time that they can. It's short, but I think we're also learning that it's not the amount of time that you have, it's how you use it."

As reported in our Pilot Poll, 48 percent of students surveyed do not think 20 minutes is sufficient for quiet time, compared to 27 percent
who think the time is adequate.
CSO President Lacey Crabill said she's heard some complaints about limited quiet time on three of five weekdays, but added that she and her friends have found ways to make the time useful. According to Crabill, "…even though it's only 20 minutes, that's still plenty of time to focus your thought toward something and really hold on to that throughout the day. And obviously you don't do that just during quiet time, you do that all the time."
As many community members realize, there are opportunities to correct thought regularly throughout the day. A few interviewed for this article pinpointed specific examples. Junior Fassio Elder said: "The problem with apathy, I think, is huge in any type of involvement on campus, CS or not. I think that's part of the mesmerism here that we need to handle."

Senior Tim Dixon echoed this perspective when he said: "… I think honestly, because this is such a unique community and it is so powerful, has such amazing potential, that we need to be defending ourselves every day against the suggestion that Christian Science isn't exciting or that it isn't effective."
Other interviewees remarked that the Christian Science environment on campus helps to foster growth and mutual support. Glen explained: "This should be just the most loving place that you would ever want to be. That's not to say that we don't all have sort of down times, but if we do, there's so many people around to lift you up instead of … going down with you"
Crabill expressed the feeling that choosing to come to Principia was a definite change following years of public school education in her hometown. She especially stressed the value of friendships formed on campus and roommate relationships she's developed over the past three years in college. Crabill said, "Even if there are times when I'm down, there's always a good friend nearby to pick me up. It's just such a great place to be."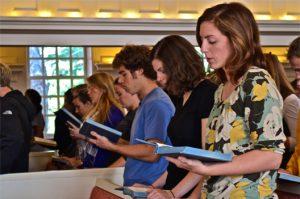 Both Dixon and Elder said they've had many meaningful conversations with friends and acquaintances about metaphysics and Christian Science. Last spring, the two decided to start hosting "alternative" church services on Wednesday evenings and Sunday mornings at times that wouldn't conflict with CSO services and local branch church meetings. The services were designed to encourage further spiritual discovery. But as a result of limited advertising, around 10 percent of students have never
heard of them. Weekly services are still held on campus in accordance with the Manual for the Mother Church. Volunteers from the community can sign up to prepare Wednesday readings or serve as a Sunday reader for a week.
According to Elder: "CS is a crucial element of the Principia experience for me. And I think it's kind of difficult as a student here to find ways to make use of that to its full potential. I think you really have to push yourself as a seeker of Truth in any situation."
For Dixon and Elder, these additional meetings allow for that push toward deeper study and discussion.
While many embrace Christian Science services at Prin, others prefer to limit their participation in religious activity on campus.
One student, who chose to remain anonymous, explained: "The thing about religion on campus is that you can avoid it if you want to or you can go and be really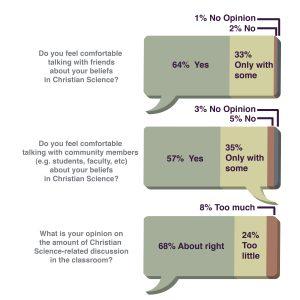 proactive and join the CSO and go to all the lectures and use quiet time … I think it's good that you can choose."
This student continued: "I have no plans on practicing Christian Science in the future. I mean, it's a great religion but it's not for me."
At specific times in the Prin experience, students are expected to think critically about their involvement in Christian Science both in college and following graduation. Glen explained that seniors go through exit interviews before they leave the school. As part of the process, students are asked to fill out multiple-choice surveys about their vision for future religious involvement. According to Glen, one of the questions asks quite plainly if the soon-to-be-graduate plans to continue practicing Christian Science. Although there are few records about alumni involvement in the movement, Glen remarked that a consistently high percentage of seniors say they plan to further their study.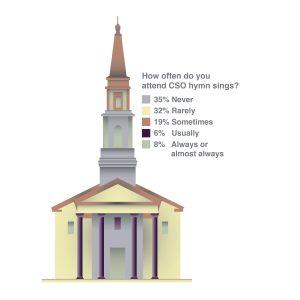 Crabill said: "I don't know where I'm going to be after I graduate, but wherever it is I am looking forward to finding some sort of CS community there … I know wherever I am I can still embrace Christian Science."
Illustrations / Ken Baughman