This content has been archived. It may no longer be relevant
By Hawthorn Kirkbride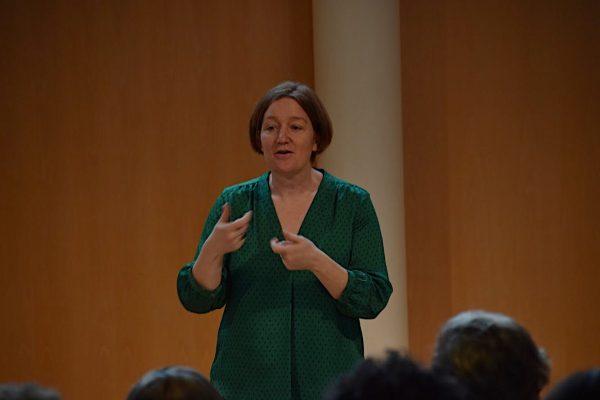 College administrators held a campus-wide open forum today in Wanamaker to hear survivors of sexual assault and their allies discuss what provoked Thursday's student protest, which blanketed campus with 1,200 posters accusing the administration of inaction regarding cases of sexual assault.
A major information gap became apparent in the standing-room-only event. The sometimes emotional conversation revealed that sexual assault survivors and their allies don't feel heard about sexual assault on campus, while administrators say they need more information to take action.
Interim President John Williams called the forum a "safe space," and asked for the doors to be closed in a symbolic gesture of privacy. The Pilot is quoting only those meeting participants who agreed to be identified.
Addressing the standing-room-only crowd, Williams said he felt like he was the audience for the protest posters: "I got it," he said.
Sophomore Kiki Holmes, one of the organizers behind the blanket of posters on Thursday, said the protest was meant as "a call to action" for the administration to hold people accountable for sexual assaults that have not been addressed.
She referred to several campus incidents, including a growing student sentiment that some Buck House residents represent a "rape culture."
Dietz said that she had not heard the accusations against Buck House until this week's protests, noting, "If that's generally known, Student Life hadn't heard it." This, she said, is an example of the administration's problem: getting information from survivors so something can be done. "I want the information…so I can do something about it."
She also asked where students think the information flow of sexual assault reports is stopping before it gets to Student Life.
Students expressed fear of reporting sexual assault to the administration and Williams responded unequivocally: "It is the policy at this institution that there is absolute amnesty in the situation [of sexual assault]…" even if drinking or consensual sex is involved.
The forum included a wide-ranging discussion of needs and potential solutions, centered around creating a language for appropriate sex and safe assault reporting practices.
Some students were surprised to learn from Dietz that Principia's three confidential advisors – Lee Ellis, Lora McMullin, and Joy Trout – can receive information about sexual assault and are not held to the legal mandatory reporting process that faculty and staff must abide by, creating what she said is a "safe space" to talk about assault.
Dietz announced workshops and projects that the administration is working on, such as "Sex Saturdays," a program tentatively set to begin in April where students can learn about appropriate sexual behavior.
Thursday's protest appears to have served its purpose.
"They heard us," said one protest organizer, junior Kelsey Bettman.
Photo courtesy of Larissa Reiss.