Principia is awash in change, including the way classes are taught. The College is implementing a variety of online courses and programs that will be offered to enrolled students on and off campus. Gary Gentry, director of Online Academic Programs, said, "It's long overdue that the College gets into this online world so I think it's great that we are moving in this direction."
Principia offered a variety of online programs last year and is planning on implementing more in the future. There are different kinds of online programs including blended online courses as well as courses that are completely online.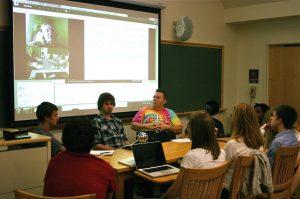 A student who enrolls in a blended course spends part of their time in a classroom on campus and some time online using a software program called Adobe Connect.
The program allows all members of the class to be online together. Students and professor can see and hear each other, even if they are in separate locations. Within the program, students can interact and have discussions.  The class can even break into small discussion groups and then come back together in the virtual classroom.   Professors can also show videos and PowerPoint presentations. Gentry said, "The software is set up so that basically anything you can do in a regular classroom you can do on this virtual online classroom."
In the blended classes the professor is sometimes in the classroom teaching and sometimes teaching from a­­­­nother location, since Adobe Connect lets the teacher interact with the class remotely.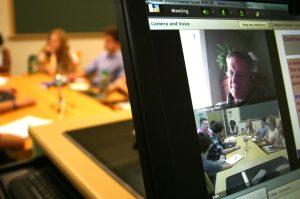 Last winter Mike Hamilton taught Living Religions of the East. Two days of each week Professor Hamilton was in the classroom with the students, while one day a week he was off site. When Hamilton was gone, the class would have an online session: the students would meet in the classroom and Hamilton would come in remotely, allowing him to teach from another location.
While most students agree that the technological capacities of this program are impressive, there are complications with the technology that can be distracting and frustrating. Junior Marianna Distel was in Hamilton's class and said, "We had some technical difficulties from time to time with the program software, but for the most part it worked well." She added: "It was really cool that our teacher was able to be a part of our class while not physically being there."
Melanie MacWilliams, a student working off campus this semester, also took a blended online course last year. She said, "It's pretty cool how technology is used in the classroom nowadays, but nothing can replace the face to face interaction a professor provides when they are in the classroom."
Last summer Principia offered two fully online courses for the first time. These history and religion courses were completely online with each of the students and the teacher in different places. For the online classes, all course documents, including homework assignments and syllabi, are stored online on the Blackboard website. This website has a discussion board so that students can interact by posting comments to the site. Students can also submit their homework assignments on Blackboard to be graded.
This upcoming summer, Principia will again teach two to three online courses. Currently under discussion is whether non-Principia students will be allowed to enroll in these courses.
This semester there are two classes being taught in which the professor is off campus and the students are on campus. These classes were a last-minute solution to an unexpected need. Gentry said that the blended classes were piloted last year and will continue on an as-needed basis. As departments have a need, those in charge of Online Academics will develop the courses.
Gentry said, "There are lots of possibilities so hopefully Principia will keep developing online courses and moving the program forward. I think that it is something that will benefit the school in the long run in a lot of different ways."