By Jolee Keplinger
As photos of mountains, lakes, birds, and trees flood social media platforms today in celebration of the planet on Earth Day, The Pilot takes a look at Principian climate activism. This article, by Jolee Keplinger, post-graduate intern for the Principia Center for Sustainability, details the morning last semester that many Principians took to the streets of St. Louis to call for greater climate protection.
Principians joined the Global Climate Strike, the largest climate mobilization in history, on Sept 20. More than 7.6 million people participated globally, including at least 18 Principia College students and one faculty member who attended the St. Louis strike at City Hall to raise their voices in defense of the climate.
Mobilizing so many Principia students on such short notice is no easy feat. At Principia, students are often spread thin and balance rigorous schedules. Making a last-minute decision to go off campus on a Friday morning meant that many students had to choose between attending classes or attending the strike.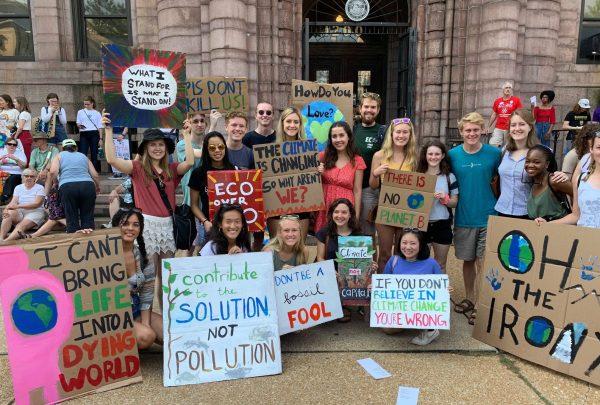 Posters advertising the strike covered campus the week prior, courtesy of sophomore Grace St. George. When St. George learned about the strike through Instagram, she knew she had to spread the word, and quickly printed and posted flyers around campus.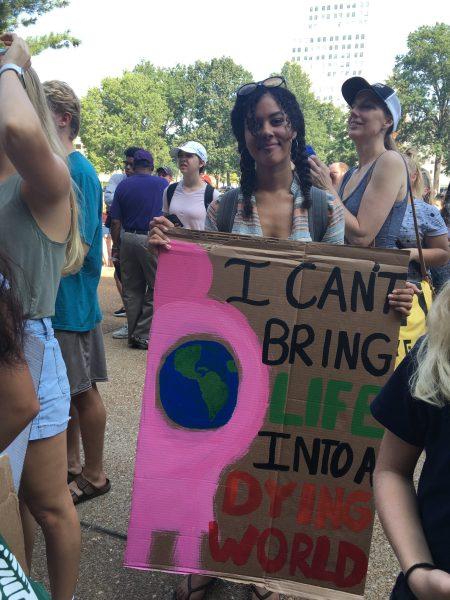 The Sustainability Club organized transportation and planned a poster-making session the night before. The gathered students painted cardboard signs with colorful messages such as "What I Stand for is What I Stand On" and "Eco Over Ego."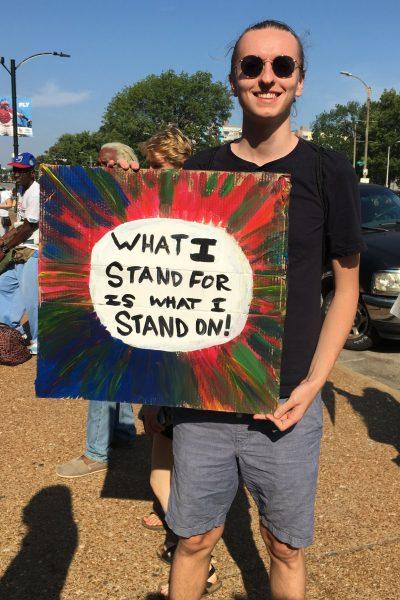 Principia's presence – from both the College and School – was significant, especially since there were only a few hundred people at the strike.
The U.S. Climate Strike Coalition and the Future Coalition are hosting Earth Day Live, a virtual event from April 22-24 featuring educational webinars and supported by musical guests and celebrities, including Joaquin Phoenix. Learn more about the event and RSVP to the livestream here.
Attendance at the St. Louis strike was low compared with similarly sized metropolitan areas. The population of the St. Louis metro area is about 2.8 millions, similar to that of Denver, Colorado. It is estimated that 7,500 people participated in the Denver strike.
Caia Gillett, a senior who attended the St. Louis strike, thinks one explanation of the low attendance was poverty. One of the speakers at the strike was Cori Bush, a congressional candidate, single mother, Black Lives Matter activist and climate activist, said Gillett. Bush described the environmental racism many St. Louis residents face and explained that the increasingly intense and unpredictable weather events disproportionately affect low-income communities, said Gillett.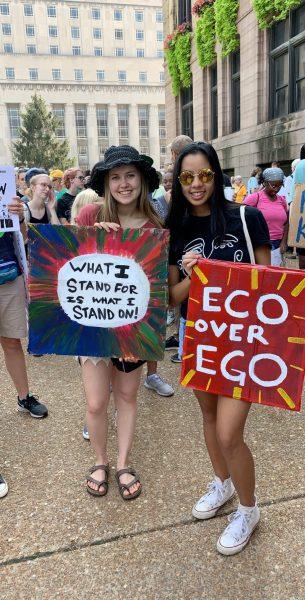 Considering poverty, "I can see why addressing climate change isn't a priority for many people living in the area," said Gillett.
Although the number of protesters in St. Louis was comparatively low, a wide variety of speakers attended to kick it off. The speakers ranged widely in age, ethnicity, socioeconomic class and religion. The first three were high school students, and they were followed by Bush, Jenn DeRose from Known & Grown STL, Bob Pashos from StraightUp Solar, President of the St. Louis Board of Aldermen Lewis Reed, Rev. Rodrick Burton, and Rabbi Arthur Waskow.
The event created a highly inclusive atmosphere. Handicapped attendees were able to access a spot where the stage was visible, and there were sign-language interpreters.
DeRose, a manager of Known and Grown, described how the greenhouse gasses coming from our highly industrialized food system contribute to climate change. She emphasized why it's important to invest in a more local and sustainable food system.
At noon, protestors marched to the St. Louis Arch and back. Ironically, the march went directly by the global headquarters of Peabody Energy, the world's largest coal company. Burning coal is a major contributor to climate change because it produces carbon dioxide, and Missouri relies on coal for more than 70 percent of its electricity.
"It was so amazing to see such a larger group of people show up for this event," said sophomore Valerie Perse, co-president of Principia's Sustainability Club at the time.
It gave her a great sense of hope that people truly care, and that "people know that if something isn't done now there will be dangerous consequences," said Perse.
"Showing up for events like this is so important because it spreads the word about major issues, and it shows policymakers and big companies what the citizens want," said Perse.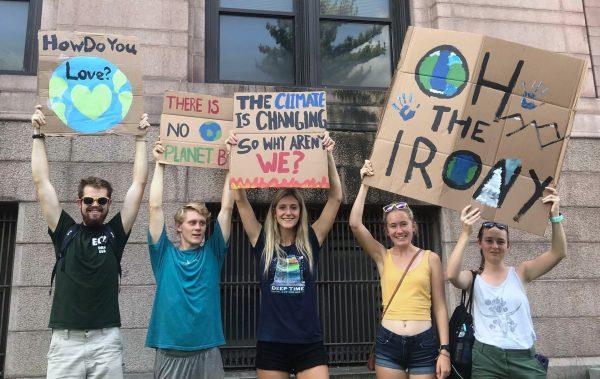 On campus, students can easily reduce their climatic impact by making a few simple lifestyle shifts, such as choosing to compost, reducing consumption, shopping for secondhand items, and eating more locally grown and plant-based foods.
• Photos courtesy of Jolee Keplinger.