This content has been archived. It may no longer be relevant
Ten years ago when Director of Telecommunications Paulette Blass began working for Telecom, she was told that a new phone system would be installed in the next three to five years. "We are just now taking the first steps," she said. This includes hiring a consultant to work with the many options available, as well as working with other colleges to develop a system that will meet the needs of students, faculty and staff. She said that references from consultants will be gathered within the next several weeks. "I always think [it will be] in the next few days, but I've thought that since last Thanksgiving," said Blass.
In the past six months, Blass, Chief Technology Officer Richard Booth, and CIS Infrastructure Project Manager Phil Siegling have been working to design a new phone system for Principia. They plan to conduct student, faculty and staff surveys in the future to understand what type of system is desired for the campus. Blass said she expects that presentations will be given in the next six to nine months to provide technological and financial models for comparison. She suggested that the new phone system could be in place "as early as fall quarter."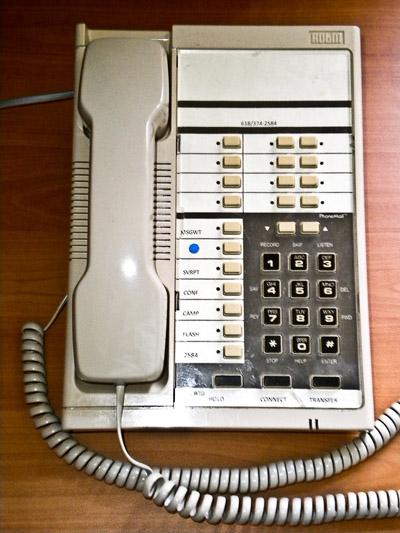 The current phone system was installed in 1989, and is in desperate need of repair, according to both Blass and Siegling. "Can you imagine a computer system being that old?" asked Blass. Although she said that the current phone system is an amazing system, she said that parts for it haven't been manufactured for the past ten years. Broken phones are repaired with parts recycled from other phones, which will not always be available. In addition, the copper cables that run underground connecting the phones throughout campus are corroding. As they are located underground, they are not as easy to repair. "It's been put off," said Blass. "We'd rather not do this now in the midst of this economic situation, but we may be in a worse situation if we don't change it soon."
So what will the new phones look like? That is still largely to be determined, but one possibility is that they will feature small computer screens which would be able to indicate missed calls as more modern phones do. Blass said that any new phone system would be much flimsier than the phones Principia currently have, but emphasized that they will be similar to computers, with more space to save data. She also mentioned IP telephony as a possible option for enhancing communication on campus. This data-based technology could be merged with "soft phone" technology to create a system similar to Skype, which would be installed on computers.
The main companies the team is looking into include Avaya and Cisco, and some smaller companies include NEX, UX, and Shoretell. One thing Blass knows for sure is that the phones will have more room for voicemail storage. They are looking to find the best use at the lowest cost, and one option for the new system includes blending phonemail and email systems so that voicemails can be translated into text.
Another option to consider is the dual mode phone, which would function as a normal cell phone but with an additional student line. Blass said that these phones are chunky and not very fashionable, and doubts whether the students will want to use such phones. She said that other colleges are moving towards cell phones and portable phones, particularly the iPhone. University of Maryland, Oklahoma Christian University, Abilene Christian University, and Freed-Hardeman University have all implemented a phone system based on free iPhone giveaways. The phones are seen as the most practical way to facilitate communication on campus while also improving teaching tools in the classroom.
It is unlikely that a new phone system at Principia will include the iPhone. Still, Blass emphasized the importance of feedback on this change, stating, "We need feedback to make this a seamless transition. Everyone will be touched by this." Both she and Siegling also indicated that for those who enjoy the current phone system, there may be an option available. Siegling said he expects the new phone system will be integrated with Principia's network and compatible with the current system. He said, "We'll be able to build what people want us to build."
Ultimately, the design of the new phone will be based on what is most practical for students, faculty and staff. Are the students concerned with having a phone in their rooms? Do students want to carry another cell phone? If so, do they want to have their number on the phone directory? What function would room phones serve in the future, and what are students looking for in a new phone system?
Freshman Kate Mensing said, "I think the D-I-A-L option is really useful, and we should definitely keep that around when we update the phone system." She also indicated a preference for larger inboxes, and suggested that emailing updates would be more helpful than sending out campus-wide or even house phone messages. "I have found that students tend to star-six messages," Mensing said, "whereas emails can be kept to look up information later."
Students, staff and faculty alike should anticipate the opportunity to give their feedback in upcoming surveys.