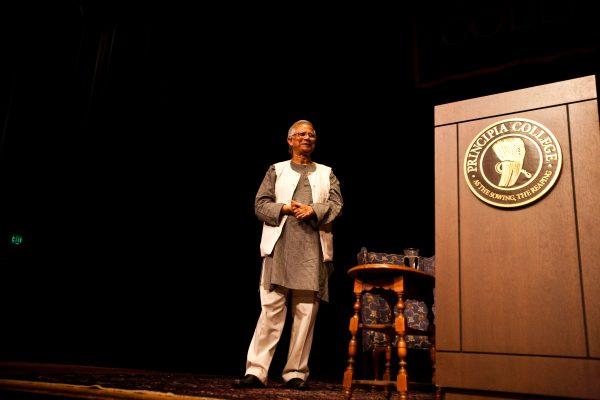 On September 25th, Muhammad Yunus came to Principia College as the 2010-11 George A. Andrews distinguished speaker. However, he did more than just speak. He spent the day sharing his award-winning social business theory with Principia students. Besides his address to the school, he ate lunch with Professor Davidson's Economics of Development class, engaged in a small-group discussion with select students and faculty, ate dinner with Dr. Palmer, students, and faculty at Hutchinson House, and gave an interview on Principia Internet Radio.
In 1983 Muhammad Yunus officially founded the Grameen Bank in Bangladesh (Grameen means 'village' in Bangalore). The bank grew out of Yunus' efforts to secure a loan of only $27 for 42 women making bamboo stools. Yunus found that by making loans of a few dollars, it was possible to free women from the hold of usurious moneylenders in the villages. Yunus expanded this process into a countrywide banking system that provides loans of under $100 dollars primarily to women, families, and beggars. The Grameen Bank pioneered the idea of micro-credit and started the trend of providing capital to the poor.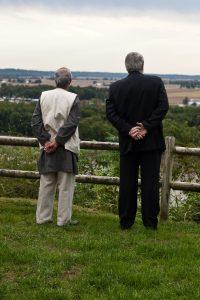 At one point during the day that Yunus spent at Principia, he sat down with about twenty students and 10 faculty members from the sociology, business administration, and economics departments to discuss social business. Students crowded in two rows around the President's conference table as Yunus fielded a wide range of inquiries about his different endeavors. His disarming manner immediately drew student interest and response. Although many students were unaware of Muhammad Yunus or the Grameen bank, he was clearly able to communicate his heartfelt philosophy to them. The way he explained social business to one student was "where yousolve problems in a business way without any personal financial gain. But you must format it in a way that it recovers its cost." The mix of such a logical response with his authentic inspiration quickly won student appreciation. When Yunus was asked what he would tell college students that were interested in working for a better world, he said, "you don't need to wait: you can start now. You just need to create the seed of a masterpiece… be patient. You do not need to create a masterpiece the first year."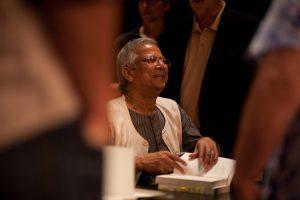 Muhammad Yunus' most recent masterpiece has been promoting social business on a large scale. The concept is akin to the principles behind the Grameen Bank, in that the business' main efforts are to serve the community. Instead of a business being beholden to its shareholders, the business invests its profits in expansion and therefore in serving more of its community. The biggest example of a social business is Grameen's latest partnership with the French dairy company Dannon. The partnership was created to produce yogurt enriched with essential nutrients in an effort to decrease child malnutrition in Bangladesh. Yunus also made sure that Dannon agreed to invest the majority of its profits into expansion, which he felt guaranteed that Dannon would balance profit maximization with social benefits. Sociology professor Billy Miller asked Yunus if he thought multinational companies, like Dannon, were using Yunus and Grameen for publicity. Yunus replied, "When Dannon uses me I am happy. I tell the journalists to tell everyone, 'I am here to be used!'"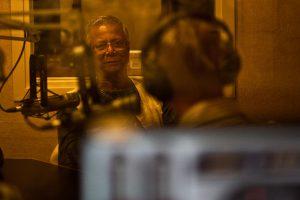 During his visit to Elsah, Yunus was also interviewed on Principia Internet Radio's We The People (WTP). Ron Meyer, WTP's co-host, said of his interaction with Yunus, "Dr. Yunus is a true hero. Interacting with someone who's single-handedly eliminated more poverty than anyone else in the world was a memorable honor. Dr. Yunus opened my eyes to a new way of solving our country's problems. I loved talking to him on Principia Internet Radio, where he revealed some finer points as to how Americans can apply social business principles to both our philanthropy and welfare systems, empowering the individual and releasing them from dependence."
Yunus' visit clearly excited students about their futures. After Yunus' lunch with the Economics of Development class, senior Daniel Tongori said, "His visit has facilitated my courage towards application of economics in solving social problems.  I felt such a sense of commitment and debt to the society that is ahead of me."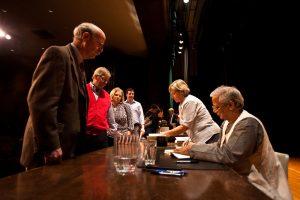 Listen to Yunus' talk in Cox Auditorium on the Principia College campus September 25, 2010.