This content has been archived. It may no longer be relevant
Check out our profile of our latest feature artist, Gabby Martin
Gabby Martin is a senior majoring in both English and Fine Arts. The Pilot asked her about her experience as a developing artist, and below are her comments. Excerpts follow.
Artist: Gabby Martin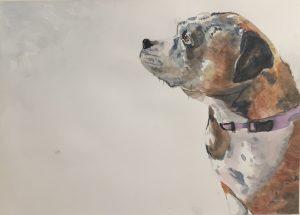 AS: When did you become interested in art?
GM: My aunt was an artist, and whenever I visited her house I got really excited. We would do arts and crafts – mostly drawing with colored pencils. That was a fond memory for me. I think that really started my interest in creating and drawing on my own. After spending time with her, I would go home and immediately start drawing.
AS: What would you draw?
GM: I definitely liked trolls (laughs). I also drew ocean scenes because I live near the ocean. One time I was trying to describe a specific cat toy that I was looking for to my mom. I was getting really frustrated, because I couldn't explain it. My mom was getting frustrated with me too. She was like, "I don't know what you're saying!" So I finally took a piece of paper and pen and started drawing it. She knew exactly what it was, just from the drawing. So I think from an early age, I used art as a way to communicate.
AS: Who or what inspires you?
GM: I don't know too much about Frida Kahlo's works – I couldn't name titles – but I like her style. I noticed as I was doing self-portraits that I was focusing on the same direct gaze she captured in her pieces. We're both Mexican and she was self-taught, too.
AS: Do you remember the first time you saw some of her work, and how it made you feel?
GM: It's raw – very real. She's not hiding anything. She had a tough life, so I appreciate that she doesn't hide its imperfections. As an artist, it's important to depict your reality. A lot of people think art is supposed to be only what's beautiful and idyllic. But it's really about people. It's about you, and the feelings you're feeling.
AS: Have you experienced a change in style over time?
GM: I'm not drawing trolls anymore. (Laughs). I think it's more sophisticated, or so I would hope. What interests me seems to be family and self-portraits of people.
AS: So when you depict those who are close to you, is anything going through your mind – do you have a motive?
GM: I try to portray subjects with empathy. I think my style can be kind of delicate. It's very clean, crisp lines with as much detail as I can do, but with some compassion.
AS: Is that empathy intentional, or does it just happen?
GM: I think it just happens. I'm not intentionally thinking, "I'm going to draw this empathetically." I'm only trying to see the form or essence by focusing on lines and quality. When you're looking at something, you have to look at it as if it's reborn and you've never seen it before. You have to look at it as disconnected from the title or the subject matter. If you start to draw an eye or a hand, you're not really going to capture its essence. The subject tells you what it is, as opposed to you telling the subject what it is.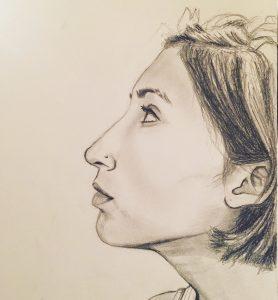 —
If you are an artist interested in being featured next issue, please contact the interviewer at Annelise.Suber@principia.edu
Image courtesy of Gabby Martin