MEN'S TENNIS GOES 1-1 FOR THE DAY IN CHICAGO TRI-MATCH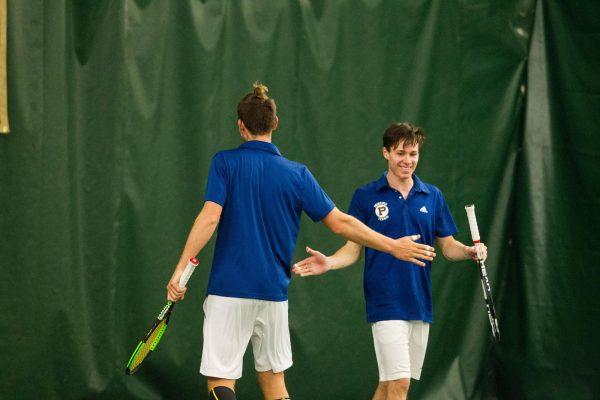 From March 3-4, Principia's net men traveled to Chicago to play a tri match against Lake Forest University and Concordia University. The Panthers started their doubles matches first across the board against the Foresters. Lake Forest came out playing very strong winning 2 of the 3 match-ups at 1st and 3rd decisively. 2nd Doubles was the one to watch with Principia's Aussie team of Kitchingman and Kenworthy carving out penetrating shots and putting away volleys to win a tug of war match 9-8 (7-5). Against Concordia the doubles was no contest for the Panthers, who took the first 3 doubles points in that match-up of the tri.
Singles followed in the afternoon with the Panthers needing 4 points in the singles to win against the Foresters, and only 2 points to close out Concordia. The afternoon's matches started with the Panthers versus Lake Forest. Some of the best tennis to date was played March 4, again with the scores no indication of the depth of talent the Panthers displayed. The match ended up in a 1-8 loss for the Panthers where many of the matches could have fallen Principia's way but the Foresters were able to close out the crucial points to clinch the win.
Principia closed out Concordia University 9-0 which brings the Panthers' overall record thus far to 3-3. Men's tennis has some time off for training and academic focus.