This content has been archived. It may no longer be relevant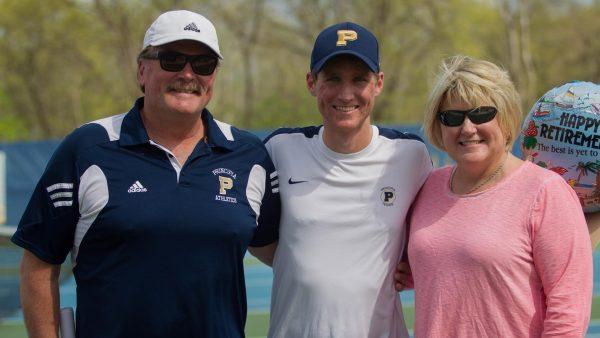 Principia Athletics
Elsah, IL– April 15 was Senior Day for the Principia Men's Tennis Team as they took on the Lewis and Clark Trailblazers. Principia honored their lone senior, Andrew Kratz, in a ceremony between doubles and singles matches. The Panthers were able to take two of three doubles matches, going up 2-1 heading into singles. After falling behind 3-4, Principia rallied to win the last two singles matches and take the match 5-4.
At 1st doubles, Greg Sovie and Brody Swan started strong against their opponents. They went up 4-1 before their Trailblazers started to play better. With the score tied at 6-6, Sovie and Swan were able to win the crucial game to go up 7-6 and put the pressure on their opponents. They were able to close it out in the next game as Sovie and Swan came away with the crucial 8-6 victory. At 2nd doubles, Jules Kitchingman and Nat Kenworthy played outstanding throughout. They dominated from the baseline as well as at net. They rolled to the 8-1 win. At 3rd doubles, Dan Wagstaff teamed with senior, Andrew Kratz. Despite not winning any games, Wagstaff and Kratz played some great points, but were unfortunately unable to string enough points together to make a mark on the scoreboard. They fell 8-0.
Going into singles with a 2-1 lead, the Panthers were confident that they could get the necessary three points to win the match. At 1st singles, Jules Kitchingman played an extremely tough opponent. Kitchingman held strong throughout, but his opponent came away with the victory, 6-4, 6-1. At 2nd singles, Greg Sovie executed his game plan all match long. Sovie was powerful with his forehand and used his slice backhand to keep his opponent at bay. Sovie won 6-1, 6-2. At 5th singles, Dan Wagstaff went to deuce in seemingly every game, but was unable to come away with the big points. Wagstaff fell 6-1, 6-2. At 6th singles, Peter Griswold was able to control many of the points in his match against his opponent. However, too many unforced errors proved to be his undoing as he lost 6-2, 6-4.
Principia needed to win the final two matches on the court in order to win the match, and Brody Swan and Nat Kenworthy were up to the challenge. At 4th singles, Brody Swan used his big serve and solid volleys to take the first set 6-3. In the second set, Swan's play dropped as his opponent began to play better. After falling in the second set, Swan was able to regroup and find his game again. He came away with the extremely important 6-3, 2-6, 6-2 victory. The match came down to Nat Kenworthy at 3rd singles. After falling in a tight first set, Kenworthy found his groove and cruised to winning the second set. Kenworthy jumped out to a 5-0 lead in the third set, but found himself down break point at 5-2. Kenworthy was able to serve his way out of trouble and come away with the match clinching 5-7, 6-3, 6-2 win.
Principia Men's Tennis would like to extend their gratitude for Andrew Kratz and his contributions to the tennis program. As a senior captain, Kratz has given three solid years to Principia Men's Tennis and has been a member of two SLIAC Championship Teams. His upbeat attitude and willingness to do anything for his team has helped Principia Men's Tennis create a family like culture. We will miss you Andrew!
The Panthers next play against Missouri Baptist on April 25th at 4:00 PM in St. Louis, MO. This will be Principia's last regular season match before the SLIAC Tournament.
Image courtesy of Kratz and family