This content has been archived. It may no longer be relevant
There are few things in our lives that can really substitute for something else. Some people try to find a way to make up for things that they lack, and some find a way to do that for others. Personally, I've always wanted a fighter jet, but since that's never going to happen, I've found the perfect substitute in the Mazda RX8.
I walked into the Mazda dealership not really sure what to expect. I had seen the RX8 many times and thought it was a pretty cool-looking car, but I really didn't know much about it or Mazda itself.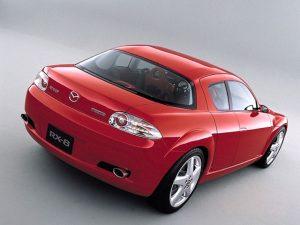 opera.com / photo
A sales representative came over, ready to explain all the amazing features packed into the RX8.
The first thing he described was the unique engine, which isn't the normal internal combustion engine with pistons and cylinders. Well, I wondered, what's different? An electric motor? A hamster in a wheel? Actually, it's powered by Mazda's rotary engine, a concept introduced at the tail end of the 1970s in the RX7.
The rotary engine features two triangular rotors (although in others there could be more) that spin inside a cylinder. On one side of the cylinder are two openings for intake and exhaust. On the other side are two spark plugs. As the triangle spins inside the cylinder, it goes through five cycles: intake, compression, ignition, combustion, and exhaust.
What this all boils down to is that there are only three moving parts, and a normal piston engine has at least 40. This makes the engine more reliable because there are fewer elements that could break down.
However, the fun part is this: unlike pistons moving up and down, the rotors spin in one constant direction. Because of this, the engine not only puts out an insane amount of power for its small size and weight, but it revs much higher.
Finally, I got in to test drive. I started it up excitedly. When I put the shifter in first gear, the salesman instructed me that I'd need to rev it higher than I would a normal car.
To give you an idea, a normal car redlines at about 6500 rpm (revolutions per minute) and usually shifts at around 3000-3500 rpm. This car, however, is a whole new breed. The RX8 should be shifted at around 6000 rpm, and it redlines somewhere around 9000.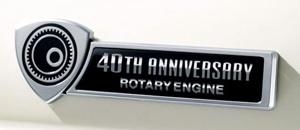 motortrend.com / photo
Just a quarter mile up the road from the dealership were nasty curves, but I was encouraged by the sales rep to take them aggressively. I did just that; hey, he shouldn't have to tell me twice, right?
For a moment going through the curves, or "corners," I thought the car was on rails, telling me, "Is that all you've got?" Suddenly I was overcome with excitement. I slammed the accelerator to the floor and entered the back roads.
Although I was flying up and down through the gears and around corners, not once was I nervous about not knowing the road. Not once did I think, "I don't know what this next curve is like, maybe I should slow down." All I heard was the sound of the crazy little engine that could – the crazy little engine that could go like nothing I'd ever witnessed before.
Then, the straightaway. I thought I was going so fast into it that I wouldn't have much to go on. However, entering the straightaway I was only at 7500 rpm, and therefore had some room to grow. The car just kept speeding up; there was more and more power! I have obviously never flown a fighter jet, but this is what I would imagine it's like. The power-to-weight ratio was off the charts: like strapping a Saturn V rocket to a skateboard.
When a truck ahead of me slowed down, I tested the well-adjusted brakes and came down off of my giddy acceleration high. After recovering from the truck-induced depression, I turned onto the highway, slowing down at the onramp to check out the 0-60 mph acceleration. To tell the truth, I have no idea: I didn't have time to look at my watch. In what seemed like the blink of an eye I was on the highway, and soon I was moving so quickly that I didn't have time to look at the speedometer. All I knew was that I was over 100 mph and I liked it.
Overall, the RX8 is fast, sporty, good-looking, reliable, and a blast to drive – it's what fighter jet designers wish they were making. However, there's not a lot of trunk space, and though it looks like it seats four, it doesn't quite. Plus, why would you want people back there at all?
Can the RX8 really substitute for a fighter jet? No. This car is so good that there is no substitute for the car itself. The RX8 is at the top of the food chain. In fact, it's started its own.