This content has been archived. It may no longer be relevant
During spring break, the Mass Communication department went from three professors to one.
Under an April 8th agreement, Principia accepted Craig Savoye's resignation, effective end of Winter quarter. Dave McFarland, who will retire at the end of this year, requested a leave of absence for health reasons just prior to spring quarter.
Savoye was slated to teach both Screenwriting and Introduction to Mass Communication. McFarland was scheduled to teach Mass Media in Society and Sports Writing.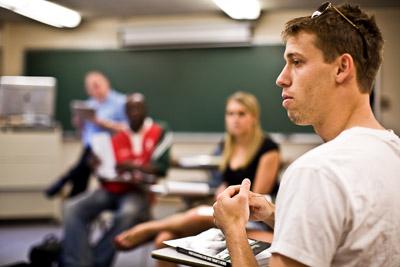 The college put all forces into play to find substitute professors. The administration contacted a wide range of potential professors, from former faculty to Christian Science Monitor Editor John Yemma.  Three current faculty and staff members came forward to fill the voids.
Of the four classes, just one (Intro to Mass Communication) had to be canceled. Registrar Patty Langton said she "immediately checked the records to make sure that nobody was going to not graduate over that."
Head basketball coach David Patterson draws on over twenty years of broadcast journalism experience to teach Sports Writing. Patterson has also taught at Chaminade University in Hawaii.
Patterson said he was "pretty excited about the opportunity because [he] knew [he] would be able to offer a lot."
Jeff Steele, who holds a Ph.D. in Shakespeare Studies and degrees in performance studies, is teaching Screenwriting. Steele has written screenplays and co-written an improvisation comedy review, and he also took part in an intensive screenwriters' boot camp in Chicago.
Rick Dearborn, Principia's Director of Digital Media and a former Chair of the Mass Communication department, has taken over Mass Media in Society.
Dearborn said, "I was stepping off a cruise ship in Florida on Friday before spring quarter, switched on my BlackBerry, and got a message from Dr. Schneberger. After a few phone calls on the way back to Elsah, it didn't take long to decide that it was the best solution for me to take the course."
On the first Tuesday of this quarter, an informational meeting was held for Mass Communication majors and minors. Dean of Academics Scott Schneberger addressed Savoye's departure, and Langton briefed students on graduation and advising with George Cooke, who is now the sole Mass Communication professor.
Cooke explained, "We wanted the dean [Schneberger] to host this meeting so that what he could say, [the majors] could hear from him. It was going to be tough to answer the students' questions, but at least he would try."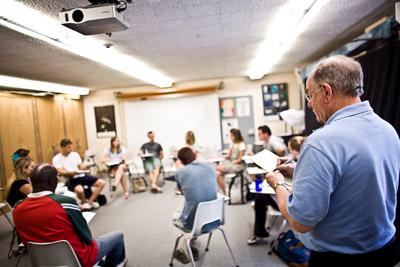 Cooke now has 54 advisees. For end-of-quarter advising, Langton and Cooke are considering a group advising session for all Mass Communication majors and minors. This would include different stations for registrars, ACA staff, and professors. Cooke said he is very open for feedback from the majors about this idea.
"Everyone has been responding to meeting the Mass Comm students' needs," said Schneberger. "It's wonderful and amazing to see. … I'm very grateful." The Writing Center and librarians immediately offered to help with seniors' Phase 5 and 6 papers, and both the Registrar's Office and the Math and Natural Science unit are assisting Cooke with course proposals for the semester system.
McFarland took a sabbatical last fall to design and structure an improved Mass Communication curriculum, which will be implemented with the semester change in 2011.
Dearborn said that all this change can be seen positively: "Frankly, this is a very exciting time.  Due to the Internet, media are in a period of great transition right now. Principia is getting a new team together and moving forward with an improved major that will prepare students to work in a new media world."
Schneberger said it was "amazing" how the Mass Communication department came up with professors to teach three courses in a short period of time.
"Other universities might have said, 'This is impossible. Just cancel all the classes, there's no way we can come up with all these professors in a week or two days,'" Schneberger said. "But we did, except for one course."
Some students have expressed disappointment about the departure of the two well-liked professors but gratitude for the substitute professors' willingness to volunteer. Senior Mass Communication major Grant Grieshaber said, "In the light of the unfortunate events, it's good that the majority of the courses were able to be taught by other professors."
One of Savoye's former advisees, senior Sirribi Ndeso-Atanga, feels that "it still affects us a lot that Craig isn't here. It's just really tough to have a different professor. You have to get used to his teaching style, how he grades and interacts with the students."
Junior Annelie Jenne, a double major in Mass Communication and Graphic Design, said she feels like the situation is "just really chaotic. A lot of majors feel lost."