By Chris Strong
Dozens of Principians attended Chris Singleton's inspirational talk "Overcoming the Unthinkable and Uniting Our Campus" in Wanamaker Hall and virtually on Tuesday night.
The talk, introduced by President John Williams and senior Corey Carter, was centered around the quote "Love is stronger than hate," which Singleton stated only 24 hours after a night that changed the course of his life.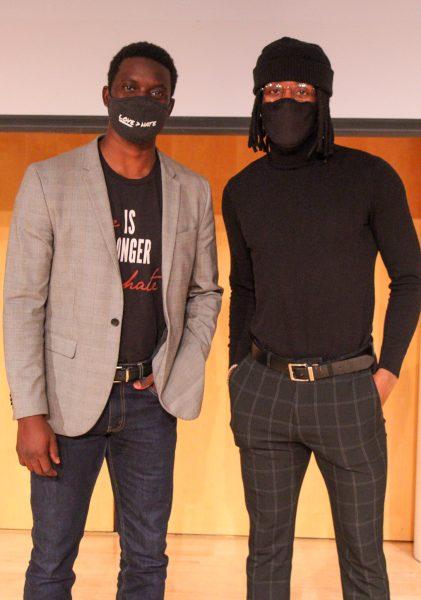 June 15, 2015 started as a normal night for Singleton, who had just completed his freshman baseball season at Charleston Southern University. He was returning home from a summer league game when he got a call from his mother's phone. A stranger answered and stated that there had been an emergency at the church and to come down. Singleton was greeted with yellow tape and police officers. Eventually, as the night went on, the 18-year-old, alongside family members, learned that his mother had been shot and killed in a hate crime.
Singleton stated to the audience that he does not believe in a "why," but rather a "struggle moment" in which an individual dilemma brings out the most in a person. He remembers that night with five struggle numbers: 1, 70, 50, 9, 1: 1 lost soul who killed 9 African Americans out of misinformed hate, 70 bullets shot, 50 people inside, and 1 family member lost – his own mother.
Singleton had a perfect Bible verse ready for his day of the unthinkable, one that he originally used for inspiration on baseball game days. "If a man falters in a day of adversity, he's a man of little strength" (Proverbs 24:10). He did not go to therapy or the pastor soon after the killing, but instead leaned on teammates' shoulders when needed. "Teammates save lives," Singleton expressed.
A coping mechanism for Singleton was studying the concept of adversity, where he often found inspirational quotes that often made him upset, including "What doesn't kill you makes you stronger." Then, one of Singleton's friends came to him one day with a golf analogy. The earliest golf balls were known as "feathery" and were heavily flawed by how light they were, flowing wherever the wind went. It was not until golf ball designers tested out a scratched-up ball when they found the ideal way to innovate further. He finally understood the quote.
Singleton shared a different quote that completely changed his perspective on life, from Charles Swindoll: "Life is 10 percent what happens to us and 90 percent how we respond to it." To Singleton, examples of the 10 percent are our names, where we were born, or our skin color. These are things that people cannot control. Instead of getting caught up by the 10 percent, Singleton chooses to focus on his 90 percent by asking the question, "How do I respond with my 90?" daily.
On June 16, 2015, while speaking to an audience 24 hours after his mother's killing, Singleton's 90 percent consisted of forgiveness. After forgiving Dylann Roof, the man who never apologized for killing "The Emanuel Nine," some of Singleton's friends told him that he did not deserve it. Singleton emphasized that forgiveness is not always for the other person, sharing the quote, "To forgive is to set a prisoner free and discover that the prisoner was you," from Lewis B. Smedes.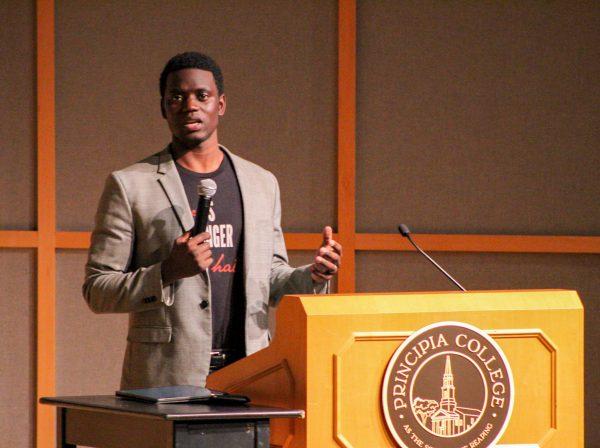 Singleton interspersed lighthearted stories into his talk, including one about his free stay at St. Paul's Retirement Community. He regularly interviewed those in the community and shared one he had with "Grandma E" about living through times of segregation. Grandma E's perspective had evolved drastically throughout her life. She showed Singleton a picture of her great-grandchildren, who were twins – one White and one Black. She told Singleton that their nicknames are chocolate and vanilla ice cream because, "although they're different on the outside, on the inside they're just as sweet." Singleton wished in that moment that his mother's killer could have had an influence like Grandma E in his life, teaching him to love because we are all human beings, regardless of outward appearance.
Singleton concluded his talk with a quote from Jackie Robinson, who broke the color-barrier in baseball. Tywanza Sanders, one of "The Emanuel Nine," had posted this quote on social media earlier in the fateful day, hours before he gave his life protecting family members in the church: "One life is not important except in the impact it has on other lives." Singleton prayed that his talk can carry this impact on the Principians watching.