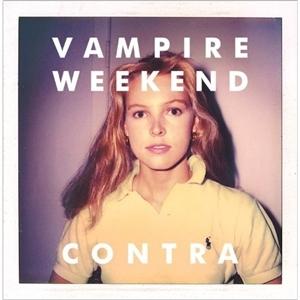 inthenews.co.uk / photo
Can you believe it was just two years ago that East Coast troubadours Vampire Weekend redefined the parameters of the Internet as a tool for independent success? Paired with a genteel collection of African-pop influenced songs, the band has scampered to unprecedented top 20 spots on the U.S. and U.K. charts. It was incredible how influential a role blog buzz played in the band's success, helping them rapidly nab a performance on Saturday Night Live. Credit our skyrocketing consumption of music for letting us forget how young a career the indie four-piece has had.
But skeptics have said their path to success via blogs was sure to backfire on them. Bands such as Clap Your Hands Say Yeah and Tapes 'N Tapes were highly praised for their first albums, but then harshly shunned by bloggers for their second albums. The same fate was predicted for Vampire Weekend.
Enter Contra, Vampire Weekend's second and even more adventurous album than their first, which is very telling (Do you know any other successful bands that write songs about the use of a comma in grammatical conjunctions?). The success of Contra can be attributed in part to arranger and multi-instrumentalist Rostam Batmanglij, and his recent dalliances with his permissive synth-pop side-project, Discovery. The sugarcoated nature of Discovery's album LP, along with Batmanglij's intentional use of newly kitsch auto-tune, permeate Contra. Tracks like "Diplomat's Song" and "California English" are always fun and jaunty on purpose, with Batmanglij's ambivalence toward digital touch-ups coming across as endearing instead of contrived. The frequent high-brow references to "all-things-privileged East Coast lifestyles" are also less distracting when packaged in Batmanglij's colorful arrangements, despite the fact that the opener, "Horchata," brazenly rhymes the rice drink with balaclava, Aranciata, Masada, and Tokugawa.
These references have polarized listeners, as Vampire Weekend is often dismissed as pretentious due to their Columbia University educations and privileged media personas. In spite of this, Ezra Koenig, the band's frontman, has chosen to embrace this bourgeoisie perception of his group. What makes Contra significant for Vampire Weekend and the institution of pop music is that it makes its creators out to be decent people. The stigmas attached to the yuppie are annulled here: Vampire Weekend shows they can make authentic, jocular music that transcends aristocratic commentary. Contra is their lobbying force as an essential part of culture.
Download These Songs
Who would have thought that one of the most infectious songs to hit the European underground dance scene would be inspired by a smash hit from … Mark Morrison? One might not remember Morrison's 1997 R&B hit "Return of the Mack," but this Dutch group flawlessly channels the Michael Jackson-inspired vocal recitals and irresistible New Jack Swing rhythms. Check out the equally amusing remix by Diplo at Maddecent.com.
2010 already has a front-runner for album of the year with the release of Teen Dream, Beach House's third and most concentrated work. The chamber pop duo's chef-d'oeuvre opens with an illuminating song threaded by guitarist Alex Scally's delicate picking and opera-trained vocalist Victoria Legrand's lily-white voice eerily exclaiming, "Any way you run, you run before us." Catch the Baltimore natives on the concert circuit for a guaranteed stellar performance.
This Florida four-piece is the latest band to reap the benefits of blog hype, and for good reasons: their first single is flooded with the best aspects of 90s and early 00s rock, incorporating harsh guitars and angsty yet benign melodies reminiscent of Weezer, the Shins, and Sum 41. Never underestimate the potent influences of ninth grade and pop punk.