This content has been archived. It may no longer be relevant
You may have heard the phrase, "My sport is your team's punishment." Every now and then, your conscience gets the best of you, and you decide to run a few miles on the treadmill in Hay Field House. It's no wonder that you dread it with every fiber of your being: it is exhausting and boring as could be!
Newsflash: you attend Principia College, a beautiful campus with some of the most ideal running terrain in the Midwest.
Whether you are looking to get in shape, have great talks with friends, have alone time with God, or simply go on exciting nature hikes, you will enjoy the adventures, calm, and beauty that these trails will open up to you.
Several cross-country runners shared adventures that happened on their favorite runs.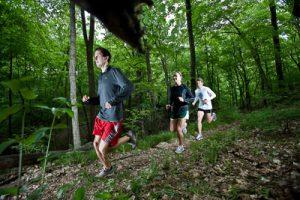 Sophomore Austin Kingsbery said that one of the best feelings is when you take the bluff trail on a sunny morning. He said that you get an amazing sensation as you come out of the canopy of trees and run up the hill to the first meadow. Kingsbery said, "It just opens up and it is so quiet; you really get to listen to nature."
Senior Justin Sinichko said, "It's hard to beat the bluff trail just before sunset, which is a great 50-minute run on a trail."
To get to the bluff trail, run to Eliestoun, and take the gravel road to the left right before you get to the stone pillars. Follow this road around to where a dirt path veers off to the right, and continue on this path as it veers left. For a six-mile run, follow the path as it loops around after the second meadow and brings you back to the original path.
Junior Heather Libbe told a bluff trail story: "[Senior] Jon Nacewicz and I ran it once and, because of the spiderwebs, he insisted on carrying a de-spider-webbing stick, which was successful for him because he was holding it out in front of him, but not so much for me – I think I was eating spiderwebs for a week."
Senior Kateland Oakes said, "One time when I was running [the] bluff trail, there was a giant rattlesnake coiled up with its rattle tail rattling away. I was a freshman and pretty freaked out. But my favorite reaction was the guys running in front of me. One guy screamed and leaped to the side of the trail. I saw them freak out and then skirted the snake by a large margin. Later, the guys turned around to see if us girls in the back needed help. So funny!"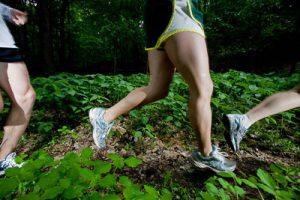 Senior Nathan Sharp said his favorite run is the Fessler Loop. Sharp said it takes you out the front gate and to the right. Turn left at Fessler and bear right when the road forks, and it will take you up a rather large incline. Make a left when you get to Highway 3. Travel along Highway 3 and turn left on Cemetery Road to return to Elsah and the gatehouse hill.
Sinichko mentioned several of his favorite runs: "A 20-minute Eliestoun on a rainy day with friends is incredible." Senior Jeff added that he loves the eight-mile web of trails to Chautauqua from Elsah.
Sinichko continued, "For a morning run, doing a BV loop that peaks Suicide Hill is a rarely appreciated splendor. From up there, when the fog moves in, and the 'cloud-esque' features roll around the taller trees like water around islands, it's hard to remember why getting out of bed was so hard in the first place." Sinichko added that following the Wasson trail at the far end of the new parking lot behind the Science Center down into Elsah provides "some really fun downhill single-track."
Principians have also found a myriad of places off-campus to run. Most notably, several Principians trained and ran in the St. Louis half and full Go! marathon on Sunday, April 11. A few of these people include senior Kate Wells, junior Jeff Strickland, sophomores Ana Liuzzi and Drew Clark, Admissions Counselor Julia Frank, Sylvester Resident Counselor Connie Crandell, and coaches Mary Ann Sprague and Sarah Jarvis, who took 5th place.
On Saturday, May 29 at 8 a.m. ­– rain or shine – students, faculty, and people from off campus will compete in the Principia "Escape to the Bluffs" triathlon. This fun and beautiful challenge will have both sprints (400M/28K/5K) and Olympic distances (400M/40K/10K) that will take participants around the campus and surrounding areas.
Triathlon Director Patrick McCreary said, "This triathlon is part of the administration's commitment to open the campus to the public." Rumor has it that the prizes are hand-crafted by local artisans, so you will have to see for yourself on race day. For registration and further information about the Principia triathlon, visit the Principia website under "Athletics" and go to "Multisport," which will link you to the triathlon page.