This content has been archived. It may no longer be relevant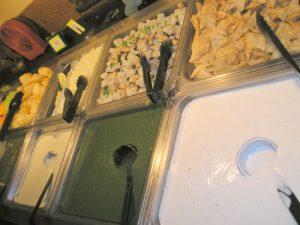 For some people, the question of what their favorite movie is can be almost unanswerable. For others, that question pertains to their favorite song or color. My question is "what is your favorite cuisine?" My usual answer is, whatever one I am eating at the moment. Right now my favorite cuisine is Indian food, and I have found just the place to supply that need.
The two times I have been to Gokul restaurant, I have felt both out of place and right at home. The customer base consists of locals, families and married couples all conversing in Hindi. The décor is very simple without screaming "Hey look at us; we're Indian!" like many other restaurants do. On the wall in the far corner, a Bollywood movie is projected onto the wall. This adds a bit of music to the meal and provides a place to look if the company you are with becomes a bit dull.
The $10 vegetarian buffet makes the drive worthwhile. First of all, that is a price that any college student can afford, and the buffet style enables you to eat as much as your stomach can handle, without feeling it in your wallet. There are usually 15 or so main courses in the hot line, and my three favorites are the vegetable korma, the mutter mushroom and the Saag Paneer.
The vegetable korma is unique to Gokul because vegetables used in this dish are unlike any I have had before–one of them is pumpkin. What an awesome idea: pumpkin in a korma! Since korma is an Indian dish that has a very sweet sauce with coconut and ginger, and spices like cinnamon and turmeric, the pumpkin works well with the sweet components of the dish. Along with the korma, I recommend the Tamrind Chutney, which has a sweet and almost grape-like taste.
The Saag Paneer is a staple in Indian food, so it is easy to assume it's generic and therefore look right past it. But at Gokul, however, they pay tribute to this classic dish and by making it just as an Indian grandmother would. The spices are perfect with the creamy spinach base and there is just enough paneer, a type of cheese that is very ricotta-like in flavor, to make the dish feel hearty and filling. It's like creamed spinach gone exotic.
My favorite condiment in the buffet is the cilantro chutney for two reasons: the heat and the cilantro. To me, the greatest gift to mankind was the creation of herbs, because without them, food would have no flavor. Cilantro is one of those herbs that lights up my palette whenever it is present in a dish. This chutney is basically an ode to the cilantro. This sauce has a kick, so be warned if you do not enjoy heat in your meal. Luckily, a dish is improved when spice is added, so this chutney adds an extra special touch to my plate.
Place all these foods and a scoop of masala rice on a plate and sit down. Grab a piece of their freshly baked Naan bread and savor the meal. It's Indian food at its best: frank and delicious.
Gokul is located on Page Ave. in St. Louis at 10633 Suite B. They are open seven days a week from 11 am to 9 pm and have a vegan buffet the first and third Monday of every month from 5pm to 9pm.