This content has been archived. It may no longer be relevant
At 10:00 on Monday morning, Howard House's living room was packed with house members awaiting the arrival of Cindy, Sarah, and Becky, the three amazing women who clean Howard and four other houses every day of the week.  Howard's Resident Counselor Christy Ellington had baked monkey bread, and board members cunningly asked the housekeepers to come downstairs for a quick meeting about how house members could do a better job of picking up after themselves. Whether or not a cleaning lesson was in need, that was not the real reason for the gathering.
The house had decided to thank these three women for their spectacular work and friendly character, and to get to know them just a little bit better. It did the trick. As soon as Christy asked two of them at a time to tell the group a little about the third, they had the whole room quaking with laughter. For example, Sarah blamed all of the funny drawings left around the houses on Cindy, who teased Becky for being so meticulous. Senior Brittany Jenks marveled at how well they played off each other and even suggested they be invited to perform at Transylvania Treats, Howard's annual Halloween talent show.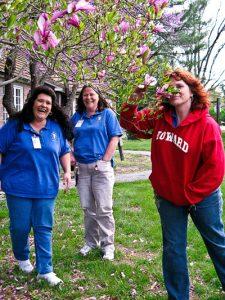 I had the privilege of getting to know Cindy, Sarah, and Becky even more in an interview a few days before this gathering. All three women have been working at Principia for 15 or 16 years, and they all say they love their job. Sarah was actually married in Clara McNabb's living and her father, the well-loved Bob Bell, was a carpenter on campus for 20 years. Becky said she had to apply three times before getting the job, and Cindy said she landed the job completely by accident.
Sarah has a somewhat special relationship with one senior, among others. Ever since Nathan Sharp's freshman year in Anderson, he's been in the habit of scaring her from behind doorways and stairwells. She said she had been in the closet one day when he came around the door and accidentally made her jump. Sarah said, "He thought that look on my face was [so funny that] he kept scaring me."
The trio could hardly stop talking about the various students they know and love. Of freshman Eric Odanga, Sarah said, "he's hilarious." When Eric walked in a few minutes later, he renewed a promise to make them tea sometime. Another student living in Beeman said, "They're my adopted sisters."
According to Cindy, "when you have freshman dorms … we become more of a mother figure." Sarah chimed in, "[Later], they're still considered your boys or your girls." Becky added that some freshmen think they can get away with things, and that part of their job is to keep those freshmen in line.
During winter quarter when Williams Cottage was used as a "Creative Living" theme house, one could often find a note to or from Cindy, Sarah, and Becky on the kitchen counter. When the so-called creative livers were having trouble keeping the kitchen clean, the housekeepers left them a gift of sponges and dish towels, and after a plate of muffins was left out in return, they found in its place an unmistakable drawing of the threesome, replete with fishnets and mini skirts (thank you, Cindy).
The three of them are very inclusive of the students who work or interact with them over breaks. Becky said that international students, who make up the majority of those that remain on campus, are especially fun. Student workers are always invited to a Christmas party during winter break, and Cindy said she once took some girls shopping. She went on to say, "I think every student should have to work with us [once during] their time here."
When they're working with students, the housekeepers have time to ask them about their families and develop a deeper connection with them. They said they love just to hear where the different students are from, whether within or outside of the United States. Sarah said she couldn't believe recent graduate Paul Ireland was from Hawaii. "I asked him to bring me back a shell every time he went home … he brought back a jar of sand."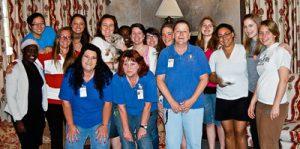 All three agreed that it's sad to see students leave. "You see those students every day for three to four years," said Becky.  "And then they're gone," Sarah finished her thought. Cindy added, "I wish that [there] was some way we could keep in touch with them."
Cindy, Sarah, and Becky are just three of the many thoughtful and adored housekeepers on the Principia campus. They're here for us, the students, and they hope that we'll take advantage of that.