This content has been archived. It may no longer be relevant
"Let's Hear it for the Boys"
This winter quarter has produced some unforgettable memories at Principia College. It has also been one in which the men's houses have found different ways to really shine.
This campus is home to athletes, actors, biologists, historians, brothers and future fathers. Amidst all this diversity, the men of Principia have somehow found houses that best complement their personalities and help to support their personal growth.
What makes Lowrey, Buck, Ferguson and Sylvester Houses so different from one another? What makes them each special? They are so much more than the one-word labels we place on them. The crazy Lowrey boys, the gentlemen of Buck, the gamers in Ferg, and the men of "chill-Syl" have much more going for them than we give them credit for.
Starting with the richest house on campus due to the investing of house funds, Ferguson is not simply full of guys playing video games. To be honest, this happens in every single men's house.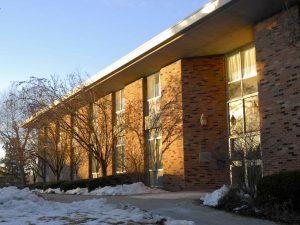 Ferg recently hosted a highly successful and well-attended Super Bowl screening party. The game and its hilarious commercials played on four screens, but the snack station in the middle of the basement really stole the show. It looked like something straight out of the show "Cupcake Wars," with five levels of chips and snacks surrounding various dips, refreshments and the main course of grilled hot dogs and burgers.
Based on events like this one, Resident Counselor Blair Smith found it easy to rave about the men of Ferg and the unity they express. "[It] is born of their appreciation and respect for their diversity. I have appreciated their level of tolerance, respect, good will, fun, friendship, and accomplishment." In regard to what the house brings to the Prin community, Smith said: "Ferguson's three main social events: [the] Haunted House, FergBowl, and FergCon offer something that will appeal to just about everyone, [which is] true to their house identity."
Smith also mentioned the largely unknown history of Ferguson, which dates back to the 1960s. "Along with Buck house, they are the only men's houses that have maintained their original name and identity over the years."
Buck House first opened to the student body in the 1940s. Buck commonly housed men returning from World War II. These men were older than the typical college student, and therefore more mature, earning them the label of "Gentlemen of Principia."
Buck dwellers have continued to promote their gentlemanly identity throughout the years. RC JD Daugherty spoke of the ways in which they've done this in recent quarters. "They focus on doing good deeds for the people around the campus, whether it's thank you cards and flowers for the staff, or breakfast for the underclassmen, Buck is constantly looking for ways to do good." Just as a nice man holds a door open for another, Buck provides the entire campus with a touch of class so needed in the men of our generation.
Buck calls Brooks its sister house, and this bond is quite strong. Not only do they have occasional joint meetings to plan activities or just hang out, the men of Buck are also invited to Brooks treat nights when the ladies feel like sharing some of RC Louise Kingsbery's famous monkey bread. Buck's foundation in respect and maturity make it an essential addition to our campus.
Sylvester, already complete with a built-in sister house, provides an example of balance and mutual respect unique among the houses. Syl used to be a women's house with about 80 residents. It's now down to 54 men and women living on separate floors.
We don't hear much from Syl house. People who choose to live there are usually looking for peace and quiet, and they can easily find it. RC Gary Crandell talked about the men of Syl with a definite note of chillness in his voice. "There's a big difference in this house's vibe [compared] to any other on campus. There's an overarching mentality of needing to get things done. There's not a night when the living room doesn't have more than three people silently studying or typing away on their computers."
A lot of fun takes place in the house as well. While they may not host a campus-wide social event every quarter, their doors are always open to visitors, and anyone is welcome to treat nights. What they may lack in organization and house participation, the men of Syl make up for in pride and love for their house. "Brotherhood and sisterhood is our mission," says Crandell.
President James Suber can attest to the house's sense of family. "There's a great sibling relationship in the house. It's a very laid back and varied group."
Sophomore Jake Meier is new to the house and said he absolutely loves Syl. "I could go to anyone in this house for help. Everyone is welcoming and easy to be around." He commented on its unique atmosphere, saying, "I have gained some really close friends that I might not have [made] had I not been in Syl."
Lowrey is constantly promoting its commitment to brotherhood.  Everyone on campus has heard the Lowrey boys singing their house chant in front of every dorm on Thursday nights. Lowrey's traditions date back to the 1930s and are rooted in Rackham West.
Temporary RC Matt Flavin praised Lowrey for its sense of camaraderie. Following in the footsteps of their forbears, the men of the house have entertaining and lively meetings every week that include readings, wrestling, and one-of-a-kind competitions, all of which remind them of what it means to be a Lowrey man. Flavin said, "The house is currently working on creating a new house identity, one that includes some of their great old traditions, but also incorporates this new assortment of unique men."
Their most recent success on campus was the annual West Presents talent show. Featuring only men from Lowrey, the house put on a show that lasted over an hour-and-a-half. The MC of the night, Lowrey Social Head Zach Harmon, said that West Presents is "a good example of a house coming together to put on a good and creative show for the whole school." He hopes this will inspire other houses to look within their own talents and make a strong impact on the community.
One senior, Blake Powell, gave the first performance of his life in this year's show. Powell said that while his friends were the main influence behind his performance, he knew he had the support of every man in Lowrey. "I'm trying to step outside of my comfort zone because that's the only way one can really grow." For these men, Lowrey is the place they can truly grow and become the men they want to be outside of college.
These houses cannot be defined by single words or even short sentences–they are defined by each and every man on campus.
The fine men of Principia show their talents every day and are constantly aspiring to be their best. Let's help maintain this growth in the coming years.