This content has been archived. It may no longer be relevant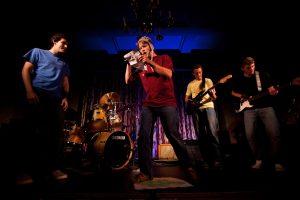 Halloween is always a blast for those of us who enjoy dressing up, watching horror movies, and eating insane amounts of candy. It is a holiday that most of us at Prin anticipate with great excitement. Consequently, the question "What are you gonna be for Halloween?" lingered in the corridors of the School of Government between classes and in the line of the Piasa Pub in the days leading up to the holiday.
Finally, Halloween weekend arrived, and Brooks House was more than ready to throw a spooky party. Friday night's Club Ciao, "Was a great success!" said senior Jodi Pratt, Brooks' Social Head and co-organizer of the spine-chilling event. Pratt said it was, "A great messy success, but a success no less." Club Ciao was lots of fun for all who attended, with food, fun music, and creepy decorations that made it an amazing Halloween party. But it wouldn't be a Halloween party without a costume contest, right?
Club Ciao's contestants were very creative, and showed off costumes that ranged from hilarious to creepy, which made it hard to pick a winner. However, sophomore Robert Barnacle's perfect impersonation of Nintendo's mascot Mario was chosen as best overall Halloween costume. Freshman Chip Jackson, who shaved half of his head, won the award for "most scary costume." Sophomore Shelby Miller and freshman Vincent Herr were the winners in the "most creative" costume category for their two-person cardboard "Titanic" costume. Howard's traditional celebration, "Transylvania Treats," was the perfect combination of frightful sights and an amazing talent show. The guests entered Howard House through its dreadfully decorated basement, which was reminiscent of a crypt, where Howard girls were serving ice cream. Guests were later invited up to the living room where the show took place.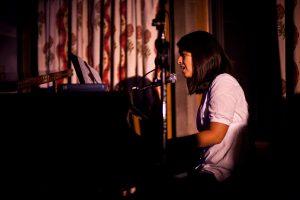 All three shows were hosted by the hilarious coupling of sophomore Ben Frederick and junior Melanie MacWilliams, who kept the audience laughingout loud in between acts. Principians demonstrated all types of musical talent at the show. As MC Ben Frederick remarked while introducing freshman Shelby Tisinai, "Here's something you don't see every day: someone playing the harp." Tisinai impressed the audience with her beautiful harp pieces. Howard's social heads, juniors Melissa Lenington and Sarah Oakes, said they were extremely grateful for everyone who played and made the event so fun and memorable.
Meanwhile, on the opposite quad of the campus, Ferguson House was hosting its horrifying "Haunted House" in Cox Auditorium. As Tim Crump, who served as usher for the event, remarked, "Some people get out of here scared out of their minds!" That makes a lot of sense, as Ferguson's event this year resembled an insane asylum, in which the participants found themselves, 'running for their lives' through dark corridors infested with 'insane' people who ran after them.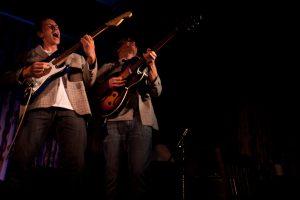 The last of the Halloween events took place on Sunday night, as Sylvester house opened its doors for trick-or-treaters during "Thrillvester." Ninjas, pirates, fairies and even "first and second readers" were seen running around Sylvester, collecting candy from every room. Katie Hueffner, social head of Sylvester house, said: "I'm really happy with the support and turnout we had from Syllites! We had a pretty decent number of people come trick or treating, and many of them even had costumes on!" Sylvester's delicious tradition was certainly enjoyable for everyone.
This year's celebrations were overall very successful, as Principians got to dance, enjoy great live music, get scared out of their minds, and eat tons of candy. It was a perfect Halloween weekend!
For more photos of Transylvania Treats, check out the Campus Snapshots for week 10.31.2010!