This content has been archived. It may no longer be relevant
By Sophie Hills
Celebrating community was the theme of the employee Town Hall this afternoon, from honoring departing faculty and staff to praising academic accomplishments over the last week.
Interim President John Williams kicked off the virtual event by reading the names of 39 college faculty and staff moving on to other endeavors and of the six retiring.
"We are fortunate to have all of them and their contributions that they have brought to this community and to our work. We're truly grateful for their dedicated service," said Williams.
To all attendees, "we are members of the same Principia family, and I want to thank you for being who you are, for your contributions to the community, for being Principia," said Williams.
Chris O'Riordan-Adjah
Joy Baker
Shelby Barner
Katie Boyce
Chelsea Brueggeman
Gracie Buchanan
Cara Buitron
Marissa Bunting
Shea Cheatham
Kat Collins Booth
Ariana Dale Stephens
Parker Davidson
Julie Anne Eastman
Ginger Emden
Matt Emden
Sam Engel
Heather Fairbanks
Matt Flavin
Clara Germani
Kristen Harrison
Michael Harrison
Katie Hood
Kim Howland
Michael Jensen
Sammy Keyes
John Lane
John O'Hagan
Allegra Pierce
Camille Pruvost
Erin Rainwater
Wendy Reynolds
Dallen Russell
Leslie Shelton
Drew Shotwell
Nathan Smith
Anne Sussman
Cody Veidelis
Jim Waller
Jeff Wingert
Retiring:
Tom Fuller
Steve Hinthorne
Danne Rhaesa
Dory Smith
Mary Ann Sprague
Alice Stanley
Human Resources worked to coordinate a video, compiled by Eric Lines, dedicated to those retiring, with messages from Dean of Academics Meggan Madden, Athletic Director Ann Pierson, Chair of the Art and Art History Department Duncan Martin, and a variety of faculty from the Math and Natural Sciences Division.
Williams honored Jane Stanley, who passed away this year and would have retired: "Our love to her family and our gratitude for her unflagging love, joy, and support of Principia, and her work in the library and with special collections."
Marshall Ingwerson, chief executive, is also departing Principia when his contract ends in June.
Ingwerson's wife presented him with a painting by art professor Duncan Martin on behalf of the college.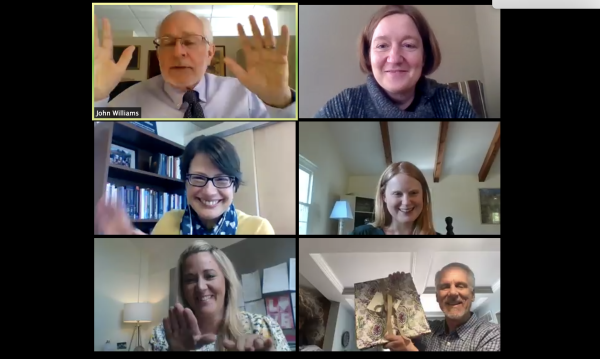 "On a personal note, I want folks to know that Marshall has always been a gracious gentleman and a steadfast supporter of mine in these four months as interim president, and sir, I appreciate you for that," said Williams.
"Principia in recent years has built a foundation for growth, and it will be growth of the right kind, because….it's in very good hands," said Ingwerson. "The team at the college now is a great team. In many ways it's sort of a young and new team, but it's…got the right kind of maturity."
Q&A highlights:
Madden congratulated the students who put on one acts on May 4 and May 5; the staff of the Mistake House for their new edition; and to all seniors, particularly those presenting capstones this week.
1,600 people viewed a special online concert featuring Principia alumni last night, hosted by the Music Department.
Human Resources is preparing to review the next phase of emergency pay and will make an announcement before the current period ends on May 16.
One attendee expressed gratitude for the college leadership: "I would like to express my gratitude to and admiration for Deans Dietz and Madden and President Williams for your excellent leadership during this complex period.  I have felt more included and informed and reassured than I did in the first four years I've served Principia. Thank you."
The School of Government renovation is still on track to finish several weeks ahead of the original timeline.
Strawman survey update: "The idea is to…work within the strawman process to describe the community that we want, and from there it would be an invitation to potential students: this is the community, and would you like to join us," said Williams. (Read more from the Pilot about the survey results here.)
Presidential search update: Four semifinalists will be interviewed by eight stakeholder groups, involving around 75 people in the community interviewing. Forums open to the entire community will be held with the finalists during the last two weeks of May. [Correction: Due to a reporting error, the number of stakeholder groups was misstated. The correct number is eight.]
As of Monday, 50% of students had registered for 12 or more semester hours in the fall, said Madden. Individual class sizes may be capped at a smaller number if instructors request it, but "having an across-the-board cap right now is premature," said Madden.
The only event next week will be the awards ceremony on Friday at 1 p.m. CDT. All other traditional graduation events have been postponed until the fall
Edith List is the new faculty senate president. She is currently interim assistant dean of academics and she will return to her work as a librarian July 1.