This content has been archived. It may no longer be relevant
Most everyone knows where to find the list. It's displayed prominently in a well-lit hallway of the School of Government behind a gleaming sheet of glass. Yes, the Principia College Dean's List is designed to be noticed. Students who earn a solid 4.0 for the term are temporarily commemorated on the wall near the Academic Dean's office. Anyone might say that such an achievement is worth celebrating. But the honor may lose some of its luster when the size of this elite group becomes clear.  Last spring quarter, 39 percent of the student body was on either the Dean's List or the Honor Roll.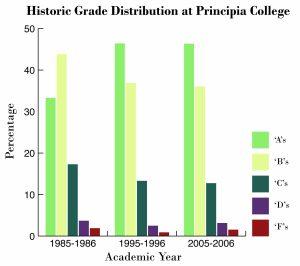 Grading philosophies and so-called grade inflation have been core issues in academia for many years, and grade distribution at Principia is now being observed with renewed scrutiny.
The issue of grading practices at Prin was brought to the surface in January at a pre-semester workshop when, at the behest of Dean of Academics Dr. Scott Schneberger, faculty were told that of all grades given during fall semester, 61 percent were variations of an 'A'.  The number was juxtaposed against a national study done in 2010 of 200 colleges and universities that reported 43 percent of all grades fell within the 'A' range.
There were immediate questions about the value of Prin's statistic, with many faculty feeling strongly that a number which included grades for everything from orchestra to abroad orientation courses was not a valid measure of overall grading trends. Many felt a more meaningful number would be one that excluded all zero and one credit courses. So, as disagreements continued, a faculty-administration conversation about grading was stalled.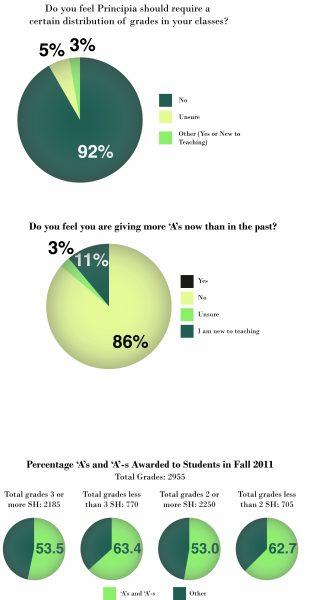 In pursuit of better data, the Pilot sought a breakdown of the numbers.  Associate Dean of Academics Joe Ritter said in a February 10 email that a "segregation of non-credit and 1-SH classes from the remainder of the classes is on our list of things to consider, but will not [be] considered in the immediate future due to other more pressing priorities."
The Pilot then approached Registrar Patty Langton, who provided detailed information about grade distribution. According to Langton, 53.5 percent of 2,185 grades earned last semester in classes worth three or more semester hours were 'A's. Of 770 total grades in classes worth fewer than three semester hours, 63.4 percent were 'A's.
Langton explained that her office was asked to submit raw data about all grades awarded in the past 10 years to the Academic Dean's office. She added that she has not yet seen any kind of related report based on this data. In reference to the original 61 percent figure, Langton said: "If the perception is that the registrar's office did this study and now somebody is presenting it as our findings, that's incorrect."
Langton also explained that data excluding non-credit and lower credit courses is "not secret," but that no requests had been made for this information beyond that raw data for the Dean of Academics and the above statistics requested for the Pilot. At this point in the story, it might be helpful to have a bit of background information.
The original 61 percent statistic was held up in comparison to data from the previously mentioned national survey conducted by Stuart Rojstaczer and Christopher Healy for the Teachers College Record. The survey also tracked overall grade distribution as far back as 1940. The survey suggests that, for years, these schools typically awarded students a higher percentage of 'B's than 'A's, but that trend reversed in the late 1990s. Since then, A's have been increasingly distributed to students.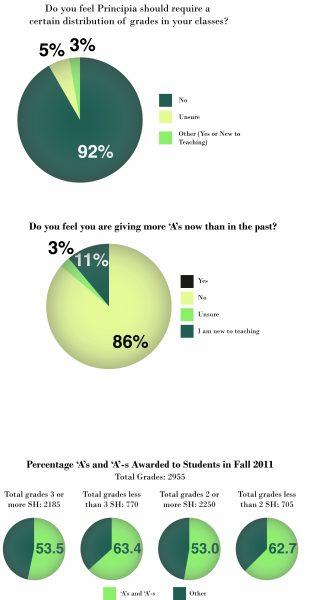 The Pilot contacted Rojstaczer about the national survey, to which he responded: "The study includes all courses for all colleges surveyed … The percentages do not include incomplete, withdraw, and pass/fail grades." Based on the sheer number of schools included in the national survey, it remains difficult to determine whether certain courses assigned grades at Principia would be handled similarly at other schools or assigned Pass/Fail grades.
Libby Scheiern, as head of both the Teaching Excellence Center and Faculty Council, explained some of the controversy surrounding the original data in this way: "Those numbers are meaningless next to each other because we don't know [if] we're comparing the same variables." Scheiern explained that grades for every course offered at Principia – including 0 SH and 1 SH courses – were factored into the 61 percent figure. This included a variety of classes (i.e. Model UN, Moot Court, Solar Car, Soc 50 and varsity athletics), whereas she speculated the national data likely includes "only those courses that are considered traditional, standard academic courses."
Nevertheless, Dr. Schneberger explained that Faculty Council has been charged with the task of examining data about overall grade distribution – both at Prin and at schools around the country – discussing the issues involved, and proposing any possible solutions, hopefully by the end of this term. But a few individuals interviewed for this article suggested that it might be unproductive to compare Principia to other schools with varying grading philosophies, and that it is perhaps more valuable to observe how grading trends at Principia have evolved over the years.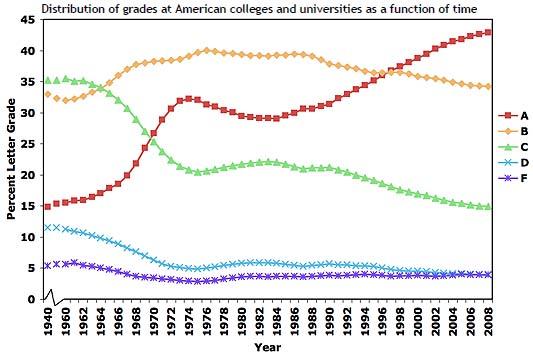 The concern was raised that basic data used to compare Principia with the rest of the nation fails to answer what is perhaps the most important question: What does an 'A' really mean and are this many students really excelling in their coursework? Dr. Schneberger commented that, for the last several years, Principia has mostly followed the national trend explained above. He said that the registrar's office put together a "Grade Analysis Report" in 2006, in which "they looked at the issue of grade inflation over many years, starting back in 1985." According to Dr. Schneberger, Principia gave more 'B's than 'A's in the mid '80s, a trend that reversed a decade later.
Langton shared this report with the Pilot, which clearly shows a rise in 'A' grades over the past two decades. A "Historic Comparison" chart indicates that in the 2005-2006 academic year, over 46 percent of grades given to students in classes worth 3 QH or more were 'A's. This in itself is a marked difference from the 33.3 percent 'A's awarded in 1985 and 1986. Although 53.5 percent 'A's in Fall 2011 courses worth 3 or more semester hours isn't enough to start making definitive statements about grade inflation at Principia, it is an interesting point from which to start the conversation.
Still, comparing Prin to itself isn't exactly an easy task. Langton brought up the point that it is difficult to compare this year's data on semester grades to the rest of Principia's academic history. "It's difficult to do a comparison as if nothing has changed," she said. There is a definite desire at the administration level to kick off conversation concerning grading. Scheiern said she shared the original 61 percent figure with faculty because "…the Dean of Academics felt it was important to share. Although the data reports different stats, it raises the need for faculty to be thinking about and discussing grading practices and standards."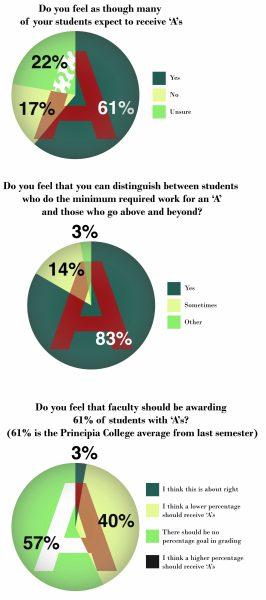 While some may protest that lower-credit courses often merit 'easy 'A's' because they require less work, Dr. Schneberger disagrees. In a recent email to the Pilot, he explained: "The grade is not meant to convey how much work the course demands or the difficulty of the subject. The grade is meant to convey the quality of the work done regardless of the quantity of work done." In other words, an 'A' should indicate that a student has put forth exceptional effort – whether it be in Frisbee or Financial Accounting.
Senior Jon Bates suggested that courses in different disciplines require varying amounts of work to achieve similar grades. Bates said: "I've heard of a certain class or a certain professor having a reputation of being really easy – you can just show up and get an 'A'". As a triple major, Bates added: "I haven't personally experienced that." Dr. Schneberger explained that individual unit heads have information about the percentage of 'A's given out in their departments. Although that information has not been made public, he added that there was "disparity among departments."
Langton suggested this distribution of data was news to her and potentially a cause for concern, as any information faculty members have received about grade distribution in individual departments has not been approved by her office. She explained that while summary data is available to anyone at this time, the full report including grade distribution in every class is more private. According to Langton, it is important to protect the individual rights of students, whose grades could easily be pinpointed in small classes. She added: "It's my job to have and protect the privacy of the data, so I know when it's being used …. I have to authorize release of the data, so since I know I'm not getting requests for it, I know people don't have it."
Regardless of where the numbers came from, it seems faculty are already starting to talk about the implications of grading practices. One faculty member remarked in the Pilot Poll: "Our department has begun discussing this problem after looking at our own internal stats. I can recognize a truly excellent paper, an obvious 'A'. But I notice that I also give 'A' grades to papers that do not meet that standard. I have to stop this disservice to students."
According to the current Course Catalog put out by the Registrar's office, every letter grade is attached to a specific evaluation of a student's performance. An 'A' is meant to represent excellent work, a 'B' is a good, 'C' means satisfactory and a 'D' is deficient. But assigning such vague descriptors to every letter grade doesn't change the fact that grading is often subjective – at Principia and most every college and university around the world.
Math professor Dr. Steve Hinthorne also acknowledged the fact that students and teachers don't always perceive grades in the same way. For example, a 'C' may be meant to reflect acceptable coursework, but the same grade may be absolutely devastating to a student used to achieving at a higher level. A faculty member commented in the poll: "Even after teaching for more than 20 years I still feel bad when students earn a poor grade in my classes.  But I have to remind myself that that's the grade they earned, not the grade I'm "giving" them."
Hinthorne explained:  "I understand the student's side. You're looking at a grade as somehow equated with your intelligence. And it's not. It's equated with your performance within a particular class at a particular time." He continued: "My concern is that over the years the meaning of the word 'excellent' has deteriorated, the meaning of the word 'good' has deteriorated to simply being satisfactory."
According to a grade analysis Hinthorne conducted himself, the average GPA earned by today's Prin graduates is roughly a 3.4 – just above a B+ average. Hinthorne expressed his concern that such a number could cause the rest of the world to question Principia's academic standards. He said: "If the average grade is a 'B' plus, plus, where's your standard of excellence?"  Interestingly enough, according to The Daily Princetonian, the national average GPA for graduates of private colleges in 2010 was a 3.30 – not far off from Principia's own data. Dr. Schneberger explained: "Our level of academic excellence has been and still is my number one priority of all the things I'm working on. I think we have to have that. We have to have that quality that I think represents what the whole school was founded on in terms of demonstrating at high standards and maintaining high standards."
Sociology professor Jackie Burns has experienced what it means to "maintain high standards" throughout her teaching career. Before coming to Principia, Burns taught at a top-tier research university where professors are asked to sign a loyalty oath stating their commitment to academic excellence. At this particular school, that standard depends on a strict grading system that allows only 10 percent of students in any given course to earn an 'A'. In fact, professors would be asked to stop teaching if they were considered too liberal in their grading. Burns said having to choose between losing a job and disappointing a student by assigning a poor grade was "a tough position to be in."
Burns further explained the difficulty in grading students of varying skill. She said: "At the end of a semester when a majority of students receive an 'A,' we need to question the interpretation that we are giving away grades and recognize the possibility that both the teacher and student have worked diligently together to achieve a higher understanding of the course content, and the grade reflects that demonstration." Burns added that it is "probably inappropriate to make across-the-board comparisons [between Principia and other schools] on issues like grade inflation because we are so unique."  She added that students and faculty should engage in discussion about course outcomes and learning expectations beyond the desire to earn 'A's.
Others in the community have raised the feeling that grading can be complicated at an institution that expects each of its students to fully reflect and express divine Mind. Policy 3 states in part: "The Principia refuses to accept as final any belief of limitation which grants greater capacity to one individual than to another…" (EAP 228). Scheiern raised a question: "If we're seeing each of our students as truly, fully capable and expressing their divine intelligence, then does that mean that our students are exceeding and excelling because of the work that we're all doing together to overcome any sense of limitation?"
Burns added: "While grade inflation is an important conversation for any learning institution, we are much more than an organizational institution. We are a community of Christian Scientists demonstrating our highest sense of good, and that includes academic excellence." While everyone in the Prin community maintains their own opinions about what grading means, Faculty Council hopes to continue this conversation – among others – in the future. In a February 22 email, Scheiern wrote: "I know faculty want to have dialogues about grading, and it will happen at some point, I just can't say exactly when.: Schneberger said: "…I'd like to hear their conclusions and recommendations about it before we take any action."
Images courtesy of and
admin